Williams will not get 'carried away' after Hungary
Despite the highs of Hungary, Nicholas Latifi says Williams will not get carried away and lose perspective of their true performance level.
After scoring only one point over the past two-and-a-half seasons, Williams' golden opportunity finally arrived at the Hungarian Grand Prix as they took advantage of early chaos.
Valtteri Bottas and Lance Stroll both triggered separate multi-car crashes into Turn 1, while at the race restart leader Lewis Hamilton was the only driver who took to the grid rather than pitting for dry tyres, which meant he dropped to last on the following lap.
All of this opened the door for Williams to score 10 points after Latifi claimed P7 and team-mate George Russell P8, putting them P8 in the Constructors' Championship and seven points clear of  Alfa Romeo.
Later in the season, Latifi says, this could influence strategy in certain situations, but he stressed his team cannot get ahead of themselves since realistically they do not have the pace to score points under normal circumstances.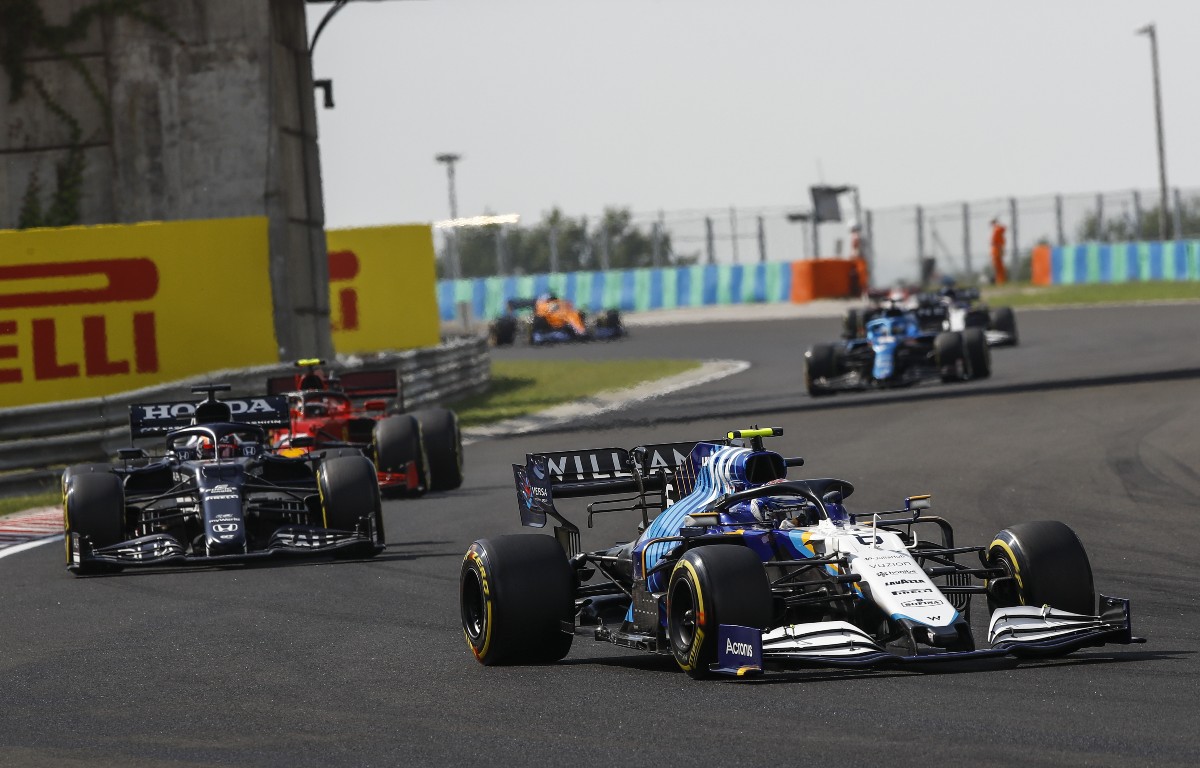 Show your support for Williams with their latest official merchandise collection
"It was extremely important," said Latifi of the importance of Hungary for himself and Williams, writing on his website.
"Immediately after the start chaos I realised, knowing the track and how difficult it is to overtake, this was the opportunity. We had to take advantage of it because we may not get another one this year.
"As a driver, you wish for starts like that where you get the way cleared for you. It wasn't like I did anything spectacular, I just picked the right places to put the car and benefited from other cars getting it wrong!
"From then on, running P3 was very cool and I felt comfortable, but ultimately we had the ninth quickest car so I focused on my own race.
"To finish P7 was huge. Haas and Alfa had the same opportunity we did, none of their cars were caught up in the start chaos and we managed to capitalise on it.
"It was very satisfying to bring home that result for the team and also on the personal side, scoring my first points in Formula 1. It broke the team's points duck, so I was extremely pleased.
"I don't think it will change the approach, which will always be to get the best result I can. Knowing the team has P8 right now, ahead of Alfa, is important and perhaps that could influence some strategy decisions later on, but we won't get carried away.
"It's clearly not the case that we can be challenging for points if there are no DNFs. On a good day it's still P12 or P13, in that kind of region. But of course I want to be in points-scoring positions at more races this year.
"Maybe some other opportunities will present themselves. If they do, I've got to be ready to capitalise on them."
Source: Read Full Article