Watch Live: Renault Sport F1 to Host Gran Turismo Sport Esport Event
Although we've seen plenty of esports events stepping in to fill the gaping gulf in the world motorsport calendar, they've all been rather serious affairs on rather serious sims (and bizarrely serious results). With Assetto Corsa Competizione, rFactor 2, and iRacing all staging events, there's not been much hosted on the more accessible racing games. That's set to change this afternoon, courtesy of Renault Sport.
The F1 team, along with its esports crew Team Vitality, and the International GT League, is hosting a pro-celebrity race at 1600 UTC this afternoon, April 7, entirely run within Gran Turismo Sport. It'll be the first true live multiplayer GT Sport event we've seen since the Sydney World Tour back in February, and with the cancellation of the Nurburgring World Tour in May, we were getting a little worried.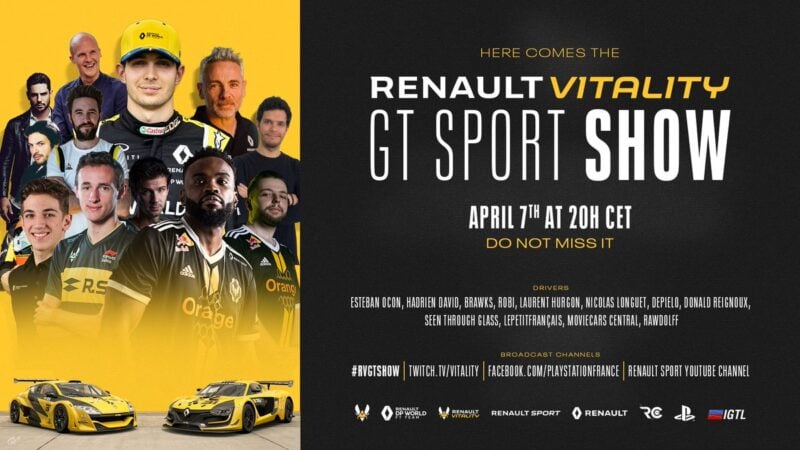 Renault has put together an interesting mixture of names, some of which may not be all that familiar. One that should need no introduction is Renault Sport F1 driver Esteban Ocon, who should have been back in F1 for 2020 if not for the pause in proceedings.
Joining him is French F4 driver, and 2019 champion, Hadrien David. Completing the real racing driver lineup is Laurent Hurgon. If you don't recognize the name, you'll recognize his achievements with the Renault Megane at the Nurburgring — repeatedly setting the fastest FWD lap at the Green Hell.
Team Vitality F1 Esports driver Nicolas Longuet is also taking part, along with a host of largely French YouTubers and social media names. Among the competitors are Franck Galiegue — better known as Movie Cars Central, with a collection of famous big-screen cars — and official GT Sport World Tour French commentator Donald Reignoux.
For the English language stream, the commentary team is actually two World Tour drivers — and GTPlanet members. Martin "Tidgney" Grady and Lewis Bentley will guide you through all the action, which you can watch below.
https://youtube.com/watch?v=RJ0ENszpk9c%3Ffeature%3Doembed
Source: Read Full Article