This is How Extreme E Is Going to Change Racing, Maybe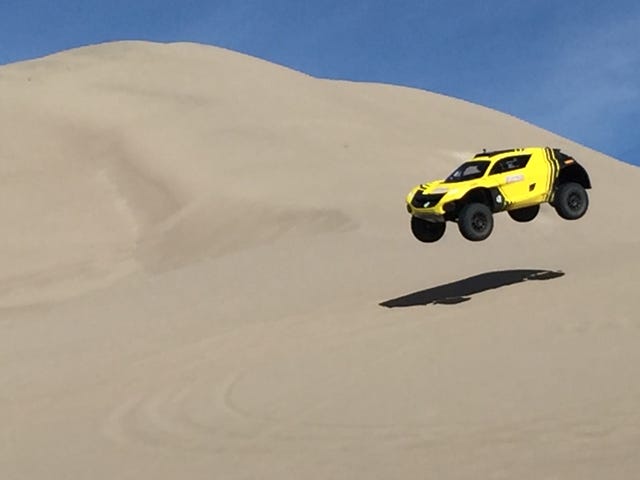 Extreme E is going to save the world. Or at least the world of motorsports. Maybe, if the eco-friendly cargo ship arrives in time with all the electric SUVs.
The new all-electric off-road racing series hopes to be carbon-negative, that is, actually reduce its carbon footprint to the point it is cleaning the air instead of polluting it. All the race cars in the series are powered by batteries charged by fuel cells getting their electricity from sun and wind-power, we are promised. The whole racing series – all the race trucks, all the TV gear, all the timing and scoring equipment — will be carried around the world on an eco-friendly cargo ship running on a low-sulfur fuel so clean it's known among ship's engineers as "champagne." There will be no spectators at any of the races, the better to reduce everyone's carbon footprints. But the TV feed will be available virtually anywhere on the planet.
The racing itself consists of five events held at different ecologically sensitive venues across the globe, from Greenland to Tierra del Fuego, the goal being to highlight the environmental challenges each spot is facing. And, perhaps more importantly to race fans, that racing should be pretty good.
"The format is going to be amazing," assured founder Alessandro Agag, the same guy who founded and runs the open-wheel electric racing series Formula E. "A mix between Star Wars Pod Racing and Dakar Rally spec."
Presumably without the anti-gravity component. Extreme E is like a short version of the Baja 1000/Paris Dakar except in identical spec vehicles. They'll race on ten-mile loops through the dirt, driven by gender-neutral drivers, that is to say, one male and one female. One gender will take the first loop, the other the second. Winner advances.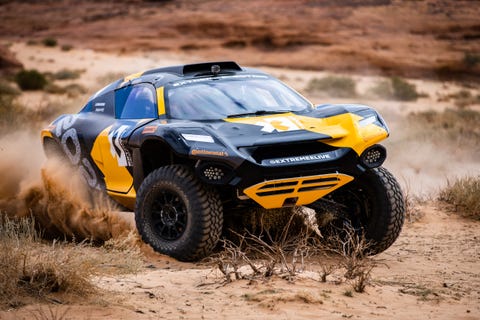 Extreme E explains it this way: "Each race, which will be known as an X Prix, will incorporate two laps over a distance of approximately 16 kilometres (10 miles). Four teams, with two drivers – one male, one female – completing a lap apiece in-car, will race head-to-head in each race over the two-day event."
The first day will be qualifying to determine the top four runners who progress through into Semi-Final 1 and the bottom four competitors who go on to take part in Semi-Final 2: the so-called "Crazy Race."
Ah yes, the Crazy Race! Organizers promise the Crazy Race will be exciting.
"The Crazy Race will be a tooth-and-nail, all-or-nothing fight, with only the quickest team progressing into the Final, while the top three will make it through from Semi-Final 1. The winner of the Final – the fastest combination of team, drivers, car and engineers over the epic two-day battle – will then be crowned the X Prix Winner."
There's more to it, there's the Hyperdrive – whoever lands the longest jump on the course gets a power boost to be used anywhere the team chooses. Likewise, fans will vote on their favorite drivers and the winner of that gets an additional power boost, too.
The initial format is designed for eight teams, but can accommodate more. So far there are nine teams signed up. If you want to root for America (USA! USA! USA!) you can pick either Chip Ganassi Racing or Andretti United.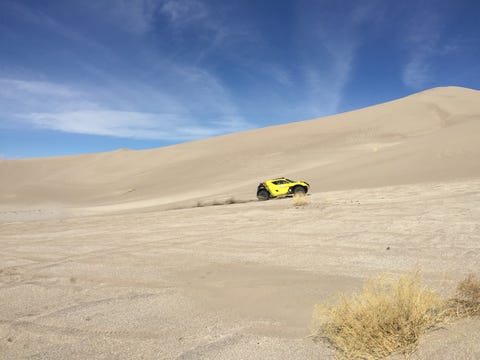 Ganassi invited Autoweek to a test session in the trackless deserts of northern Nevada where we would get a ride in their race car. Of course, we said yes. A quick nine-hour drive in a Subaru Ascent (excellent road trip vehicle, btw) and we were driving into the Ganassi complex at the Tonopah Dunes Offroad Vehicle Park, next to the (ironically bankrupt) Crescent Dunes Solar Energy Project.
The compound looked a little like a science fiction set on Mars, with an Extreme E-spec inflatable garage housing a bright yellow ODYSSEY 21 spec racer. The Ganassi car is identical to all the vehicles in the series. Spark Racing Technology in France builds all the racers, the same company making Formula E's open-wheel single seaters. The gullwing doors were open and a few technicians were wandering around, poking the beast with various instruments. A video conference was about to take place between the engineers and someone at Spark in France, or maybe Ganassi Racing in Indy, they didn't say. So I took the opportunity to speak with the team's two drivers, motocrosser-turned four-wheeler (and former beauty queen!) Sara Price and second-generation off-road champion racer Kyle LeDuc, who has had 17 successful years in short course off-road racing. I asked what exactly that Odyssey 21 race buggy was over there in the inflatable tent.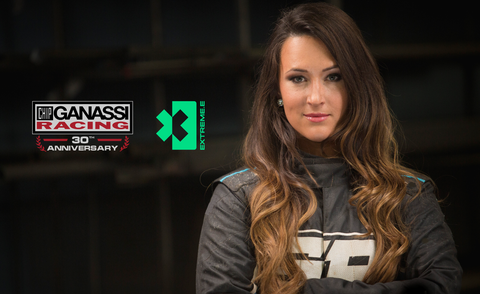 "It's a blend between an off-road truck and a rally car," Le Duc said.
"It's way different than anything we've ever done," said Price. "A lot of it is software, and data, things that we're having to learn ourselves. It's definitely different. There's different powers, the noise is different. It's all just new. We're all learning together."
Indeed, Spark had shipped the rig to them governed down to 50-percent of available power. Officially the ODYSSEY 21 has 500 hp, but a graphic on Extreme E's website lists output at 550, while the Ganassi team said 630. So who knows? The mid-rear-mounted lithium ion battery powering the rig is listed at 54 kWh, about half the battery capacity of a full-boat Tesla. Curb weight is 3,638 pounds. 0-62 mph comes up in 4.5 seconds. And range?
"We don't know yet," LeDuc said. "I go up that dune it's gone in 10 minutes."
Literally 10 minutes?
"Maybe," said Price.
This is no Mitsubishi iMiEV. But it only has to get 20 miles which, even in deep sand with four wheels driven, shouldn't be more than 54 kWh can deliver.
So I climbed into the passenger seat, under the gullwing doors, LeDuc behind the wheel. The cabin was race-truck sparse. There was some twisting of a few dials on the center console as he communicated with an engineer outside the vehicle, and we were off. The SUV felt a lot smaller than a Trophy Truck, it might have had a shorter wheelbase than even your typical Baja dune buggy. The yaw moment and the maybe even pitching fore and aft seemed quicker than just about anything else I've driven. This might have been good for a race truck, quicker reactions mean quicker lap times. Suspension travel felt a lot shorter than a Trophy Truck, maybe even shorter than what you'd get in a Baja Challenge buggy. But power was plenty. We launched off down a dirt road packed with dips and whoop-dee-doos. Because the craft is so short – it's only 177 inches long – it whanged up and down until we got up over 100 miles an hour or so, then it evened out, as these things always do.
The team had assembled around the crest of a dune where the plan was to practice launching it off the lip to see how far it would sail – remember, fly the farthest in the race and you get a free dose of extra power. So LeDuc and Price were going to practice flying. Since I would have messed up the balance, I watched from outside. It looked like it was landing kind of hard, especially on the rear wheels, but LeDuc said no, it was fine.
Then I climbed back in and LeDuc and I raced across some more sand. The rig was stable, it had a fairly far lean angle when we ran across some steep dunes. The suspension travel still felt shorter than I had expected, but was still way longer than what racers had to deal with 30 or more years ago. Maybe we've all become spoiled with modern off-road race specs. I asked LeDuc if we'd have gone faster if the ODYSSEY 21 hadn't been limited to 50% power. "Oh yeah, much faster," he said.
Then we were back at the tent on Mars and I was back in the Subaru Ascent, headed back to L.A..
You can watch the first Extreme E race on Fox Sports March 20-21 in Saudi Arabia, followed by May 29-30 in Senegal, not far from Dakar, then Aug. 28-29 in Greenland, Oct. 23-24 in Para, Brazil, and Dec. 11-12 in Tierra del Fuego. Each time everything would be loaded onto the mighty refurbished St. Helena cargo ship and hauled across the ocean, as eco-friendly as possible.
Is all this going to change the world? Will Baja and Dakar go all-EV? Will we all start cutting up those plastic rings holding our six packs together? Or will anyone even know this racing is going on? Is this just some grand-standing hoax created as a tax dodge? This morning I cynically asked my Autoweek Zoom colleagues if any of them had been to a Formula E race, expecting no hands. Instead, it looked like all hands went up. Hmmm, maybe there is something to this, maybe the future is safe for baby harp seals, maybe we will all become vegans, live in mud huts and eat organic goat yogurt. Who knows? We'll have a better idea in a year. For now, nine teams have four months to sort out their ODYSSEY 21s. Good luck teams.
Source: Read Full Article