The C8 Corvette Engine Bay Sure Collects A Lot of Water
The C8 Chevrolet Corvette slowly has been making its way into customers' hands. Canadian owner Morgan Crosbie has been shooting videos almost daily about his new 'Vette, which will coincidentally be his daily driver, and yesterday he took his white C8 Corvette for its first spray car wash.
And this is where things get interesting in Crosbie's eyes. He takes the car to a wand-style car wash and sprays the back hatch gently, as if rain were pouring down. The water rolls down the rear hatch into the vents and into another little gutter in the rear that seems meant to catch it. When he opens the glass, it pours into the engine bay.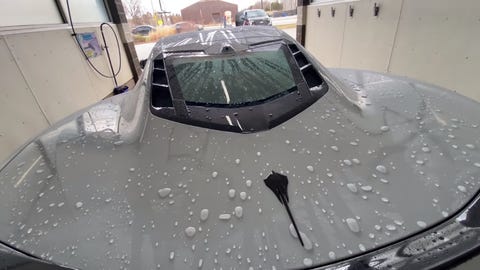 Chevy has said this will happen on the midengine Corvette, as it does with a front-engine car, but there are a few components under there (the magnetic ride control wiring, the exhaust manifold, the throttle body) that get particularly soaked when the hatch is opened. Crosbie notes that he'll be paying extra attention to those spots when towel-drying. There are a few other spots where water could pool, too, though most of them are plastic and seem like no big deal.
Now, this is a Corvette C8 sitting in a wash bay. Because those side scoops, and other paths, feed the engine bay air, which then exits out of the rear hatch vents when the car is on the move, we're guessing those would dry quickly on the open highway. Still, if you're an owner, it's something to look out for. When we get our first press loaner we'll do some experiments.
Crosbie spends the second half of the video talking about the cargo capacity, and as he unpacks the C8 of several carry-on bags, a small cooler, a cleaning supply bag and golf clubs, we can see the impressive amount of space in the front and rear storage areas. The wash water, it's noted, does not get into the rear trunk.
We talked to Chevy, which confirmed that it's not a big deal. "There is a drain path for water under the vents. The connectors are water tight, and the car can be driven in heavy rain."
Check out the rest of Crosbie's videos on his YouTube page and follow him if you're interested in a 2020 C8 Corvette. Or, more accurately, a 2021 C8: As we learned last week, there are no more 2020s to be had.
Source: Read Full Article