Sergio Perez 'still far away' from feeling at home in RB16B
Sergio Perez is "still far away" from feeling at home in the Red Bull RB16B despite briefly leading Sunday's Portuguese Grand Prix.
Starting fourth on the grid, the former Racing Point driver once again demonstrated the tyre management that has carried him to podiums in the past, putting in 52 laps on the medium tyres.
His long first stint meant Perez led the grand prix for several laps after Lewis Hamilton, Max Verstappen and Valtteri Bottas had all pitted.
Hamilton, with fresher tyres, easily chased down the Mexican driver before Red Bull pitted him before he was caught by Verstappen.
Perez came back out in fourth place, finishing six seconds off the podium.
While it marked his second top five result with his new team, he says he isn't yet feeling entirely comfortable in the Red Bull.
"Not yet," he said when asked by Sky F1 if he felt at home in the car. "I am still far away from that.
"So, it's just a process I guess and hopefully, very soon I can be at home with the race, with the team, and very much feel with it.
"Now that I am driving the car in more or less free air throughout the race, I've seen the way I have to adapt, the way I have to look after the tyres, that's all positive."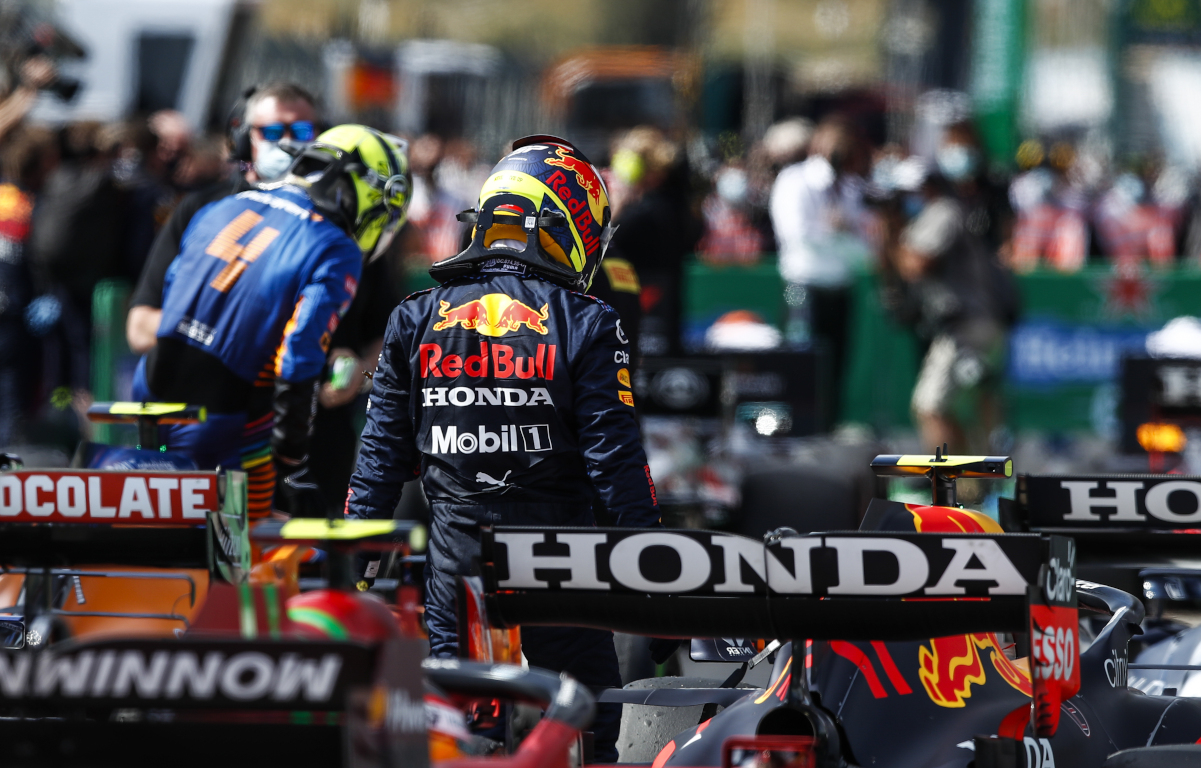 Red Bull merchandise is available to purchase now via the official Formula 1 store
Perez reckons he lost out on his chance to fight for the podium at the very start of the grand prix, struggling to get off the line which meant he lost a position to Carlos Sainz.
Playing catch up from there, he managed to get ahead of the Ferrari after the Safety Car restart only to lose fourth place to Lando Norris, a move that Perez felt was illegal.
Shortly after complaining to Red Bull about Norris' "totally off the track limits" pass, Perez overtook the McLaren driver.
From there he wasn't able to chase down Bottas to play a role in the battle for the podium.
"Everything started off the line," he said.
"On my side, there wasn't a lot of grip. I went straight into wheel spin so I lost a position to Carlos.
"Then I recovered the position after that at the restart but then I lost it to Lando down into Turn Five.
"I looked in my mirrors and I thought Lando was totally off the track limits so I didn't fight the position enough, thinking that he was going to give me back the place, but I probably misjudged that one.
"It took me a couple of laps to get past Lando, and that created the gap to the leaders that I was basically off the race by then."
Perez is P6 in the Drivers' standings with 22 points, 47 behind Hamilton and 39 adrift of Verstappen.
Source: Read Full Article