Sainz says Russell's pace shows what F1 is 'missing' | F1 News by PlanetF1
From lapping at the very back of the grid to fighting for a race win, Carlos Sainz reckons George Russell's pace at the Sakhir GP shows that "F1 is missing" out on.
Swapping the back-of-the-grid Williams for the race-winning Mercedes W11 for the Sakhir Grand Prix, Russell went from fighting not to be last to racing for the grand prix win.
The Brit qualified P2, 0.2s behind Valtteri Bottas, and was leading the race by five seconds before a "f*** up" of a pit stop cost him the victory.
A puncture soon after meant he was twice robbed of the chance to win.
He did, however, show the world what he can do in a competitive car.
And that, Sainz told Motorsport.com, "demonstrates what Formula 1 is missing out from by having cars that are two seconds apart when pretty much the whole grid could be within three tenths of a second because of the talent there is on the grid.
"It's a shame that a guy that is fighting for P15 every weekend, suddenly when you put him in a race winning car, he's 20 thousandths off pole.
"If anything for me, this demonstrates what F1 is missing out from, creating a much more incredible show if you could level the playing field a bit more and allow the driver to make more of a difference.
"At the moment, when you are one second off the pace or two seconds off the pace you cannot really see the last two tenths from a driver that makes a difference."
Get your hands on the official McLaren 2020 collection via the Formula 1 store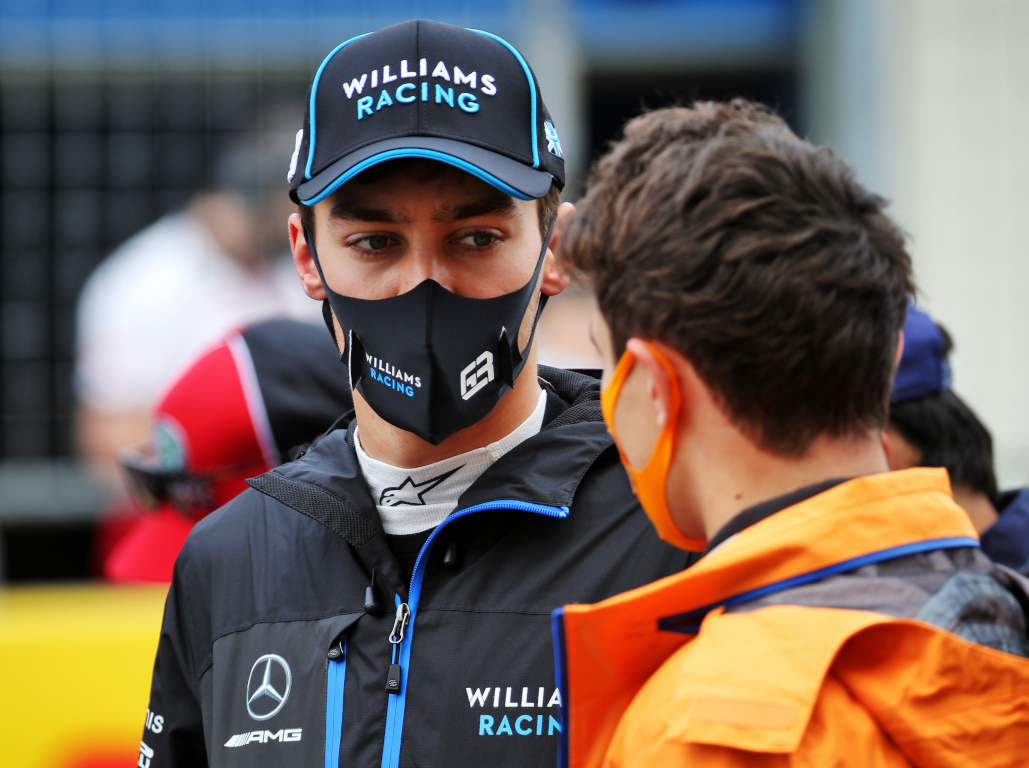 George Russell and Lando Norris
Lando Norris agrees with his team-mate's assessment.
Watching his former Formula 2 rival lead the Sakhir Grand Prix, Norris says Russell showed how far ahead of the chasing pack the Mercedes W11 genuinely is.
"We can all drive cars extremely quickly, and maybe it's just a car that suits George and probably suits a lot of other drivers as well," he said.
"If you want to win a championship, you need to be in a Mercedes.
"So I think a lot of drivers could do something kind of similar and, at some races, bring the fight to Valtteri or bring a fight to Lewis.
"But there's a lot of traits which Lewis has, like his consistency to be able to be on pole, the majority of the weekends and have flawless races without mistakes. I think those are his impressive traits."
Should Hamilton not recover in time for the Abu Dhabi GP, Norris hopes to see Russell back in the W11.
"I think if we go to Abu Dhabi maybe you'll see a slightly different story," he said.
"I think this is a track with four corners. If there's a track where maybe it's a bit easier for a driver to jump into a new car and do something special, it is probably here.
"So it'll be interesting to see if George was in the Mercedes next weekend in Abu Dhabi, whether it'll be the same story and whether he'd be even quicker, or whether he just struggles that little bit more because he doesn't know the Mercedes like the back of his hand like Valtteri would."
Source: Read Full Article