Porsche 718 Boxster 25 Is the Perfect Birthday Party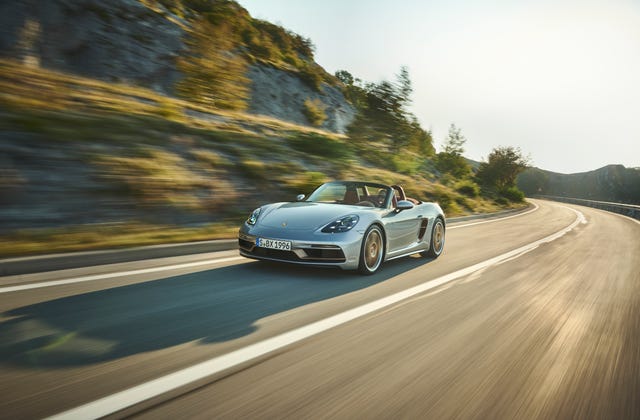 It might be hard to believe, but Porsche's beloved Boxster is celebrating 25 years on the assembly line and in our hearts. To celebrate the car's 25th birthday Porsche is, predictably, releasing a special edition. Though instead of simply being a graphics package on a base 718 Boxster, Porsche is basing the 718 Boxster 25 on the potent 4.0-liter-powered GTS variant.
The 718 Boxster 25 will also take hints from the Boxster concept that made a debut in 1993 at the North American International Auto Show. Specifically, the production car's silver finish and red interior draw from the same combination that dressed the Porsche Boxster concept. The anniversary model also features special badges making it obvious that you too are celebrating the Boxster's past.
The birthday car's 4.0-liter flat-six is the same engine found in the Boxster GTS. That means this Boxster sends 394 hp through either a six-speed manual transmission or the seven-speed PDK. This special edition Boxster will top out at 182 mph, for those that can find a space to make a high-speed run.
Porsche is capping production of this special edition Porsche Boxster at 1,250 examples globally. It's not clear how that will break down by market, but it's safe to say we'll be getting fewer than 1,250 in the US. The car is available to order now and will set you back $99,950 before tax. That's around $10,000 more than the regular 718 Boxster GTS, but it might be worth it for the diehard Porsche collectors.
Are you going to pop for a 25th anniversary Boxster? Log in an sound off in the comments
Source: Read Full Article