'Not Clear, Jackass': Chase Elliott, Martin Truex Jr. Crash Out of Southern 500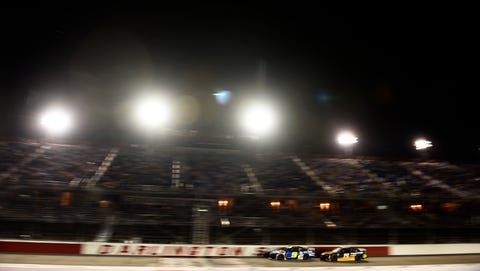 Martin Truex Jr. thought he was clear enough but Chase Elliott wasn't going to concede the lead during a crash that cost them both with 15 laps remaining in the Southern 500.
Elliott came off pit road first following a caution with 46 laps to go. Truex came off fourth but was the first driver to take the bottom via the choose cone. Elliott retained the lead off the top, and Truex fell to third behind Kevin Harvick.
Truex, who had swept the first two stages picked off Harvick and began to reel in Elliott for the lead. He caught him with 20 to go and made a move with 15 to go.
Elliott dived to the bottom in Turns 3 and 4, allowing Truex the momentum of the high side. They exit the turns nose to tail and Truex took the bottom in Turn 1, but slid up the track and sent both cars into the outside SAFER Barrier.
Elliott immediately responded over his team's radio channel: "Not fucking clear, jackass."
The contact cut a tire on Truex's No. 19 Joe Gibbs Racing Toyota. The damage to Elliott's No. 9 Hendrick Motorsports Chevrolet sent him sinking through the field. Elliott finished 20th just two spots ahead of Truex.
"He had a run on me there off of, and he just kind of cleared himself into 1," Elliott said. "He was close, but he wasn't all the way clear, obviously. I hate it. Obviously, we had a fast NAPA Camaro – fast enough to contend. We needed a little pace there to extend our lead instead of playing defense, but regardless I thought we were in a good spot.
"I ran the bottom in 3 and 4 to see if there was anything left down there, that's what kind of gave him the run, and then he just slid up into my left front, I felt like, and on we went."
Truex thought he had cleared Elliott enough or at least enough to force the Chevrolet to lift.
"Just not enough room there for both of us," Truex said. "I thought I had enough of a run to clear him; I think it was close, obviously. I thought I had enough momentum and distance on him that he was going to let me in there, and I didn't expect him to be on my right rear, and I was committed. Once I figured he was still there, nothing I could do.
"It's really unfortunate for our Bass Pro Toyota. Unbelievable job by the guys. Smoking fast race car. A lot to be proud of. I hate it for the 9 team, it was nothing intentional, just two guys going for the win and not enough room for both of us there. If it was my fault, I apologize. I really felt like I had the position to get in there to 1, so that's how it goes, and we'll see what goes on from here."
Both Elliott and Truex entered as high playoff seeds and accumulated so many points throughout the day that their playoff advancement chances were not too damaged by the incident.
The leave the first race of the first round sixth and seventh in the standings 16 (Truex) and 12 (Elliott) points above the cutline.
Source: Read Full Article