Nick Heidfeld: Max Verstappen is not bound by limits
Mercedes may once again be the better team but don't tell Max Verstappen that with Nick Heidfeld impressed that the Red Bull driver won't "accept the status quo".
Taking six pole positions in six races and going onto win five of those grands prix, Mercedes is once again leading this year's title races.
Verstappen has put himself and Red Bull up into second place.
The Dutchman is the only driver aside from the Mercedes team-mates to have won a grand prix, using an alternate strategy to take the victory at the 70th Anniversary Grand Prix.
Thrown in a hat-trick of runner-up results and the Dutchman has made headlines as the one driver taking the fight to Lewis Hamilton and Valtteri Bottas.
One person who has been very excited by the Red Bull driver's performances is former F1 driver Heidfeld.
"Max Verstappen's performance this season impresses me very much," he told Sky Germany. "He's really amazing.
"He continues to develop, drives the team forward and mostly gets the most out of it.
"The impressive thing here is that he doesn't accept the status quo.
"If you generally think that Mercedes can't be beaten and even his team signals to him that an attack is not an option at the time, Max doesn't see these limits.
"Ross Brawn puts it this way: Max remind him of Michael Schumacher in his ability to get more out of a car than it seems.
"So Max is not happy with what you think is possible. He keeps pushing. That is one of its key strengths."
Official F1 Shop: Black and white face coverings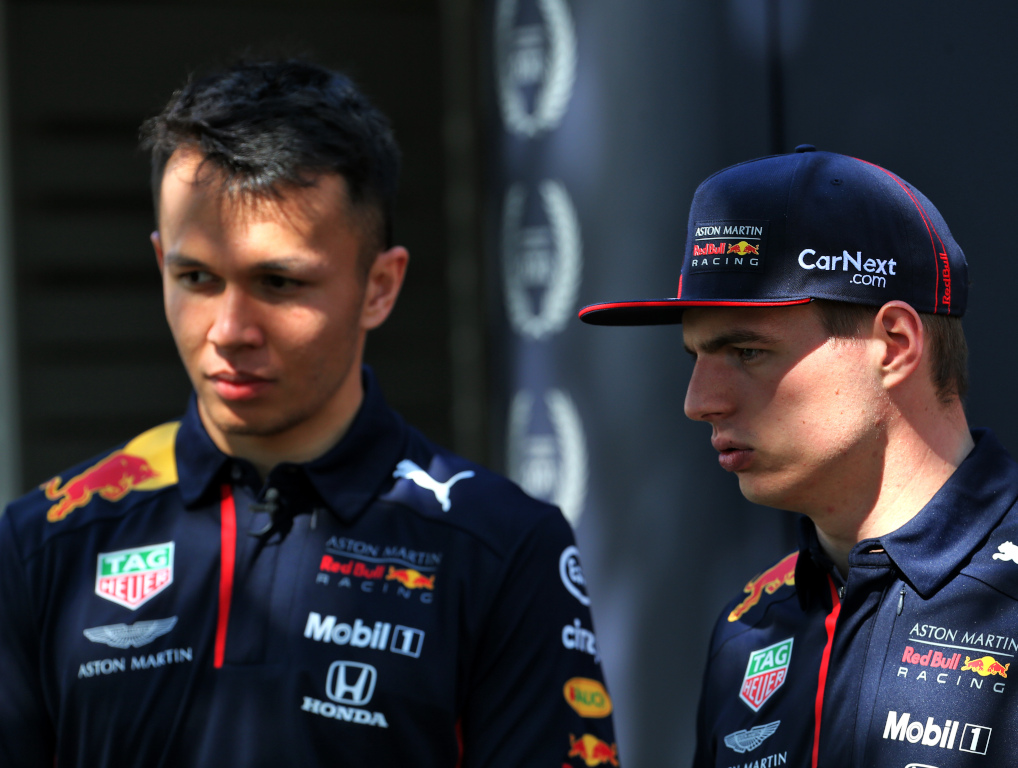 But while Verstappen has shone, the same cannot be said of his team-mate Alexander Albon.
Although the Thai-British driver began the season fighting for a first podium at the Austrian GP before he was hit by Hamilton, since then his results have been on the decline.
It has left many wondering how long Albon's Red Bull days will last.
Last season it was Pierre Gasly who was dropped after failing to match Verstappen while this season it is Albon who is experiencing the same troubles.
"His team-mates can't get to Max," Heidfeld added. "This time it has hit Alex Albon.
"He doesn't get along so well with the car, which of course was developed more by and for Verstappen.
"Nevertheless, it is difficult to explain the excessively large time gap."
He added: "The Red Bull team is still demonstratively backing the British-Thai driver, who is said to have given special support from the Thai Red Bull main owner.
"His self-confidence is badly damaged at the moment.
"This mental support is extremely important for him otherwise he will cotninue to fall in the intra-team duel against such a strong Verstappen."
The German added that Albon is lucky Red Bull isn't closer to Mercedes otherwise they'd be extremely unhappy that he is unable to join Verstappen in the fight.
"Unimaginable if Red Bull were closer to Mercedes," he continued.
"Then it would be a big, possibly decisive disadvantage that Albon does not get involved. Then the team would be missing important strategic opportunities."
Source: Read Full Article