Mercedes reveal stunning F1-inspired road car, the AMG ONE
Mercedes have revealed the production version of their new AMG ONE hypercar, whose hybrid engine utilises the same technology used on their F1 machines.
To celebrate the 55th anniversary of the AMG brand, Mercedes have revealed their new AMG ONE hypercar – the two-seater machine will utilise the same hybrid technology as used by the Mercedes-AMG High Performance Powertrain company to create the 1.6 litre turbocharged engines used by factory drivers Lewis Hamilton and George Russell.
The engine in the AMG ONE produces an output of 782kw, or 1063 horsepower, using one internal combustion engine and four electric motors. Capped to a top speed of 352 kilometres an hour, the machine does 0 to 100 km/h in 2.9 seconds.
The car will make its debut in the UK later this summer, appearing as part of the Goodwood Festival of Speed that runs from 23 to 26 June.
Aside from the F1-inspired engine, the AMG ONE boasts further technology from motorsport, including a carbon-fibre monocoque and body, active aerodynamics, a push-rod suspension, and a load-bearing engine and transmission.
It also features fully variable all-wheel drive, with a hybrid-driven rear axle and electrically driven front axle. The car can also be driven purely from its electric supply, albeit for a fairly paltry range of just 18.2 kilometres.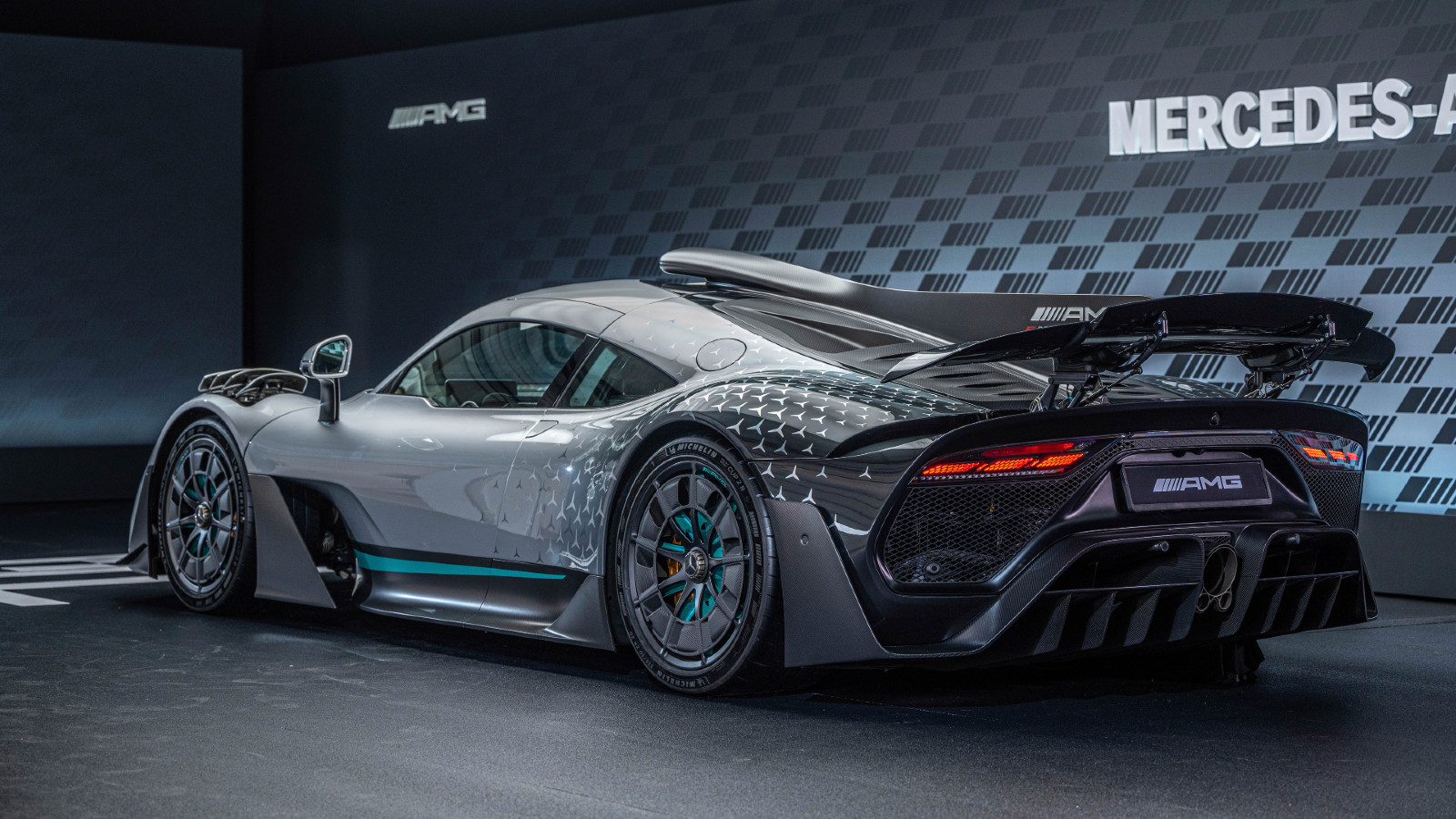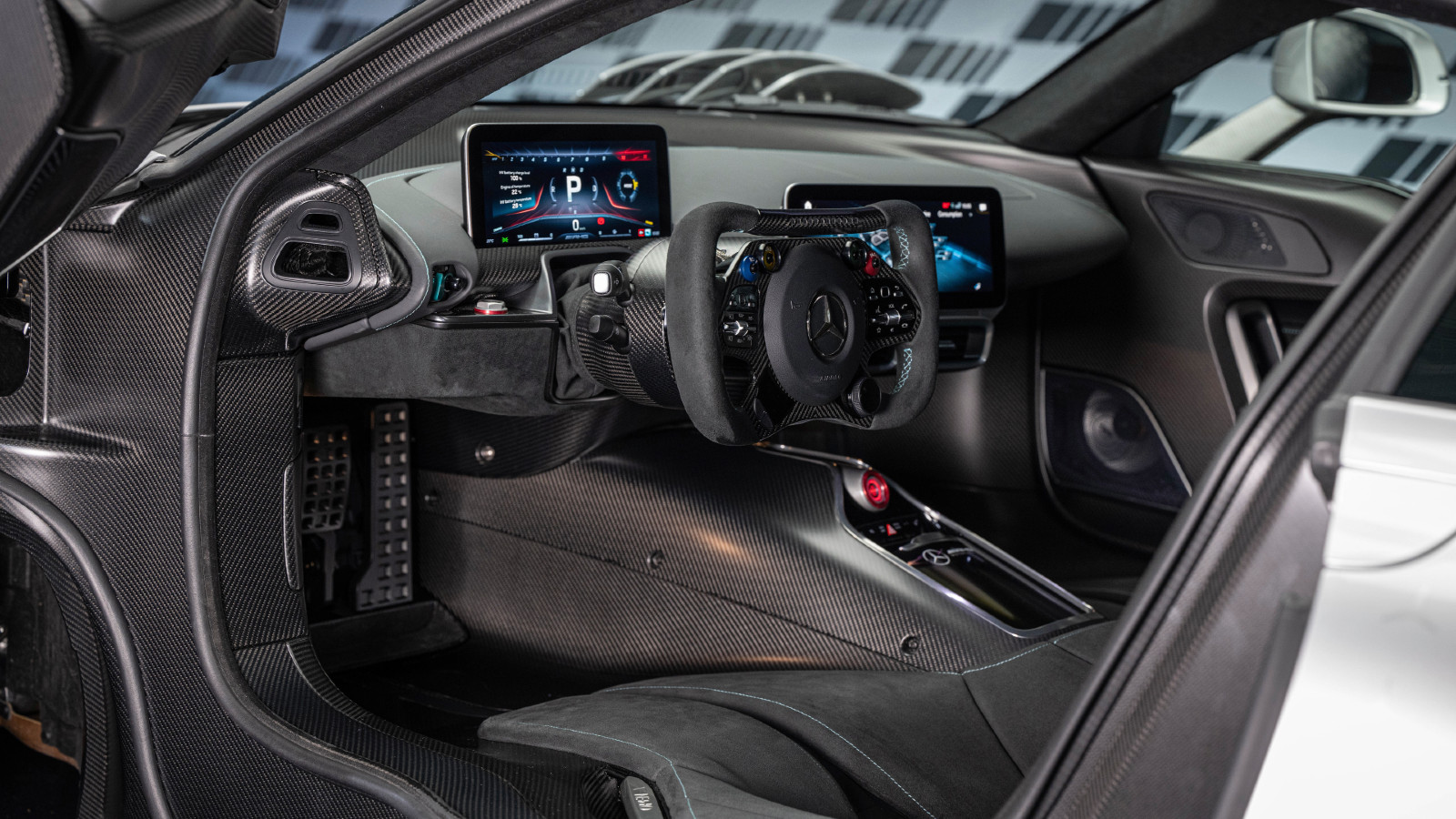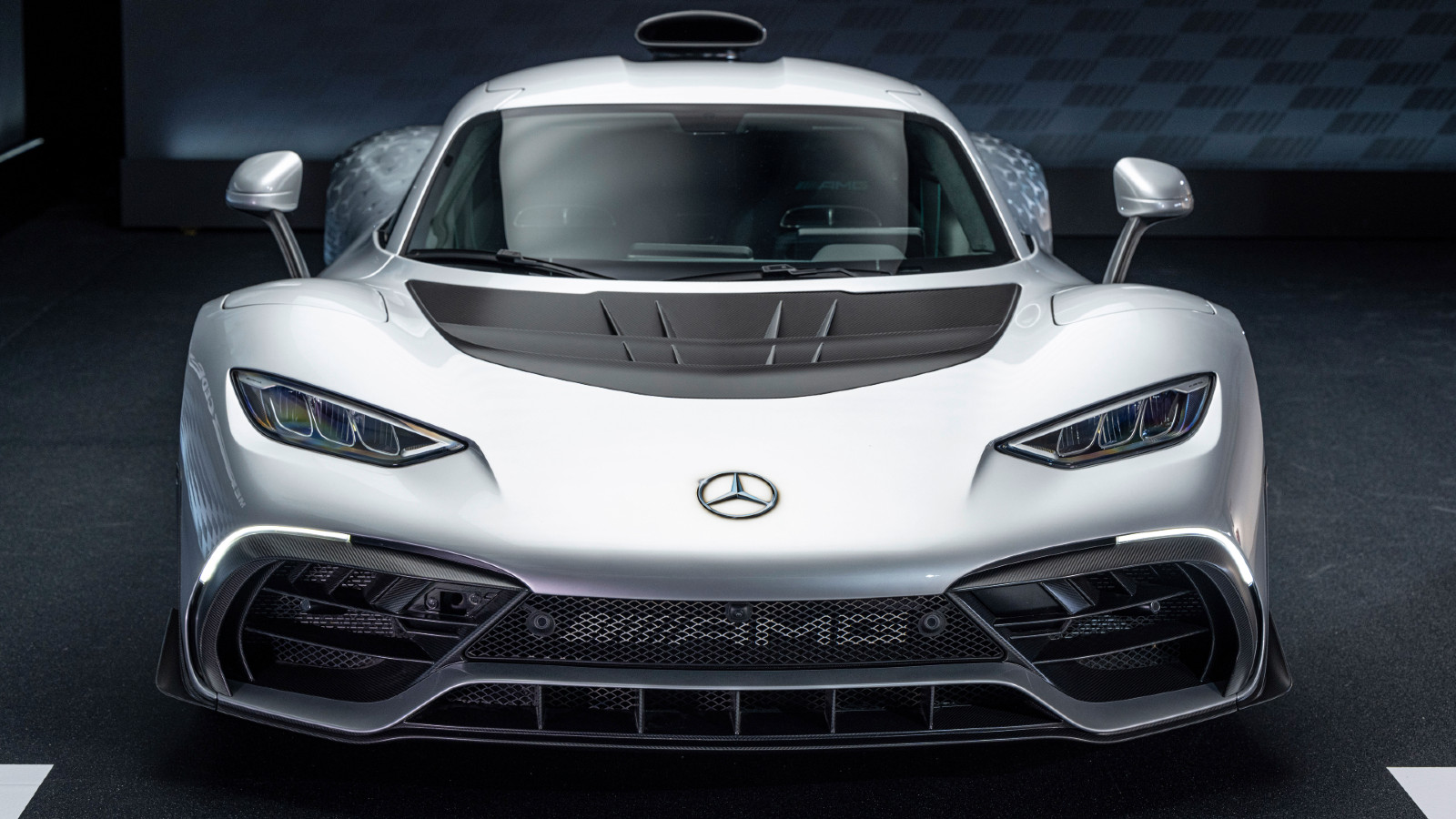 An engine designed by F1
Working alongside the F1 division at Brixworth, the AMG ONE uses a turbocharged internal combustion engine with four electric motors – one in the turbo, one in the engine, and two on the front wheels.
Revving to 11,000rpm, it has been designed to stay below the F1 rev limit, for reasons of durability. The engine also boasts a 90kW MGU-H which accelerates the turbo's compressor wheel up to 100,000rpm.
An F1-inspired interior
The interior design is that of functionality for the racetrack, with a minimalistic aesthetic for two occupants. The steering wheel, seats and pedal boxes are all adjustable, while the centre tunnel, as part of the seat sculpture, is part of the carbon-fibre support structure.
The car also boasts an F1-inspired steering wheel, although differs from an F1 wheel in that it has an airbag inside. The AMG buttons can be used to activate different functions, such as a different drive programme, a nine-stage traction control, activation of DRS, or changing suspension settings.
For further technical information about the new Mercedes AMG ONE, check out the Mercedes website.
It began with an idea. A dream…. @F1 technology brought to the streets.
Today, that dream becomes reality. The ONE and only, @MercedesAMG ONE. ❤️ pic.twitter.com/KXyetqSD3c
— Mercedes-AMG PETRONAS F1 Team (@MercedesAMGF1) June 1, 2022
Source: Read Full Article