Daniel Ricciardo: Win made 'crappier days' since Monaco '18 worth it
Daniel Ricciardo said the "crappier days" he endured without victory, were put right by his mighty win at the Italian Grand Prix.
Ricciardo's switch to McLaren for 2021 was a slow burner, but the Aussie has looked far more like his true self since returning from the summer break for the Belgian Grand Prix.
And Monza was the true breakthrough for Ricciardo in his McLaren career, as a solid display across the weekend saw him start from the front row, going on to claim an upset victory for the Woking outfit.
"Deep down I knew this was going to come, so thanks for having my back – and for anyone who thought I left, I never left, just moved aside for a while," said Ricciardo over the radio after taking the chequered flag.
And it was a victory which allowed Ricciardo to reflect on those "crappier days" as a worthwhile experience, stretching all the way back through his time at Renault to Monaco 2018, which had been his most recent win before Monza.
"I definitely try not to, like, make or dictate my life happiness around the sport, because it's been three and a half years since I won, so I'd be pretty miserable most of the time if I just based my happiness on winning races," he is quoted by Motorsportweek.com.
"I think, like, through it all and a lot has happened since Monaco 2018, so to be back here in this moment that's why we love the sport. It makes all those crappier days worth it and it's as simple as that.
"There have been lows this year but deep down I never lost faith or the belief.
"I think I also just needed to step back and I think that's where having some time off in August helped. I truly think that helped this weekend get to this position."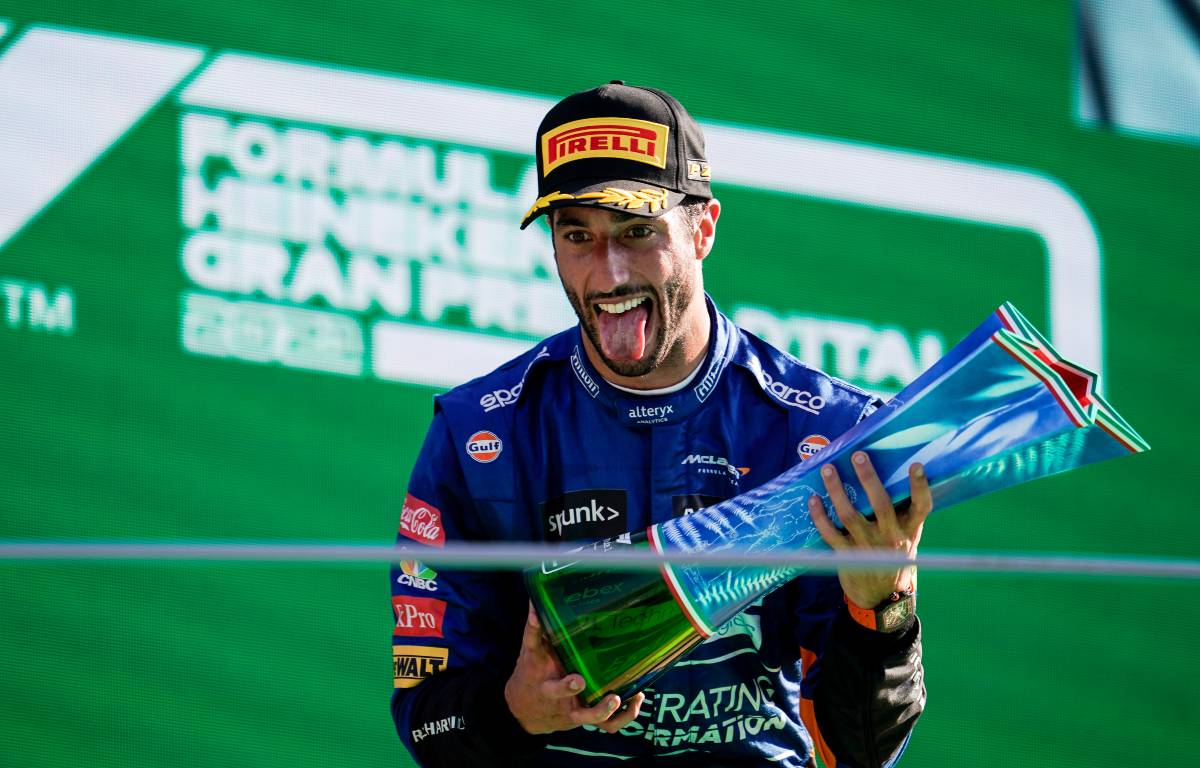 View the latest Daniel Ricciardo merchandise on the official Formula 1 store
Lando Norris secured P2 for McLaren at Monza, marking the team's first one-two finish since Canada 2010.
And after a first-half of the season where everything felt so "foreign" for Ricciardo, as soon as he knew the performance was underneath him in Monza, "it was pretty much on".
"The whole year has been something, something like a little foreign for me, something that's been more challenging I think than I've had before," he explained.
"Obviously everyone sees. We're an international sport so everyone has been aware of some of the struggles I've had this year.
"I think to come back from that, not only to win but as a team to get a 1-2… I don't know. It's crazy.
"I think after Friday… even before Friday, but I knew after Friday that we had something this weekend.
"I think that's why I was so kind of like just fired up because I knew it could have been a little bit better and I just didn't want to waste that opportunity, and obviously I haven't had that many this year, or put myself in that position, so yeah, I think from that moment on it was pretty much on."
PlanetF1 verdict
Source: Read Full Article