Why the 2021 Kia Seltos Is the Best Affordable Small SUV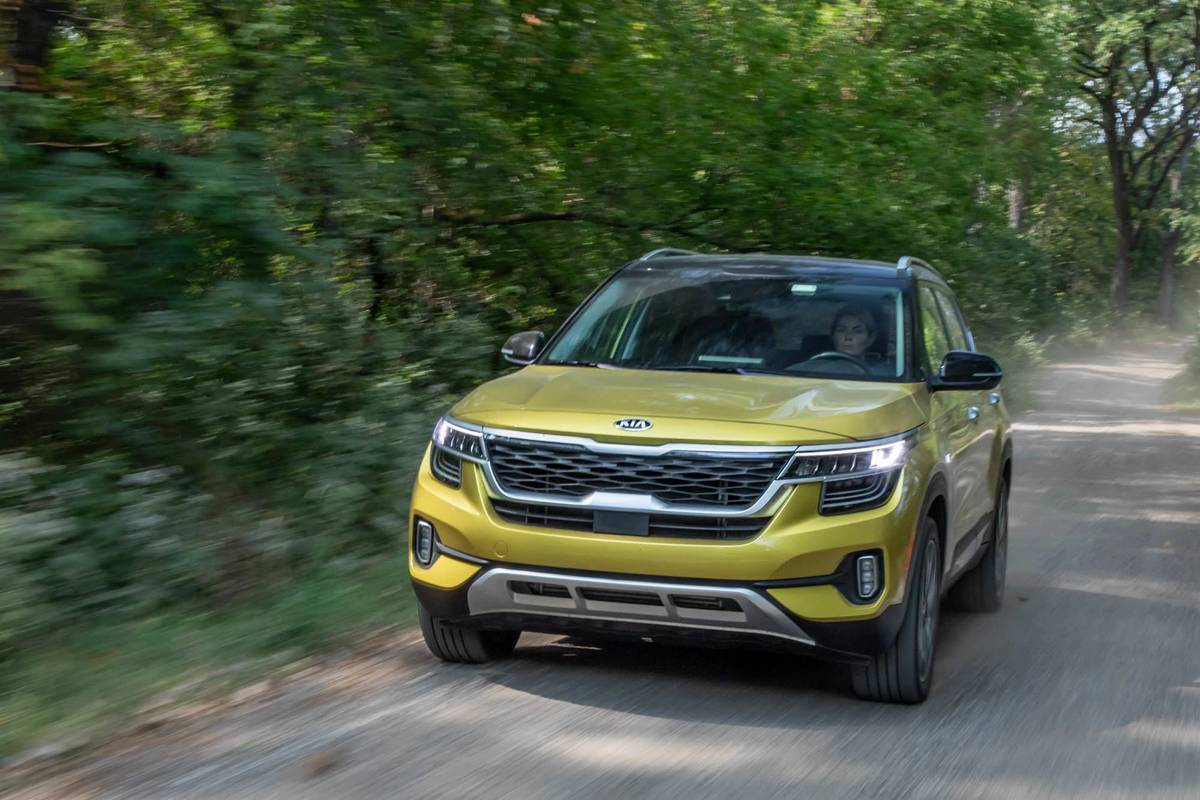 After a week of testing across 17 categories in Cars.com's Affordable Small SUV Challenge, the 2021 Kia Seltos was the winner — but only by a little. The all-new SUV earned 226 out of 350 possible points, enough to top the rival Subaru Crosstrek (218 points), Mazda CX-30 (213) and Chevrolet Trailblazer (211). That means the spread between the highest- and lowest-rated was just 15 points.
Affordable Small SUV Challenge
Results | Winner | How We Tested
In other words, the last-place finisher got only about 7% fewer points than the top car. Compare that against the previous time we stacked up the class — two years ago, also between four SUVs — when the last-place finisher had 25% fewer points than the top dog. That's more typical of the margin between winners and losers in our comparison tests, even with relatively few cars. This time around, the Seltos' victory came against a competitive group, and its margin of victory was slight.
Better Contenders to Begin With?
Maybe that's because we avoided less competitive models with older roots, such as the Ford EcoSport or Chevrolet Trax, in favor of just a few of the latest rivals plus the reigning-champ Crosstrek. But a closer look at this year's comparison shows many incremental victories for the Seltos and no major losses. It's slightly better at a lot of things, and it stank up the place in no particular area.
Indeed, the Seltos tied for the top place in one category (overall value), narrowly edged out rivals in four categories (front seats, rear seats, noise abatement and driver-assist tech) and claimed just one victory by a significant margin. That came in the user-interface category, an evaluation of user-friendliness for cabin controls and graphical interfaces, such as touchscreens. Typical of Kia, the Seltos' no-nonsense setup and large, simple touchscreen earned top marks.
The Seltos' single category loss came in safety features, where its limited speed parameters for automatic emergency braking (as stipulated by the owner's manual) cost nominal points. Even so, Kia brought up the rear by a slight margin for the category. We noted a few other nagging deficiencies aside from that — among them some acceleration lag, inconsistent cabin quality and lackluster handling. The Seltos also lacked a power liftgate, a feature two rivals had.
Still, the overall takeaway from our well-equipped Seltos SX was the proper fulfillment of a tiny-footprint SUV. Despite its small size, the Seltos packs a comfortably high driving position with decent backseat room and cargo space. The SX's drivetrain, a turbocharged 1.6-liter four-cylinder good for 175 horsepower and 195 pounds-feet of torque, pairs with all-wheel drive and a seven-speed dual-clutch automatic transmission. In our testing, it hit 60 mph in 8.03 seconds; though modest, that led a group that saw times as slow as the Trailblazer's 9.91 seconds.
As-Tested Caveats
Note that our results pertain to the specific configurations of each vehicle we tested. The Seltos' victory bodes well for all trims — particularly because of its strong showing in universal qualities like seating and cargo space — but the SX in particular is what shines. That's especially true of its drivetrain because three out of the Seltos' five trims employ a less powerful engine (a non-turbo 2.0-liter with 146 hp and 132 pounds-feet of torque) and a continuously variable automatic transmission. We didn't test that drivetrain here, so we can't comment on its performance relative to the group.
None of that should tarnish Kia's victory — especially over the Crosstrek, which topped the class for consecutive comparisons in 2015 and 2018. Subaru's formula hasn't changed much: The Crosstrek still rides a larger platform than the class norm, with extra room and a plusher ride as the result. But the Seltos boasts better packaging with more cargo room by our measurements plus a higher seating position. Kia didn't exactly beat the Crosstrek at its own game (Subaru still posted group-leading scores for ride quality), but the Seltos' user-friendly technologies and overall space efficiency may have outfoxed Subaru, not to mention Mazda and Chevy.
More From Cars.com:
2021 Kia Seltos Review: Aiming for a Tinier Telluride
2021 Kia Seltos: 6 Things We Like and 3 Things We Don't
2021 Kia Seltos: Everything You Need to Know
The 2021 Kia Seltos Seems to Fit Just Right
Cars.com's Editorial department is your source for automotive news and reviews. In line with Cars.com's long-standing ethics policy, editors and reviewers don't accept gifts or free trips from automakers. The Editorial department is independent of Cars.com's advertising, sales and sponsored content departments.
Source: Read Full Article