What's New for 2024: Nissan
Nissan finds itself at a crossroads. Like many other automakers, the Japanese brand has revised its lineup for the electric era, by leaning into popular crossover SUVs and moving away from vehicles that tax the brand's compliance with increasingly stringent vehicle emissions standards.
The 2024 model year will mark the last year of the Nissan Titan full-size pickup truck, but Nissan still breathes life into its sports car heritage with a Nismo performance variant of the Nissan Z, as well as the another run of the GT-R supercar after a brief model year run in 2023 and skipping model year 2022.
Meanwhile, reports from Automotive News that the Altima midsize sedan and Versa subcompact sedan could end production in 2025 without a successor follows other trends throughout the industry. 
Every 2024 Nissan comes with a three-year trial for its telematics service called Nissan Connect that connects with a smartphone app to remote unlock the doors and start the engine, as well as access a vehicle health report and other data. Last year, it was a six-month trial. Otherwise, the changes across Nissan's lineup of two sports cars, two electric cars, two trucks, three sedans, five crossover SUVs, are modest. Though price increases affect most of the 14 vehicles in this transitioning lineup. Here's what's been announced by Nissan for the 2024 model year. 
Redesigned, refreshed, or updated Nissan models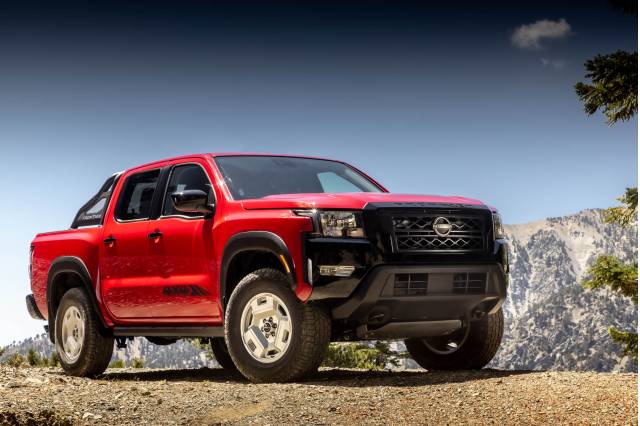 2024 Nissan Frontier Hardbody Edition
2024 Nissan Frontier
The midsize pickup truck adds a new Hardbody retro appearance package this year and a range-topping SL grade, but otherwise carries over with a starting price of $31,105 (all prices listed include a mandatory destination fee).
Nissan brings the 1980s back with a Hardbody based on the SV crew cab 4×4. It rolls on retro three-spoke 17-inch alloy wheels and all-terrain tires, and sports a front skid plate, a bed-mounted sport bar, mud flaps, and black exterior accents with all the graphics. It adds $3,890 to the SV crew cab with the 5-foot bed to a total of $38,205.
The top SL grade replaces the SV Premium Package and adds fog lights, a sunroof, remote start, leather upholstery and heated front seats, a heated steering wheel, plus 120-volt AC outlets in the bed and console and a 10-speaker Fender audio system. It costs $40,975 with rear-wheel drive, or $43,975 with four-wheel drive.
Every Frontier comes with a 3.8-liter V-6 that makes 310 hp and 281 lb-ft of torque. A 9-speed automatic transmission sends power to the rear wheels. Four-wheel drive costs $3,200 on extended cab models with a 6-foot bed, and crew cab models with a 5-foot bed cost $1,300 more (starting at $32,405) than extended cabs.
2024 Nissan GT-R T-Spec
2024 Nissan GT-R supercar
2024 Nissan GT-R supercar price increases at least $7,000 to crown the Nissan lineup at $122,885. 
The front and rear ends sport new designs, and a new rear wing improves downforce and reduces drag. Titanium exhaust pipes come standard this year.
The T-spec grade returns and bridges the gap between the Premium and top Nismo grades. It has wider front fenders, carbon-ceramic brake rotors and a stability control system lifted from the Nismo, 20-inch gold-painted wheels, and a combination of leather and suede in the interior, as well as the return of two exterior colors in Millennium Jade and Midnight Purple III.
2024 Nissan Sentra
The refreshed compact sedan sports a new front end with a broader grille tipped by narrower headlight designs, and there are new wheel designs.
It's powered by the same 149-hp 2.0-liter 4-cylinder, but Nissan says the revised CVT and a new start/stop system boosts its fuel economy 1 mpg to 34 mpg combined (top SR grades are 33 mpg combined).   
The top SR grade now gets standard heated front seats, and the SV Premium package adds Bose sound and a surround-view camera system.
Sold in S, SV, and SR grades, the 2024 Nissan Sentra starts at $21,725 for the S and peaks at $24,815 for the SR. 
2024 Nissan Titan with SV Bronze Edition Package
2024 Nissan Titan
To celebrate the final run of Nissan's full-size pickup truck, the Titan can be had with a SV Bronze Edition that adds black and bronze styling elements, and bronze 20-inch wheels.
Nissan drops the base S trim and starts at the SV; the SV crew cab with rear-wheel drive costs $47,665. 
2024 Nissan Z Nismo
2024 Nissan Z
The Nissan Z sports coupe returned new for 2023 following the end of the 370Z. This year, Nissan reintroduces the Z Nismo performance model.  
Nismo models sport red accents, larger spoilers and splitters, and bigger wheels with larger brakes, as well as a black roof.
The Nismo boosts the twin-turbo 3.0-liter V-6 to 420 hp and 384 lb-ft of torque (from 400 hp and 350 lb-ft).
The base Sport model starts at $43,305, while going full Nismo costs $66,085.
Carryover Nissan models
2024 Nissan Altima midsize sedan starts at $27,065.
2024 Nissan Ariya electric crossover is expected to carryover, but Nissan has not disclosed details on its newest model.
2024 Nissan Armada full-size SUV is expected to carryover, with a redesign slated for mid-2024.
2024 Nissan Kicks small crossover starts at $22,125, or $300 more than last year's model.
2024 Nissan Leaf electric hatchback costs only $100 more to $29,235.
2024 Nissan Murano midsize crossover costs $39,255, but it drops the 2023 Murano S base model; the 2024 Murano SV is $520 more than the 2023 Murano SV. 
2024 Nissan Pathfinder three-row crossover SUV starts at $37,415, or about $500 more than 2023.
2024 Nissan Rogue is expected to carryover, with a refreshed version of its bestseller expected for 2025.
2024 Nissan Versa costs $17,225, making it the least expensive new car on the market.
Source: Read Full Article