Vauxhall Combo Life review: Functional family MPV, but rivals offer greater character 2023
The Vauxhall Combo Life is unashamedly a van-based MPV, delivering practical, flexible and cost-effective family transport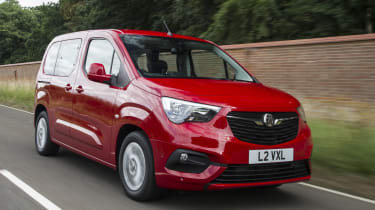 3.5 out of 5
How we review carsPrice£21,365 to £25,990SPECIFICATIONS
Space
Versatility
Low running costs

Van-like styling
Uninspiring interior
Lacklustre dynamics


Best people carriers and MPVs 2023
The 1.5-litre turbodiesel engine is sourced from the Stellantis group. It comes with a choice of two power outputs, and either a six-speed manual gearbox as standard, or an eight-speed automatic transmission for the higher-powered diesel.
A fully electric version joined the renege in 2021 called the Vauxhall Combo-e Life. It uses the same 50kWh battery as the Vauxhall Corsa Electric and Vauxhall Mokka Electric and manages up to 174 miles on a charge. Like the standard Combo Life, it's available with five or seven seats.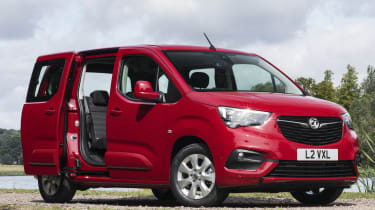 Prices start at just under £21,500 for a 1.5-litre diesel in Design trim, with the seven-seater XL costing roughly £1,500 more – or nearly five grand more than our favourite affordable seven-seater, the Dacia Jogger. There's a bit of a jump up from the more powerful diesel automatic into the equivalent electric Combo-e Life, going from a little over £26,000, all the way up to just under £35,000. The seven-seat electric version in range-topping Ultimate (Ultimate trim is only available with the electric model) rounds out the range at nearly £37,000. 
Entry-level design trim includes rear parking sensors, twin sliding doors, an eight-inch infotainment system with digital radio and Apple CarPlay and Android Auto connectivity, plus 16 inch alloy wheels. Head further up the range to Ultimate for a reversing camera, sat-nav, and two-zone air conditioning as standard.
Vauxhall has done little to disguise the Combo Life's van-based roots, which, for some buyers, will make a welcome change from the over-styled and overly complex SUVs of the world. It's for this reason that Vauxhall might steal sales from the SUV-styled Peugeot Rifter. Other rivals include the Berlingo, Ford Tourneo Connect, and Volkswagen Caddy.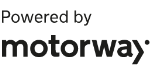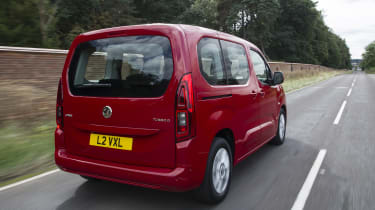 19
Predictably, there's a fair amount of lean if you drive with enthusiasm, while the car's tendency to understeer means you're unlikely to push the Combo Life hard into a corner more than once. There's very little feel or feedback in the Combo Life, because its steering is very light and barely feels connected to the front wheels. The Tourneo Connect provides superior steering weight, and we feel a little more confident carrying speed down a twisty B road in it than in a Combo Life.
The brakes of the standard Combo Life feel strong enough to cope with a car load of people and their luggage safely. The Combo-e Life comes with two levels of regenerative braking; utilise the 'B' mode on the gear selector, and you'll slow down more quickly after lifting off the accelerator, allowing you to drive with one pedal most of the time.
Engines, 0-60 acceleration and top speed
All engines are sourced from Stellantis, and each one is configured to deliver good economy and low CO2 emissions rather than rapid acceleration and top speed.
The quickest off the line is the 129bhp 1.5-litre diesel, which has a 0-62mph time of 10.6 seconds and the highest top speed of 114mph. 
In the 99bhp 1.5-litre diesel, you can expect to hit 0-62mph in just under 13 seconds, with a top speed of 107mph. Predictably, the long-wheelbase XL is heavier and a little more sluggish.
Provided you keep the Combo-e Life in its 'Power' driving mode, you'll uncork the full 136bhp, providing a 0-62mph time of 11.7 seconds. Leaving it in Normal mode will rein the powertrain back to (107bhp) in the interests of maximising range, although that's still enough to keep up with the traffic flow. The top speed is just 84mph, although that's more than enough for UK roads.
MPG, CO2 and Running Costs
Strong economy figures, low CO2 emissions and cheap insurance deliver low running costs

With commonly used engines, the Vauxhall Combo Life delivers similar fuel economy numbers to its Berlingo and Rifter kin. The only difference is that, unlike with the Berlingo, you can't have a petrol Combo Life.

The 99bhp1.5-litre diesel in six-speed manual form offers the best fuel economy of the range at 53.3mpg. The more powerful 128bhp model comes exclusively with an eight-speed manual, which drops the fuel economy down to 45.5mpg. These are all fine figures, but the Ford Tourneo Connect and the VW Caddy diesel models both do better, with high 50s economy numbers.

Likewise, both the Tourneo Connect and Caddy emit less CO2, and therefore, you'll pay less initial road tax (VED). However, neither has an ace-in-the-hole electric version for company car drivers, which is where the Combo-e Life comes in.  Its exemption from road tax (VED) until 2025 and 2% Benefit-in-Kind (BiK) company car tax rate means running one will be significantly cheaper.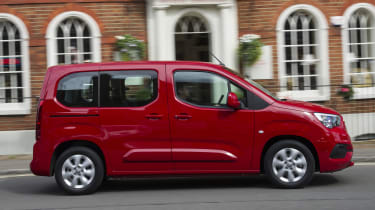 19
The Combo-e Life hides a 50kWh (47kWh useable) battery under the floor, providing a driving range of 174 miles. True, there are alternatives, such as the VW ID. Buzz that'll go further thanks to a larger 77kWh battery pack, but that costs considerably more.
As far as rapid charging goes, the Combo-e's 100kW maximum charging speed means a 10-80% top-up will take around 30 minutes from a suitably quick rapid charger. Alternatively, a 7kWh home wallbox can refill a flat battery in eight hours.
Insurance groups
The Combo Life starts in insurance group 10 for the 99bhp 1.5-litre diesel Design, and goes up to group 21 for the electric Combo-e Ultimate XL seven-seater. That's on par with the Berlingo range, but the VW Caddy will likely be cheaper to insure, because it starts in group 8, before topping out in group 12. 
You can get personalised car insurance quotes fast with our comparison tool powered by Quotezone…
Depreciation
According to our residual value experts, the Vauxhall Combo Life (or, more specifically, the electric Combo-e Life we have data for) is expected to hold on to 46-48 per cent of its value after three years or 36,000 miles. That's a little better than the equivalent e-Berlingo range, but behind the e-Rifter, which is a little more desirable and will maintain 50-52 per cent of its value. 
To get an accurate valuation on a specific model check out our valuation tool…
Interior, design and technology
Plain looks and an uninspiring cabin are two of the Combo Life's weakest areas

You'd struggle to call any of the MPV trio from Peugeot, Citroën and Vauxhall attractive, but it's arguable that the Combo Life has been dealt the weakest hand in the styling department. Little has been done to disguise the van roots, and the standard Vauxhall grille makes the Combo Life look, at best, rather plain, especially when compared with the rugged-looking Peugeot Rifter.

The Peugeot looks marginally more premium, while the Berlingo looks part of the Citroen family, thanks in part to the 'Airbump' panels on its exterior. Whether the Vauxhall's 'runt of the litter' styling will matter to the target audience is up to you.

The same theme continues on the inside, because while the cabin is functional and fit-for-purpose, it lacks flair and imagination. Again, the Rifter has the most eye-catching cabin, thanks to the i-Cockpit layout with the dials above the small steering wheel. In the Combo Life, you get a layout similar to the Citroen Berlingo, with the dials behind a conventionally sized steering wheel. Some buyers might prefer this more traditional look.

The dashboard area consists of a sea of grey plastics and hard surfaces. It's neither easy on the eye nor inspiring, which is perhaps why so many people prefer the more car-like ambience of an SUV. At least the main touch points are similar to those found in the rest of the Vauxhall range. The steering wheel, gearlever and column stalks are the same as you'll find in an Astra or Grandland, and help differentiate the Combo Life from the Berlingo. However, you'll only notice the difference if you try both models back-to-back.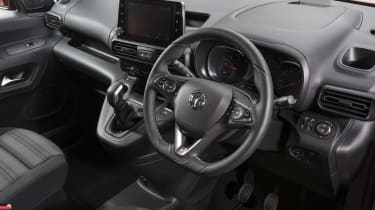 19
Some drivers will like the raised gear lever – we just wish the knob itself was nicer to use and not as chunky. The seats of the standard Design trim offer little in the way of support. You'll need to step up to Ultimate trim to get manually adjustable lumbar support for a little extra comfort.
In fact, there's little scope to add much in the way of luxuries, unlike rivals such as the Ford Tourneo Connect and VW Caddy. Apart from being able to add sat-nav, a tow bar, and a spare wheel, you're left with having to upgrade to Ultimate trim to get additional luxuries such as a heated leather-covered steering wheel. Oddly, heated seats aren't an option, so you'll need to go for the rivals mentioned above in order to get this welcome feature in winter.
Sat-nav, stereo and infotainment
All Combo Life models come with an 8.0-inch touchscreen that features Apple CarPlay and Android Auto, along with DAB digital radio, Bluetooth, USB audio connection, and six speakers.
Upgrading to Vauxhall's Multimedia Navi Pro system brings a sat nav system with 3D view and European mapping, plus the Connect system that adds emergency assistance, live traffic and online features. It's standard on electric models, but optional on the diesel versions. 
The sound system is okay, but – in our experience – you'll need to crank up the volume on motorway trips to overcome the road and wind noise at speed.
Practicality, comfort and boot space
The Combo Life offers a huge amount of space and flexibility, especially in XL or seven-seat guise

Space and practicality are the main focus points of cars such as the Vauxhall Combo Life, and fortunately, it doesn't disappoint. Whether you opt for the 4.4-metre standard version or the 4.75-metre long Combo Life XL, you'll find an enormous amount of space for passengers and their luggage inside.

The standard version has five seats, while the longer XL has seven seats. Every version has sliding rear doors on both sides, which should make getting people into the back easier in a car park (and mean those getting out don't accidentally hit other cars). Curiously, the Combo Life isn't quite as slick inside as the Citroën Berlingo (especially in Flair XTR trim) and Peugeot Rifter, with many of the brighter trim colours and fancier finishes found in the French versions entirely missing from the Vauxhall, making it the dullest looking of the three inside.

The Combo Life also misses out on some of the neat storage solutions available in its French alternatives, such as the aircraft-style storage locker that drops down from the ceiling above the boot, or the floating, translucent overhead panel that runs along the roof with additional reading lights and storage for small items.

There's no arguing, though, that the Combo Life has the edge over many SUVs of a similar price – particularly from a practicality point of view. You get a high driving position, and the big windows provide excellent visibility. It's easy to judge where the corners of the car are thanks to its slab sides and vertical rear end. You do get rear parking sensors as standard to help with parking, while a reversing camera is standard on top-of-the-range Ultimate.
Size
The standard Combo Life measures 4,403mm in length, while the Combo Life XL is 4,753mm long, with the extra length found behind the third row of seats.
This means you get a huge amount of boot space, which we'll come to in a moment. All models are 1,921mm wide (2,107mm including door mirrors). The standard Combo Life sits 1,841mm tall, with the XL version adding a further 39mm to the height.
For comparison, the Volkswagen Caddy (and its Ford Tourneo Connect sibling) is longer at 4,500mm (4,853mm in Maxi or Grand Tourneo forms), but a little narrower at 1,855mm (2,100mm including mirrors).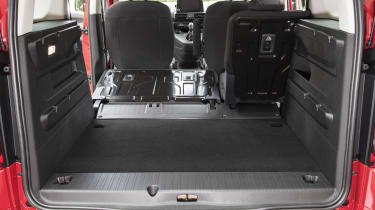 19
Leg room, head room & passenger space
Each seat offers plenty of space, with the light and airy cabin serving to accentuate the sense of roominess. Adults over six-foot should find more rear leg room in the Combo Life than there is for a Dacia Jogger, which can be a little tight for the taller folk. On the five-seat models, the second-row seats are split 60/40, while Ultimate trim and all seven-seat XL versions allow them to be folded individually, delivering even more flexibility.
On the seven-seat XL, the third row of seats can be removed to create a cavernous load area. 
Two Isofix points are provided on the outer second-row positions on five-seat models with the 60/40 split, while the individual sliding rear seats on Ultimate and seven-seat XL models have an Isofix across all three positions, allowing for the fitment of three child seats.
Boot
The boot size is impressive, regardless of the model in question. In standard guise, there's 597 litres of luggage capacity, which extends to 2,126 litres with the passenger seats folded down.
In the Combo Life XL, this extends a minimum of 806 litres, with a huge 2,693 litres available with all seats folded away or removed. In contrast, a Jogger only has 160 litres of space with the third row up, and 1807 litres with all seats folded.
All Combo Life models have a low bumper height, making it an ideal car for those with dogs because it'll be easier for them to get in and out. The tailgate is enormous and difficult to open in a tight car parking bay. This has been thought of, though, because every Combo Life has an opening glass window, for you to be able to load up the boot without having to open the whole tailgate.
Towing
The braked towing capacity ranges from 750kg for the electric version, up to 1,500kg for a shorter five seat model with the most powerful diesel engine. A removable tow bar with a 13-pin connector can cost as much as £600, but for that money it will include a trailer stability programme integrated into the ESP system.
If you're looking to tow bigger caravans or trailers, you'll need to get an SUV, or look at even larger van-based MPVs, such as the Citroën Spacetourer diesel, which can pull up to 1,900kg.
Reliability and Safety
The Vauxhall Combo Life has plenty of standard safety tech but the brand hasn't performed well in reliability surveys

While the Vauxhall Combo Life (or its siblings) didn't feature in the most recent Driver Power owner satisfaction survey, the Vauxhall brand came in 24th out of 32 manufacturers in rankings. That puts it above fellow van-based MPV and seven-seat car manufacturers Dacia, VW, and Ford, but behind Citroën and Peugeot.

The Combo Life received a four-star Euro NCAP crash test rating back in 2018. The result was based on the rating for the mechanically similar Peugeot Rifter. Newer rivals, such as the Ford Tourneo Connect and VW Caddy have passed the latest, and most stringent tests and managed a full five-stars out of five. The Rifter and Combo were criticised for not protecting the head of vulnerable road users; an autonomous emergency braking system that couldn't recognise cyclists, and a lack of a seat belt reminder for the optional third row seats – the latter being amongst the reasons why the Dacia Jogger received such a low NCAP score.

The Combo Life comes with the driver-assistance features we've come to expect in more conventional family cars, such as autonomous emergency braking (AEB), lane-keeping assistance, and automatic high-beam assistance. Rear parking sensors are also standard – handy given the Combo Life's size. It's a shame that additional safety aids like blind spot warning aren't available as an option, because that's a standard feature on the mid-range Expression Jogger. It's also quite annoying that an alarm isn't standard either, and costs an additional £200.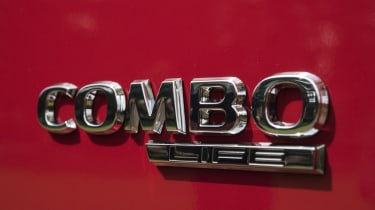 19
Warranty
Every new Vauxhall comes with a three-year/60,000-mile warranty. Extended warranties are available after the manufacturer's warranty has expired. The battery on Combo Life Electric models is covered if it drops below 70% capacity in the first eight years or 100,000 miles.
Servicing
The diesel Combo Life will require a service every 12 months or 20,000 miles, whichever comes first. Owners can spread the cost of servicing by paying for the Vauxhall Service Club, which, amongst other things, offers 15 per cent off accessories, half price MOTs, fixed price AdBlue refills, and a discount of up to 25 per cent on servicing and repairs.
The Combo Life Electric needs an initial service after one year or 12,500 miles, whichever comes soonest, then it'll need to be serviced every two years or 25,000 miles from that point onwards.
For an alternative review of the Vauxhall Corsa Electric, visit our sister site drivingelectric.com…
Frequently Asked Questions
Is the Vauxhall Combo Life a good car?
We think the Vauxhall Combo Life is a great choice if you want to maximise interior volume in the smallest vehicle possible. However, there are better van-based MPVs to drive, and there are other seven-seaters with more appealing interiors.
What is the range of the Vauxhall Combo Life?
The range of the Vauxhall Combo-e Life is up to 174 miles, and it can be topped to 80 per cent using a 100kW charger in around 30 minutes.
How long will the battery of the Vauxhall Combo-e Life last?
The battery of the Vauxhall Combo-e Life should last the lifetime of the vehicle. The Vauxhall warranty is that it should maintain above 70% capacity for eight years or 100,000 miles.
Which Is Best
Cheapest
Cheapest vehicles
Our 'cheapest' pick is the model with the lowest on the road retail price.Close
Name1.2 Turbo Design 5dr
Gearbox typeManual
Price£19,210

Most Economical

Most economical vehicles

Our 'most economical' pick is the model with the best fuel economy on the WLTP combined cycle.Close

Name1.2 Turbo Design 5dr
Gearbox typeManual
Price£19,210

Fastest

Fastest vehicles

Our 'fastest' pick is the model with the fastest time for the 0-62mph or 0-60mph sprint.Close

Name1.5 Turbo D 130 Design 5dr Auto
Gearbox typeAuto
Price£23,150

Source: Read Full Article