Vauxhall Astra Sports Tourer review: Stylish estate with petrol and plug-in hybrid options 2023
Stylish looks, impressive technology, and various engine options make the Vauxhall Astra Sports Tourer a fine estate car choice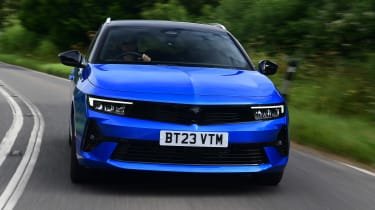 4.0 out of 5
How we review carsPrice£29,140 to £36,890SPECIFICATIONS
Versatile 40/20/40 split rear seats
Generous standard kit
Diverse engine range

Rear legroom
Some cheap plastics
Plug-in hybrid is expensive


Top 10 best estate cars to buy 2023
But this version is coming later. Right now, we have two plug-in hybrids. The first is the Hybrid 180, which will go up against plug-in hybrid versions of the Peugeot 308 SW, and SEAT Leon Estate, while the sportier GSe (Grand Sport Electric) version will go up against the Cupra Leon Estate. 
Then there's the petrol-powered 1.2-litre Astra Sports Tourer, which is likely to be the volume seller. It'll compete against similarly powered rivals, from the Ford Focus Estate, Kia Ceed Sportswagon, the already mentioned 308 SW and Leon Estate, Skoda Octavia Estate, Toyota Corolla Touring Sports, and the Volkswagen Golf Estate. This version of Astra Sports Tourer will have a choice of either 109bhp or 128bhp power outputs, and comes with a six-speed manual gearbox as standard. An optional eight-speed automatic transmission is available for the more powerful version.
Keeping things simple, the latest Astra Sports Tourer comes with just three trim level options: Design (entry), GS (sporty) and Ultimate (luxury). The petrol Astra Sports Tourer range starts from just over £29,000, putting it at a premium over the Leon and Octavia Estates. Prices for the plug-in hybrid models are much steeper, starting at over £40,000 for a GS-spec model. We don't know pricing for the Astra Sports Tourer Electric yet, but based on an approximate £2000 premium over the regular hatch for the estate version, we'd anticipate prices to begin at £40,000, and breeze past £45,000 for the top-of-the-range Ultimate.
Engines, performance and drive
The Vauxhall Astra Sport Tourer lineup includes a broad spectrum of petrol, plug-in hybrid, and (soon) all-electric power

So far, we've tried the Astra Sports Tourer in both 1.6 Hybrid 180 and GSe plug-in hybrid versions, but there will also be a regular 1.2-litre petrol as used by its closely-related Peugeot 308 SW sibling. When it comes to its dynamics, the plug-in hybrid Sports Tourer feels pretty similar to other Astras. The steering is light, which helps to give the relatively long and large estate the sort of responsiveness you'd expect of something much smaller around town.

Partnership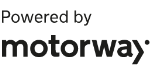 Need to sell your car?Find your best offer from over 5,000+ dealers. It's that easy.
Rated 'Excellent' 
We've tested a GS trim version with 17-inch alloys. It comes as standard with these wheels, and we wouldn't suggest choosing the optional 18-inch rims. The Sports Tourer's ride is fine around town, and is no worse than the 308 SW upon which it's based, because there's still plenty of suspension travel to soak up the worst bumps. Head out onto faster B roads, and the high-ish kerbweight of 1,717kg gives the hybrid Sports Tourer a tendency to fidget on rough roads – and this will only be made worse with larger wheels.
The GSe receives fancier frequency-selective dampers to tighten its responses, and it sits 10mm lower on 11 per cent stiffer springs. As a result, it tends to follow the contours of the road more resolutely than the standard Astra Sports Tourer. The broader operating range of the new dampers means that the ride comfort hasn't suffered – although it hasn't gotten any better, either, because it can still feel jittery over rippled surfaces.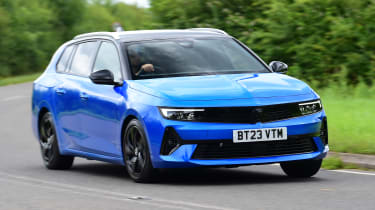 22
Vauxhall's positioning within Stellantis means it offers a slightly sportier approach than Peugeot. We wouldn't say the Astra is noticeably more dynamic than a Peugeot 308 SW, and nor would we call the 'sportier' GSe something approaching a hot hatch. It weighs even more than the regular car (1,746kg) and feels heavy-handed and unwilling when tackling tight corners. Greedy throttle applications easily overwhelm the front wheels, forcing the driver to dial back the commitment. The Sports Tourer feels more settled at moderate speeds, and its shortcomings as a performance car are easier to accept, given its more practical brief over the hatchback.
The Astra Hybrid 180 powertrain's throttle response is a little delayed, as are the eight-speed automatic's shifts, even when you move from 'Hybrid' to 'Sport' mode. Crucially, though, the combination of the petrol engine and electric motor means the PHEV never feels underpowered – even if the engine does sound stressed in the upper reaches of the rev range if you push it.
It's around town in 'Electric' mode where the PHEV feels most impressive. It nips between junctions confidently thanks to its punchy low-speed performance. The electric motor's assistance helps cover any lethargy in the eight-speed automatic gearbox as it shuffles through its gears. The power sources don't always blend seamlessly, though, and it can be challenging to meter out the throttle when pulling away from a standstill. The brake pedal combines motor regeneration with the physical discs and pads, but as with the gearbox and electric motor combination, it results in an inconsistent pedal feel. 
Based on our experience with the hatchback, the 1.2-litre petrol with a six-speed manual is the nicest to drive, and we'll update this section once we've gotten behind the wheel of one.
0-62mph acceleration and top speed
So far, we've driven the 1.6 180 and 1.6 225 GSe plug-in hybrid versions, the quickest of which being the GSe, with a 0-62mph time of 7.5 seconds thanks to its 1.6 petrol and electric motor combination putting out 222bhp and 360Nm of torque. Its top speed is 146mph – if you can find somewhere legal to do this.
However, the regular 1.6 180 PHEV Astra isn't much slower. It produces less power at 178bhp but the same amount of torque at 360Nm, enough to accelerate from 0-62mph in 7.7 seconds and hit a top speed of 140mph.
The 1.2-litre turbocharged petrol unit is available in 109bhp or 128bhp forms, with the former managing the same 0-62mph sprint in 10.8 seconds and the latter in 10 seconds for the six-speed manual. Go for the eight-speed automatic with the more powerful 1.2 and it'll get to 62mph from rest a touch quicker at 9.9 seconds. We haven't tried this engine in the estate version yet, but we anticipate you'll want the high-output version if you plan on carrying stuff in the boot.
We don't know the performance figures for the Astra Sports Tourer Electric, but expect it to manage the 0-62mph sprint in a similar amount of time as the hatchback version, in just over 9.0 seconds.
MPG, CO2 and Running Costs
The Vauxhall Astra Sport Tourer petrol is economical, but company car users will want the plug-in hybrid and forthcoming electric versions

According to Vauxhall, the Astra petrol models with a manual gearbox manage 50.4mpg on the WLTP combined cycle, while the automatic version drops this to 49.6mpg.

That's fine, but the hybrid Toyota Corolla Touring Sports offers over 60mpg in both 1.8 and 2.0-litre guises. True, the plug-in hybrid models have a WLTP figure of 256mpg, but you'll need to regularly charge up in order to get anywhere near that in real-world driving.

The petrol Astra Sport Tourer's CO2 emissions range from 124g/km to 133g/km, so business users will be looking at Benefit-in-Kind (BIK) rates of 29 to 31 per cent – not the most competitive figures in a growing age of electrification where the Corolla Touring Sports is in the 25 per cent band.

Fortunately, the Astra Sports Tourer has a plug-in hybrid model which can travel up to 42 miles on electric power alone. With CO2 emissions of 23-25g/km, the PHEV has a much more attractive 8 per cent BIK rating for company car drivers. Unfortunately, the GSe model can't breach the 40-mile barrier (managing up to 39 miles), so it's in the higher 12 per cent bracket.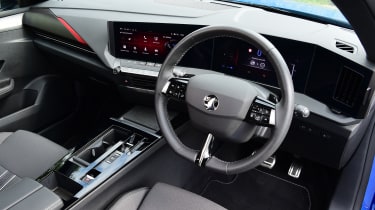 22
Both versions of plug-in hybrid use the same size battery, so recharging its 12.4kWh (10.4kWh usable) battery using a 7kW home wallbox will take around two hours.
An all-electric version will be joining the range soon. Its range hasn't been announced yet, but expect it to be a little less than the 256 mile range of the hatchback version since it weighs a little bit more. We'd be very surprised if the charging times were altered from the hatch since they'll be using the same size battery. If you can find a rapid charger capable of supplying 100kWh of charging speed, you should be able to charge from 20 to 80 per cent in less than half an hour. Refilling a flat battery at home using a 7kW wallbox will likely take around eight hours.
Insurance groups
Insurance premiums for the Astra Sports Tourer won't be particularly cheap as even the entry-level 109bhp Design model sits in group 16 (out of 50). The least powerful 123bhp Ford Focus Estate in Titanium trim is one insurance group lower, while the least expensive Kia Ceed Sportswagon is in group 14.
Moving through the Astra Sports Tourer line-up, the 178bhp plug-in hybrid is in group 27, while the most expensive version to insure will be the performance-oriented GSe as it sits in group 31. That's the same as the much faster and more desirable 316bhp VW Golf R Estate.
You can get personalised car insurance quotes fast with our comparison tool powered by Quotezone…
Depreciation
According to our expert data, the eighth-generation Astra Sports Tourer should hold on to 44-47 per cent of its value after a typical three-year/36,000-mile ownership period, with the best version being the 1.2 130 GS in manual form.
That's on a par with the SEAT Leon Estate, although the Corolla Touring Sports retains around 50 per cent of its value over the same period, with the 2.0-litre GR Sport model the top performer at 54 per cent.
To get an accurate valuation on a specific model check out our valuation tool…
Interior, design and technology
Buyers will be impressed with the Vauxhall Astra's sharp looks and generous levels of standard kit

Vauxhall's new design language emphasises terms like 'Bold' and 'Pure'. While we'll leave you to make your own mind up on the new 'Vizor' grille, there's no denying it's a strong departure from the previous-generation car's design.

The cabin includes plusher materials than before, with soft-touch plastics, and even some Alcantara inserts on the door cards of Ultimate trim models. It's let down by cheaper plastics on the centre console and lower door cards, which is disappointing, and while the gloss piano black trim looks good when new, it's easily marked.

The trim structure is made of three regular trims – Design, GS and Ultimate – plus the standalone GSe model as the high-performance choice. Entry-level Design is well equipped, but there's no disguising that the Astra simply looks better in either GS or Ultimate trim, with bigger 17 or 18-inch alloys, a sportier front and rear bumper design and black exterior trim replacing the chrome-effect accents found on the lower-spec model. Tinted rear windows, black badging and a black roof are also standard with GS-specification cars.​

The mid-range GS trim is our pick because, as well as the larger rims, it also includes a 360-degree parking camera system, adaptive cruise control, keyless entry and an upgraded infotainment system. Adaptive LED headlights, a punchier sound system, a head-up display, a panoramic sunroof and wireless smartphone charging are added to the Ultimate trim, but this promotes the Astra's price tag to more than £35,000 (up to £43,500 in GSe plug-in hybrid form). The 'sportiest' GSe model has model-specific bumper and alloy wheel designs, and is the only way you can get the most powerful plug-in hybrid engine.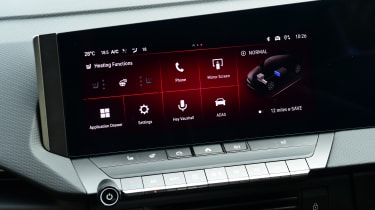 22
Sat-nav, stereo and infotainment
All Astras feature Vauxhall's Pure Panel infotainment set-up as standard, but GS and Ultimate spec models receive an upgraded Pure Panel Pro system. Both consist of two 10-inch screens, one covering media functions and the other a digital instrument display providing information for the driver. Wireless Android Auto and Apple CarPlay are both included, along with a natural voice recognition system that we found to be both intuitive and accurate. However, loading times are a little slow, in our opinion. Plus, we found the auto-dimming of the screens – which occurs when going through short tunnels – can make the screen impossible to read for a few seconds.
The dual-screen set-up looks great when fully illuminated, and the Astra's graphics look sharp. The reversing camera has great definition, too. We also like that Vauxhall has stuck with physical shortcut buttons and climate controls that are easier to use when on the move than touch-sensitive sliders, which have been a real bugbear of the VW Golf.
The head-up display is excellent because it shows key information and isn't distracting while driving. We also found adjusting its position child's play, using the electric door mirror controls to adjust it to your line of sight. Many rivals could learn from this (take note BMW), because you often need to dive into various sub-menus in order to find the screen adjustment menu.
Practicality, comfort and boot space
The Vauxhall Astra Sports Tourer has a flexible 40/20/40 split folding rear seat; plug-in hybrid has greater luggage capacity than rivals

The cabin of the Astra Sports Tourer is lifted from the regular Astra hatchback, and on the whole, it's a nice place to be. It has plenty of storage options and lots of useful standard kit.

There's a big cubby located between the front seats, two trays with sliding covers and a fold-out section below the central air vent that can be used to store a phone or sunglasses. GS spec models and above feature a front centre armrest with cupholders, a heated steering wheel and heated front sport seats – the latter has additional adjustments and received certification from the AGR (The Campaign for Healthier Backs in Germany).

In the back, the shallow windows let a surprising amount of light in, while headroom should be fine for most.. However, if you're sitting behind a tall person, you may find your knees are either poking their back or straddling the seat.

Front and rear parking sensors come as part of the entry Design specification, while our preferred GS model has a 360-degree parking camera to help out when parking.
Size
The Astra Sports Tourer measures 4,642mm in length, is 1,860mm wide (2,062mm including door mirrors), and 1,443mm in height. That makes it 268mm longer than the regular Astra hatchback, although only 57mm of this goes into a longer wheelbase for the estate version. 
For context, a Skoda Octavia Estate is longer at 4,689mm, which goes some way into explaining why it offers more space inside.
Leg room, head room and passenger space
While room up front is good, passengers travelling in the rear seats will find things a little tighter; there's a decent amount of headroom, but more legroom would be welcome. Those likely to put tall teens or adults in the back regularly should look at an Octavia Estate instead.
There's plenty of room for passenger's feet under the front seats, though, and the central hump in the floor is much lower in the Vauxhall than in a Golf.
Two Isofix points are provided on the outer rear seating positions.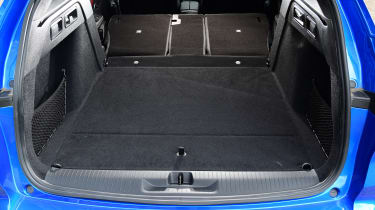 22
Boot
Storage space in the Astra estate is, obviously, much more practical than the hatchback. As a plus point, the 40/20/40 split folding rear seats offer greater flexibility than rivals like the Ford Focus Estate and VW Golf Estate. However, its 597-litre capacity isn't the greatest and comes up short of the 640-litres provided by the Octavia Estate.
The plug-in hybrid is slightly compromised compared with petrol models because of the battery pack, with boot space dropping from 597 litres to 516 litres. That's actually more than you'll find in plug-in hybrid versions of the SEAT Leon Estate, so it compares with its closest rivals well.
Boot volume measurements for the Astra Sports Tourer Electric haven't been announced yet, but we expect them to be similar to the figure for the plug-in hybrid. That will still make it much more useful than the rather small boot in the MG5.
Towing
The 1.2-litre petrol Astra Sports Tourer with a manual transmission can tow a braked trailer that weighs up to 1,200kg. The same 1.2 equipped with an automatic gearbox has the same towing capacity as the plug-in hybrid and GSe models: 1,400kg.
Those are all competitive numbers, but if you need even more capacity, you'll be better off with either an Octavia Estate or Golf Estate in 2.0 TDI 150 DSG auto form, because both can lug around a 1,600kg trailer or caravan.
Reliability and Safety
The Vauxhall Astra Sports Tourer has a disappointing four-star Euro NCAP rating; the brand needs to do more to impress owners

Vauxhall has equipped all Astra Sports Tourer models with lane departure warning and lane-keep assist, speed sign recognition, a driver drowsiness alert and autonomous emergency braking (AEB). Adaptive cruise control comes with mid-range GS trim along with a more advanced collision alert system that works at higher speeds, while top-of-the-range Ultimate and GSe add blind spot monitoring and a lane position assist feature.

Unfortunately, the Astra Sports Tourer (just like its Astra hatchback sibling) received a four-star Euro NCAP score. That's one lower than its Seat Leon Estate, Skoda Octavia Estate, and VW Golf Estate rivals. The safety experts criticised the lack of a central airbag to protect front seat occupants in a side-on collision, and the emergency braking system for its poor response in recognising pedestrians.

While the latest Astra Sports Tourer didn't feature in the 2023 Driver Power owner satisfaction survey, the Vauxhall brand ranked 24th out of 32 manufacturers. That puts it above fellow estate car manufacturers VW and Ford, but behind SEAT, Skoda, Toyota, Peugeot, and Kia.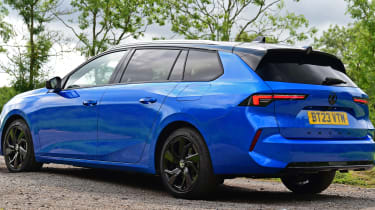 22
Warranty
All Vauxhall cars are covered by a three-year/60,000-mile warranty, which matches the coverage you get with a Ford Focus Estate or Volkswagen Golf Estate, but lags behind the seven-year warranty offered by Kia, or the ten-year warranty package provided by Toyota.
Plug-in hybrid and Astra Sport Tourer Electric models have a separate eight-year or 100,000-mile policy for the battery pack. If the battery's usable capacity drops below 70% during that time, Vauxhall will replace it for free.
Servicing
If you own a petrol-powered Astra Sports Tourer, then it'll need a service every 12,500 miles or annually, while plug-in hybrid models are every 12-months/20,000, whichever comes first.
The Astra Sports Tourer Electric will likely follow its hatchback sibling in needing an initial service after one year or 8,000 miles, whichever comes soonest, then it'll need to be serviced every two years or 16,000 miles from that point onwards.
Vauxhall offers a range of servicing packages; Vauxhall Care is the most comprehensive, offering three years of servicing, two years of roadside assistance and a free MoT when your car needs it. Standalone fixed-price services are also available, plus a 12-month warranty on any work carried out.
Frequently Asked Questions
Is the Vauxhall Astra Sports Tourer a good car?
The latest Vauxhall Astra Sports Tourer provides a greater range of engines and alternative power sources than its rivals, comes well-equipped, and is refined and nice to drive. It is a shame about the four-star Euro NCAP safety rating, though.
How long is the Vauxhall Astra Sports Tourer?
The Vauxhall Astra Sports Tourer is 4,642mm long, which is 268mm longer than the regular Astra hatchback. Bear that in mind when parking.
What are the different trim levels of the Vauxhall Astra Sports Tourer?
There are four trim levels of the Vauxhall Astra Sports Tourer. The range starts with Design, moves up to the sportier looking GS (our preferred version), followed by the more premium Ultimate. The high-performance GSe plug-in hybrid rounds out the line-up.
Which Is Best
Cheapest
Cheapest vehicles
Our 'cheapest' pick is the model with the lowest on the road retail price.Close
Name1.2 Turbo SE 5dr
Gearbox typeManual
Price£19,700

Most Economical

Most economical vehicles

Our 'most economical' pick is the model with the best fuel economy on the WLTP combined cycle.Close

Name1.2 Turbo SE 5dr
Gearbox typeManual
Price£19,700

Fastest

Fastest vehicles

Our 'fastest' pick is the model with the fastest time for the 0-62mph or 0-60mph sprint.Close

Name1.4 Turbo Griffin Edition 5dr Auto
Gearbox typeSemi-auto
Price£20,705

Source: Read Full Article