Used Volvo S60 (Mk3, 2019-date) review
A full used review on the Volvo S60 covering the S60 Mk3 that's been on sale since 2019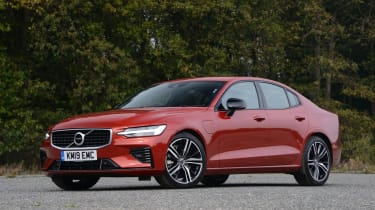 Verdict
With the introduction of the Mk3 S60, Volvo was finally able to compete on equal terms with the more obvious premium brands. Admittedly the S60 is more about luxury than it is about a sporty drive, but for many that's a good thing. When we pitched an S60 T8 plug-in hybrid against the BMW 330e it was the German that won, but this was largely because the Volvo wasn't worth the price premium of almost £10,000. We ran a T8 on our fleet and loved its relative practicality, decent economy (especially for short trips in electric mode) and classy cabin. High purchase prices might be a hurdle, but if you can get over these, you should love S60 ownership.
Volvo will celebrate its centenary in 2028, but for much of its existence this Swedish brand (now owned by Chinese company Geely) had something of an identity crisis. Was it mainstream or was it premium? For a long time it wanted to be the latter, but stiff depreciation suggested that buyers saw things differently.
Used Volvo S60 (Mk2, 2010-2018) review
But over the past decade or so, Volvo has enjoyed a resurgence that has been the envy of some rivals, and one that's been well deserved. The improvements all round are typified by the S60, which despite being the firm's smallest seller, still looks special, drives superbly, is comfortable and very well equipped. And just like all Volvos, it's an ideal family car because it's one of the safest vehicles on the market.
History
The Mk3 S60 reached UK showrooms in April 2019, and recognising that consumer tastes were changing rapidly, Volvo didn't offer a diesel engine. Instead there was only a 246bhp 2.0-litre four-cylinder T5 petrol unit offered at launch, but within weeks this was joined by a T8 plug-in hybrid powertrain that came in either 384bhp or 399bhp (Polestar Engineered) forms.
More reviews
Car group tests
BMW 330e vs Volvo S60 T8
Volvo S60 vs BMW 3 Series
In-depth reviews
Long-term tests
Volvo S60 T8 Twin Engine: long-term test review
Road tests
New Volvo S60 Polestar Engineered 2019 review
New Volvo S60 T5 Inscription Plus 2019 review
New Geometry A 2019 review
New Volvo S60 2019 review
In May 2020 the T5 was superseded by the B5, which was a T5 with mild-hybrid tech for better economy. At the same time, the T8 Twin Engine was renamed the S60 Recharge Plug-in Hybrid, but there were no mechanical adjustments to go with the name change. All S60s came only with an eight-speed automatic transmission and while the T5 and B5 were front-wheel drive, the hybrid came with all-wheel drive.
Which one should I buy?
If you do lots of short journeys and can charge cheaply at home, a T8 might make sense, despite the higher purchase costs; a more powerful electric motor (143bhp instead of 86bhp) was fitted from November 2021. The T5 is all you really need, although the B5 might be usefully more frugal if you drive in stop-start traffic a lot.
The S60 T8 came only in R-Design Plus form; this was also offered for the T5 and B5, alongside an Inscription Plus option. All S60s have parking sensors front and rear, a rear parking camera, heated front seats, navigation and LED headlights.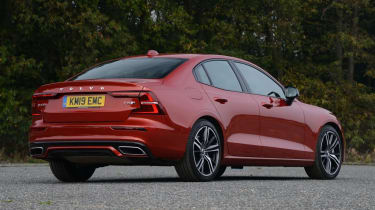 The racier R-Design model features sports seats, black exterior trim instead of chrome, 18-inch alloys, lowered suspension (not for the T8) and a black headlining. The luxury-focused Inscription comes with wood trim and electric driver's seat adjustment.
Alternatives to the Volvo S60
The three rivals that give the S60 the hardest time all hail from Germany. They are the Audi A4, the BMW 3 Series and the Mercedes C-Class, all of which come with a choice of saloon or estate bodystyles, a wide range of powertrains, and impressive build quality. They're all available with four-wheel drive, and because the German trio sells in bigger numbers than the S60, you shouldn't have to travel far to find your perfect example. However, as with the Volvo, there are no bargains to be had.
If you fancy something with a bit more brio, the Alfa Romeo Giulia might suit, or a more left-field choice would be the Jaguar XE. The hybrid-only Lexus IS is reliable and well equipped, the Volkswagen Arteon has hatchback practicality, while the Mazda 6 is classy and terrific to drive.
What to look for
Availability
The S60 is currently unavailable to buy new, because Volvo UK's latest allocation from the factory has sold out.
PHEV
The T8 initially had an 11.8kWh battery for an electric-only range of 30-34 miles. In 2021 this was upgraded to 18.8kWh and 46-55 miles.
Performance
Enthusiasts may be disappointed by the T5, which doesn't feel as swift as it should. The T8 is a lot more exciting, especially the later model.
Remap
For £695, Volvo offers a Polestar Optimised remap, via any official dealer. This sharpens up throttle response, gearchanges and mid-range power.
Reliability
We're not aware of any significant issues affecting the Mk3 S60, apart from the minor recalls mentioned on page 101. High brand satisfaction among owners suggests you should have a relatively carefree experience – service costs aside.
Interior
Volvo's interiors are different from anything else on the market, thanks to their uniquely minimalist design, and the quality is impressive, too.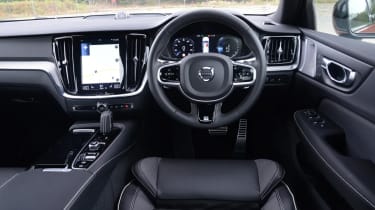 While the large, portrait-orientated touchscreen can be distracting when performing some tasks, the dashboard is generally user-friendly.
The seats are comfortable and supportive, and there's lots of head and legroom for adults in the back. Boot space is okay, at 436 litres, but for the plug-in hybrids this drops to just 390 litres, although versatility-boosting powered-folding rear seats were a cheap option across the range.
Prices
There are more than twice as many Volvo V60 estates on the market as S60 saloons, and if you really want one of the latter you might have to travel to find the right car. Of the 120 S60s that we found for sale, just one in 10 was a T8, while the B5 mild- hybrid accounts for most of the rest available.
Visit to our sister site Buyacar to get a great deal on a used Volvo S60, or to check prices on a specific model head over to our valuation tool.
Running costs
The same 1,969cc four-cylinder petrol engine is at the heart of all S60s, which is why the servicing requirements are the same for all models – every 12 months or 18,000 miles. Services alternate between Interim and Major, which are priced at £330 and £530 respectively for the first three years of an S60's life.
However, once an S60 has reached its fourth birthday, it's eligible for discounted maintenance, and the two service levels are then priced at £219 and £419. The brake fluid needs to be replaced every two years, and while this is included in the cost of a Major service, on its own it comes in at £80.
Volvo's 2.0-litre petrol engine is also fitted with a cambelt that needs to be replaced every 10 years or 144,000 miles, at a cost of £349.
Recalls
Volvo has recalled the S60 Mk3 three times so far, with each campaign also affecting several other models in the range, including the V60, V90 and S90. The first action was in June 2021 and affected 14,380 cars made between October 2018 and December 2019 that had a fuse of the wrong rating fitted. This could blow, leading to the fuel pump not working and the engine not running. 
In August 2021, 256 Volvos were recalled because of faulty software that could suggest the fuel gauge was over-reading. All cars affected were made in June or July 2021. The most recent campaign was launched in October 2022, because of another software glitch. It affected 4,755 Volvos produced between March 2021 and October 2022 that could suffer from the engine refusing to start; a software update fixed the problem.
Driver Power owner satisfaction
Volvo's least popular car has never made it into our Driver Power survey, although the XC40 made it into the 2022 new- car poll (in 23rd place out of 75 entries), while the XC60 Mk2 notched up a 69th place. Volvo's eighth place (out of 29) in the 2022 Brands survey is encouraging, and consistent with its ninth place in 2021. Owners like the quality, interior design and safety of their cars, but not the high running costs.
Looking to sell your current car quickly and for a good price? We've partnered with Motorway to bring you the best offer from its network of UK dealers…
Source: Read Full Article