Used Smart ForTwo (Mk3, 2015-date) review
A full used buyer's guide on the Smart ForTwo covering the ForTwo Mk3 that has been on sale since 2015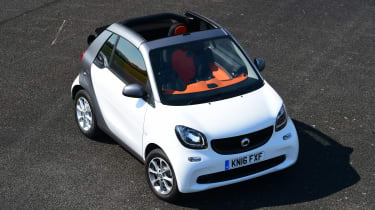 Verdict
If most of your journeys are long-distance ones, the Smart ForTwo won't hold much appeal, but if your driving habits mean that you tend to stay more local, there's a lot to like about these titchy two-seaters in both coupé and cabriolet forms. The biggest hurdle for many is the asking price, but in return you get a car that's brilliantly designed inside and out, as well as being easy and fun to drive. In EQ electric form the ForTwo makes the most and the least sense, depending on your point of view. A limited range and a high purchase price count against it, but if you do only short urban hops this could be the perfect car, because it's easy to park, exempt from any clean air zone charges and zippy around town. The deciding factor could be how much you pay for your electricity.
Was there ever a car as brilliant – but as flawed – as the Smart ForTwo? With its funky design, snug two-seater cabin and diminutive dimensions, the ForTwo really is in a class of its own.
Introduced in 1999, the original Smart ForTwo (called the City Coupé) tried to launch a revolution in urban transport, but high prices and a below-par driving experience put off many potential buyers. The Mk2 of 2007 was better but still not good enough, but the third take on the formula addressed one of the key failings of its predecessors: the driving experience.
Used Smart ForTwo (Mk2, 2007-2014) review
Still costly to buy and compromised with its two-seater layout, the ForTwo has been a hard sell for dealers, but for some people, nothing other than this runabout will do.
History
The third-generation Smart ForTwo (internally codenamed 453) went on sale in the UK at the start of 2015. There was a choice of two petrol engines, both with three cylinders: a non-turbo 1.0-litre unit rated at 70bhp, or a turbocharged 898cc unit which put out 89bhp. Both came with a five-speed manual gearbox as standard, but a six-speed dual-clutch automatic transmission (dubbed Twinamic) was available with both engines for £995.
More reviews
In-depth reviews
At first, only a three-door hatch was available (sold as a coupé), but in February 2016 a cabriolet arrived with the same engine and transmission options.
The 81bhp Smart EV went on sale in July 2017; by the start of 2020 this would be the only powertrain available, because the petrol engines were axed in 2019.
Which one should I buy?
You'll pay a big premium to go electric, but if you can charge for free or very cheaply, and you can live with the relatively short range, the ForTwo EQ can make sense.
Otherwise the 89bhp petrol engine is the pick of the bunch, although the 70bhp unit is all you need for urban driving.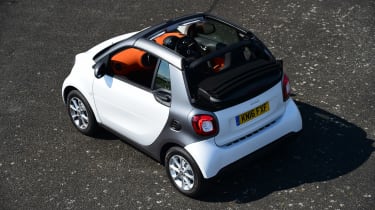 The entry-level Pure is extremely rare (we found just one for sale) and came with 15-inch steel wheels, height adjustment for the steering wheel and driver's seat, plus electrically adjustable door mirrors; the Passion had climate control and 15-inch alloys, while Prime came with a panoramic roof, leather trim and heated seats. Prime Sport Premium cars have 16-inch alloys, 10mm-lower suspension, rear parking sensors and upgraded infotainment.
Alternatives to the Smart ForTwo
There is nothing like the ForTwo in terms of the concept, but unfortunately for Smart there are alternatives that offer greater practicality for the same – or less –  money.
You can take your pick from an array of city cars, with the Hyundai i10 and its cousin the Kia Picanto offering five-door practicality. The Citroen C1, Toyota Aygo and Peugeot 108 came with three or five doors; you could also consider
the Suzuki Ignis and Celerio.
None of the cars mentioned so far came in electric form, but if this is important to you, check out the Fiat 500, SEAT Mii, Skoda Citigo and Volkswagen up!, which came with electric or petrol powertrains, as did the Smart ForFour, while the Renault Twingo was petrol-only but identical to the ForFour.
What to look for
Range
The Smart EQ has an 81bhp electric motor and 17.2kWh battery with official range of 84 miles; expect 60-65 miles in reality.
Dampness
Once ambient temperatures drop it's common for the interior to get damp with condensation. Some owners use dehumidifiers.
Sticky handles
Exterior handles may stick in the open position, making doors hard to keep shut. Lubrication can reduce this tendency.
Economy
A petrol-engined ForTwo can average 70mpg with extremely careful driving, but a more realistic figure is around 50mpg on a day-to-day basis.
Common faults
The ForTwo has a few recalls to its name, so it's essential to check any issues have been addressed. Reliability appears to be reasonably good otherwise. Look out for wheel/suspension damage from striking city kerbs and potholes, or scuffing from parking dings.
Interior
There's no shortage of space in the ForTwo; even tall people can normally get comfortable, although steering wheel and seat adjustment is optional on the Passion, and all-round visibility is poor, especially in the cabrio (pictured).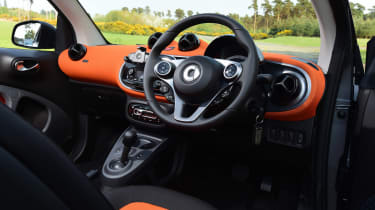 But the dashboard has a fresh feel to its design, the materials are generally of a high quality and the multimedia systems work well. Cubby space is limited, but boot space is pretty good at 260 litres; that's better than in many five-door city cars.
Prices
There are a reasonable number of ForTwos on the used market; we found more than 300 of them for sale, fewer than a fifth of which were electric EQ editions.
Two thirds had an automatic transmission and one in six was a cabriolet, while Prime trim accounted for almost half of the cars for sale.
Visit to our sister site Buyacar to get a great deal on a used Smart ForTwo, or to check prices on a specific model head over to our valuation tool.
Running costs
All third-generation petrol-engined Smart ForTwos need to be serviced every 12 months or 12,500 miles. Services alternate between minor and major, but the Smart booking line could give us only approximate costs of £200 and £300 respectively.
These prices are valid for all Mk3 ForTwos, but the number of add-on costs, such as oil and filters, will be greater for the petrol variant. The automatic transmission oil has to be replaced at every minor service for £200.
Independent specialists can trim costs; simonlight.co.uk charges £160 for minor and £210 for major services. All ForTwos came with a three-year unlimited-mileage warranty.
Recalls
Smart has recalled the ForTwo Mk3 five times so far. The first was in August 2015 because 57 cars made between April and July 2015 were fitted with faulty automatic gearboxes.
ForTwos made up to October 2015 were recalled in June 2016 because of faulty maintenance flaps, which could come adrift. Four months later came recall number three, because 49 ForTwos and ForFours built in April 2016 were fitted with faulty automatic transmissions.
The handbrake failing to hold was the reason for recall four, which affected more than 9,000 ForTwos and ForFours made up to January 2016.
The most recent recall was in October 2017, aimed at ForTwos produced between March and June 2017, which left the factory with faulty steering joints.
Driver Power owner satisfaction
The Smart sells in very small quantities (just 1,581 cars in the UK in 2021), so it doesn't appear in our Driver Power surveys. In the Warranty Direct Reliability Index, the ForTwo came 56th out of 100 and it typically gets three stars out of five in owner reviews on carbuyer.co.uk. Most reviews are excellent or terrible, with little in between; reliability and dealer support can be a problem in this small sample.
Looking to sell your current car quickly and for a good price? We've partnered with Motorway to bring you the best offer from its network of UK dealers…
Source: Read Full Article