Used Renault Megane review
A full used buyer's guide on the Renault Megane covering the Megane Mk4 (2016-date)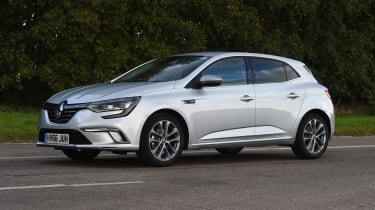 Verdict
Small family hatches are some of the biggest sellers across Europe, and it's easy to see the appeal. They're big enough to be family-friendly but small enough to keep running costs down. They're also easy to park and agile, so it's a shame for Renault that the Mégane isn't as popular as it was. While earlier editions sold well, the Mk4 is a rare sight on British roads, despite the fact that this is a pretty talented car. It looks smart, has a high-quality and well equipped interior, plus it's very good value for money – especially as a used purchase. Its lack of sales success as a new buy means there aren't as many to choose from on the used market as you might expect, but this is a car that's worth seeking out.
Renault is one of the world's oldest car makers; it celebrated its 121st birthday earlier this year, and it's among the few car makers to survive to this day after setting up shop in the 19th century. Since then, this French company has acquired a reputation for creativity and a willingness to take risks. Just some of its greats include the Renault 16, 5, the 4 and the original Twingo.
More reviews for Megane
Car group tests
Porsche 718 Cayman GT4 vs Renault Megane R.S. Trophy-R
Kia Ceed SW vs Renault Megane Sport Tourer vs Skoda Octavia Estate
Renault Megane R.S. vs Honda Civic Type R
In-depth reviews
Long-term tests
Renault Megane RS 300 Trophy: long-term test review
Road tests
New Renault Megane R.S. Trophy-R 2019 review
New Renault Megane R.S. Trophy 2019 review
New Renault Megane RS 300 Trophy 2018 review
Although all of these cars sold well, conservative buyers resulted in Renault's products becoming less innovative, while cost-cutting led to shortfalls in quality that saw in its cars perform poorly in reliability surveys. Recently, Renault has hit back with much-improved quality and more appealing designs – but are these enough to make its fourth-generation Mégane worth a look?
Models covered
Renault Megane (2016-date) – There aren't many for sale, but this fine family hatchback is good value and worth seeking out
History
The Renault Mégane Mk4 arrived in July 2016 with two petrol engines (1.2 TCe 130, 1.6 TCe 205) and two diesels (1.5 dCi 110, 1.6 dCi 130). At first only a five-door hatch was available, but six months later a Sport Tourer (estate) appeared with the same engines, trims and transmissions.
The 1.6-litre Mégane GT dCi 165 joined the range in June 2017, a year before the line-up was simplified to include just three trim levels (Play, Iconic, GT line) and two engines (TCe 130, dCi 110).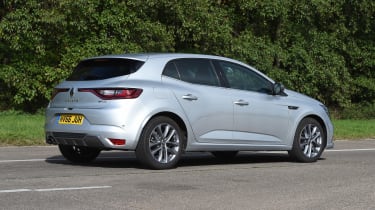 By spring 2018, the 1.3 TCe 140 had replaced the TCe 130. In July 2018 the 276bhp Mégane RS 280 was launched with a 1.8-litre turbocharged petrol engine, four-wheel steering and manual or automatic transmissions; the 296bhp Mégane RS 300 Trophy went on sale six months later.
Which one should I buy?
The hot RS editions are brilliant to drive, but costly to buy, while the more mainstream models offer decent economy, comfort and performance. The EDC auto works well, so we wouldn't steer you away from any version.
The entry-level Mégane Expression+ has cruise control with speed limiter, 16-inch alloys, Bluetooth, air-con and a DAB radio. Dynamique Nav adds automatic headlights and wipers, rear parking sensors, extra driver aids, dual-zone climate control and a seven-inch touchscreen display.
Dynamique S Nav gets a rear camera and front parking sensors, 17-inch alloys, an 8.7-inch infotainment display and privacy glass. Signature Nav features leather trim, LED headlights and 18-inch wheels. There were also GT Line and GT Nav editions –sportier-looking versions of the Dynamique Nav and Dynamique S Nav respectively.
Alternatives to the Renault Megane
If you're in the market for a small family hatch, the Ford Focus should be at the top of your list; it's great value, plentiful, fun to drive, and cheap to run, plus there's a wide model range. All of these things also apply to the Vauxhall Astra, which can't match the Ford dynamically, but is still very competent.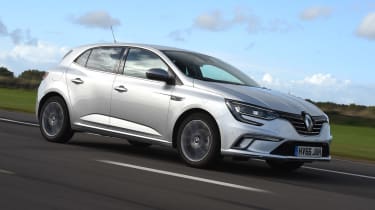 The SEAT Leon is another cracker, as is its cousin, the Volkswagen Golf; both come with excellent ergonomics, efficient engines and high-quality interiors, plus there are plenty to buy. The Mazda 3 is another appealing design that's a blast to drive and has a superb interior, while the Peugeot 308 is decent value, readily available and comes with some impressive engines. Two others that major on value and quality are the Kia Ceed and its cousin, the Hyundai i30.
What to look for
Spare wheel
The Mégane came fitted with a tyre inflation kit as standard instead of a spare wheel, although you can buy one for £200.
Handbrake
The Expression+ trim level comes with a conventional handbrake, while all other versions are fitted with an electronic one as standard.
Warranty
There was initially a four-year warranty, but this was increased to five years or 100,000 miles – whichever comes first – from late 2019 onwards.
Maintenance
Service packs are available on the Mégane, covering two or four years' worth of maintenance. Furthermore, they transfer with the car.
Interior
Most of the used Méganes for sale are in higher specifications, and these have an interior that's far plusher than you'll find in entry-level editions, with better cloth and leather upholstery, as well as additional trim pieces. The large portrait-format infotainment display looks very classy and is fairly easy to use, while the cabin materials and build quality are impressive for a car of this class.
Cabin space is rather strong as well, with plenty of head and legroom in the back seats for adults, while the 384-litre boot is bigger than you'll find in most rivals. Fold the back seats down and this expands to a spacious 1,247 litres.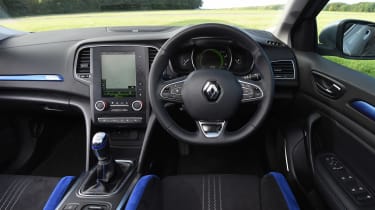 Running costs
All Méganes need to be serviced every 12 months or 18,000 miles – whichever comes first. Services alternate between minor and major, with the former costing £77 whichever engine is fitted; the major service costs £122 for petrol models, and £149 for diesels. Once a Mégane reaches its fourth birthday, it needs more new parts, and official dealer schedules alternate between Essential and Full, priced at £129 and £179 respectively.
The brake fluid should be replaced every three years or 72,000 miles, at £69 a time, fresh coolant is required every five years or 90,000 miles, at a cost of £99. While all petrol engines are chain-driven, the diesels have a cambelt that should be replaced every six years or 90,000 miles, at a cost of £399.
Recalls
Renault has recalled the Mégane Mk4 six times so far, the first two both in April 2017. The first was because some early cars had faulty child locks on the rear doors, while the second was for problematic clutches.
Faulty airbags were the reason behind the third campaign, which was launched in September 2017, while the next recall came in January 2019 because poorly routed wiring could lead to a short circuit that could prevent the car from starting – or, even worse, might see the engine switch off as the car was being driven. Engine cooling fan problems led to the fifth recall, in March 2019, then six months later came the most recent action, introduced because some cars were fitted with a faulty oil pressure solenoid valve, which could lead to damage to the engine.
Driver Power owner satisfaction
While the third-generation Mégane has appeared in Driver Power surveys, its successor hasn't. Renault did feature in our 2020 Brands survey, though, in mid-table 15th place, putting it above Volkswagen (19th). A few owners have left reviews on Carbuyer.co.uk, generally awarding the full five stars thanks to the Renault's blend of smart styling, low running costs and strong performance with refinement
Source: Read Full Article