Used Range Rover review
A full used buyer's guide on the Range Rover covering the Range Rover Mk4 (2012-date)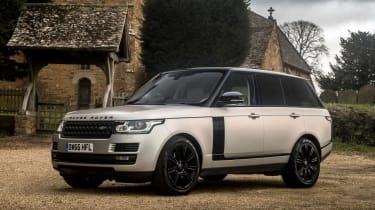 The Range Rover has always been a car for those with deep pockets and that's very much the case with the latest version, which sits in the top insurance categories, costs plenty to maintain, uses lots of fuel and will shed thousands in the coming years. You could buy a car that's already lost most of its value, but then repair costs are likely to be high because it will already be quite old, with plenty of miles on the clock. If you go into Range Rover ownership with your eyes open, you'll love the effortless off-roading and towing (it'll pull 3,500kg), the peerless on-road luxury and the sense of occasion that comes with every drive. Just don't try to run a Range Rover on a tight budget, because it simply can't be done.
Debate rages over whether the original Range Rover was the first luxury SUV. When it arrived in 1970, the Jeep Wagoneer had already been on sale for seven years, and this was undoubtedly more luxurious than the surprisingly utilitarian first Range Rover.
What we can say with some certainty is that by the time the original Rangie bowed out in 1994 it had set the standard, and the all-new Range Rover Mk2 was plusher than ever. With each subsequent Range Rover generation, the bar was raised still further in terms of luxury, sophistication and comfort. However, Land Rover never watered down the off-roading abilities of this large SUV. Under the sheen of opulence, it remained as tough and rugged as ever.
More reviews for Range Rover SUV
Car group tests
BMW 7 Series vs Range Rover
In-depth reviews
Road tests
New Range Rover P400 Vogue 2020 review
New Range Rover SDV8 2019 review
Range Rover Vogue review
New Range Rover PHEV 2018 review
New Range Rover Autobiography 2017 review
New Range Rover SVAutobiography Dynamic review
• Best luxury cars on sale
When this fourth-generation Range Rover arrived in 2013, it was the most capable, sophisticated and luxurious edition yet.
Models covered
• Range Rover Mk4 (2012-date) – It's not cheap to buy or run, but this luxurious SUV is in a class of its own.
Range Rover Mk4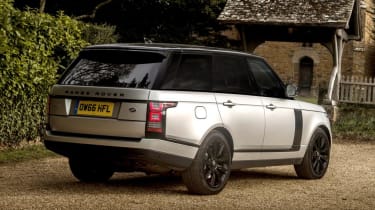 History
The Range Rover Mk4 went on sale in September 2012 priced from £71,295, and first deliveries took place in January 2013.
Buyers could have 254bhp 3.0 TDV6 or 334bhp 4.4 SDV8 diesels, or a 503bhp supercharged 5.0-litre V8 petrol engine. By August 2013 there was also a diesel-electric hybrid, and in March 2014 a long-wheelbase edition was introduced, with an extra 186mm of rear legroom. At first this came only with a 5.0 V8 engine, but there was a diesel-electric hybrid option within a month.
Revisions late that year brought better off-roading tech, a 302bhp 3.0 SDV6 and new colours, and in late 2016 a supercharged 335bhp petrol V6 arrived. In November 2017, the SVAutobiography and P400e hybrid followed, while an interior redesign introduced the new dual-screen infotainment system.
Range Rover Mk4 reviews
Range Rover in-depth review Range Rover Vogue reviewRange Rover TDV6 Autobiography reviewRange Rover P400e Autobiography reviewRange Rover SDV8 Autobiography reviewRange Rover SVAutobiography Dynamic review
Which one should I buy?
Land Rover's 5.0-litre petrol engine is magnificent, but its running costs can be crippling. Theoretically, the P400e is the cheapest to run, but it costs a lot to buy and may be out of reach, so the diesel-electric hybrid might make more sense. However, it's not a plug-in, which means we'd stick with a regular TDV6, SDV6 or TDV8 diesel.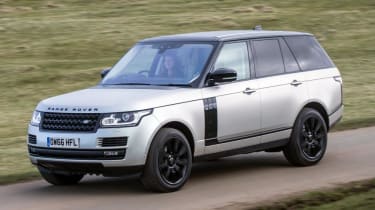 Even the entry-level Vogue gets a fixed glass roof, metallic paint, power-fold door mirrors, xenon headlights and 20-inch alloys. It also has leather trim, all-round parking sensors, a reversing camera and heated, 16-way electrically-adjustable front seats.
Vogue SE adds an upgraded hi-fi, posher seating and extra safety kit; Autobiography brings 21-inch wheels, a 360-degree camera and quad-zone climate control.
Alternatives to the Range Rover Mk4
There's so much room in a long-wheelbase Range Rover that it doesn't have any real rivals, other than the more costly Rolls-Royce Cullinan and saloons such as the Bentley Mulsanne EWB, Rolls-Royce Ghost EWB and Mercedes-Maybach S 650.
Still, there are other luxury SUVs out there, most notably the Bentley Bentayga, which is the closest rival to the standard Range Rover. Cars like the Audi Q7, BMW X5, Volvo XC90 and Mercedes GLS compete in terms of size but don't feel quite as special, although they do seat seven, which the Rangie doesn't.
What to look for
Gearbox
Every version of the Range Rover comes with an eight-speed automatic transmission, and no manual gearbox is offered. 
Oil
Juddering at low speeds is often due to dirty oil in the transfer box. It's worth replacing every 30,000 miles, and asking questions if it hasn't been. 
Electrics
Electronic faults are common, so take the time to check that everything works: multimedia, windows, seats, switchgear – the whole lot.
Vibrations
If you can feel any vibrations at high speeds, they may be costly to fix. Failing rear differentials and buckled wheels are not unknown.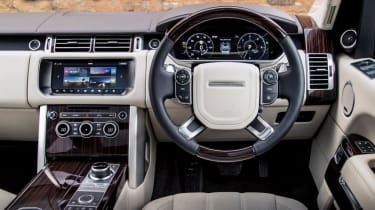 Interior
This is one of the key reasons for the Range Rover being so easy to love; its spacious cabin is incredibly luxurious because it's full of premium materials and cutting-edge tech. Up to motorway speeds and beyond, refinement is excellent, too. There's plenty of rear seat space, especially in long-wheelbase models, and boot space is impressive, at 909 litres – or 2,030 litres with the rear seats folded.
Prices
Running costs
All models need a service every 12 months or 16,000 miles. It costs from £464 on a 3.0 TDV6, but the 10th service can be £1,760. The 4.4 TDV8, 3.0 V6 and 5.0 V8 are dearer, and hybrid models cost from £448.
After three years, fixed-cost services are £395-£415 (minor), and £455-£545 (major). Only the 3.0 TDV6 has a cambelt. This needs replacing every seven years/112,000 miles, at £850, or as part of a £1,458 service.
Recalls
The Mk4 Range Rover has had 18 recalls, and problems include sub-standard wheel nuts letting wheels work loose, and doors unlatching and opening while the car is moving. Other issues centred on the electrics, seatbelt pre-tensioners, brake servos, airbags, AEB systems, instrument clusters and fuel leaks. The engine cutting out and/or failing to start prompted another recall.
Driver Power owner satisfaction
The Range Rover didn't feature in our Driver Power 2019 new car survey, but Land Rover finished 20th out of the 30 brands, which is disappointing for a premium manufacturer. High running costs and poor reliability are the key bugbears with owners, but almost every other aspect of the company's cars, including the interiors, drivetrains and handling, came in for praise.
Source: Read Full Article