Used Peugeot Traveller (Mk3, 2016-date) review
A full used buyer's guide on the Peugeot Traveller MPV covering the third-generation model that's been on sale since 2016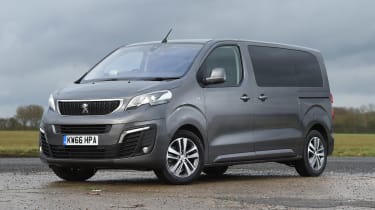 Verdict
For many years, MPVs were derided as little more than 'vans with windows'. However, if you consider that space is the ultimate luxury, then few vehicles are more luxurious than the Peugeot Traveller. The top-spec Allure edition (which is by far the most common) is genuinely plush, and bursting at the seams with equipment. But if you're looking for family transport that puts an emphasis on usability above all else, just bear in mind that the Traveller is unusual and came in an array of permutations and combinations. Buying the right edition is key, and that actually might be easier than it sounds.
It's almost 70 years since the first purpose-built MPV was launched, and its compact dimensions and clever design made the 1955 Fiat 600 Multipla a groundbreaking vehicle.
It took nearly three decades before the MPV went mainstream with the arrival of the Renault Espace and Dodge Caravan/Plymouth Voyager. Developed as stand-alone models, they focused on practicality with a decent driving experience. But for those after the ultimate in carrying ability, it was the van-based MPVs that followed later that would appeal the most.
This was typified by the Peugeot Expert of 1995, which was replaced by a new model in 2006. A decade later came Peugeot's best large van-based MPV yet: the Traveller.
History
The Mk3 Peugeot Expert arrived in autumn 2016 and, as with its predecessor, the new model was offered in passenger-carrying form. Previously sold as the Expert Tepee, the new MPV was badged the Traveller and only came with diesel power.
More reviews
In-depth reviews
Road tests
New Peugeot Traveller 2017 review
Starting the range were the BlueHDi 95 and the Multijet 115, with a Ford-sourced 1.6-litre engine; these were replaced by a 1.5 BlueHDi 120 in summer 2018. Above these were the BlueHDi 150 and the BlueHDi 180, with a PSA-built 2.0-litre unit; a 2.0 BlueHDi 120 joined the range in spring 2019.
By summer 2018, Business and Business VIP trims had been added to the previous Active and Allure editions. In October 2020 the electric e-Traveller appeared and this was the sole model offered from January 2022, when the diesel engines were axed.
Which one should I buy?
Anything with a 1.6-litre engine is going to feel underpowered by the time it's loaded up, so we'd focus on a BlueHDi 150 or 180 (the former will be suitable for most uses), unless an e-Traveller suits your needs better.
The entry-level Active trim comes with steel wheels, rear parking sensors, dual-zone climate control, cruise control, a seven-inch touchscreen with Bluetooth and DAB radio, automatic headlights and wipers, plus a full-size spare wheel.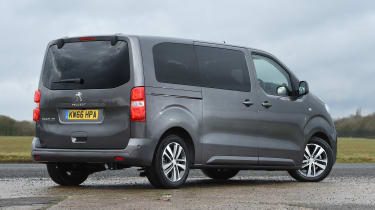 Allure models have 17-inch alloys, powered sliding doors, privacy glass, a head-up display, upgraded hi-fi and sat-nav, xenon headlights, a panoramic glass roof, leather trim, keyless go, electrically adjustable and heated front seats with massage function, plus park assist.
The current Business and Business VIP versions more or less mirror the Active and Allure trims, but with minor spec differences that allowed slightly lower prices when new.
Alternatives to the Peugeot Traveller
The Traveller is also available as the Citroen SpaceTourer, Vauxhall Vivaro Life and Toyota Proace Verso. They're mechanically identical, so the only reasons to opt for one are availability and spec differences. But they're all even rarer, while used values are similar.
The Hyundai i800 is a cheaper option that's seriously practical, but it's long in the tooth and lacks versatility. The Ford Galaxy, Volkswagen Sharan and SEAT Alhambra are more car-like and plentiful, but aren't as roomy and offer no more than seven seats.
If your budget is flexible, the Mercedes V-Class and VW Caravelle are impressive but costly, especially the Mercedes. The Ford Transit Tourneo Custom is also worth a closer look, because it's more plentiful and the prices span a much wider range.
What to look for
Electric
The e-Traveller has a 50kWh battery pack, a 134bhp motor and 148 miles of range. A 0-80 per cent recharge at 100kWh takes 30 minutes.
Seats
Allure trim has three rows of seats, with room for eight people, but Active only has two rows and seating for five. A third row was a £1,080 option.
Gearbox
The BlueHDi 95 has a jerky six-speed automated manual, the 2.0 BlueHDi 120 and 180 an eight-speed auto. The others have a six-speed manual.
Towing
Travellers fitted with the BlueHDi 95 and 115 engines can tow up to 1,800kg; the BlueHDi 180 can pull 2,000kg, while the BlueHDi 150 is rated at 2,300kg.
Reliability
With so many recalls under the Traveller's belt, buyers might be worried, but its commercial-van relations have amassed millions of miles without undue issues.
Interior
The Traveller's van roots are given away by the lofty driving position, dashboard design and roomy cabin, and while the materials used are fine, they're nothing special.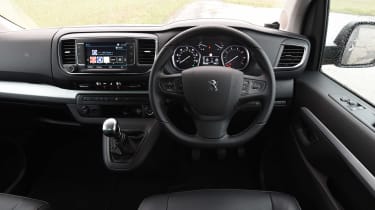 What is special, however, is the passenger space the Peugeot MPV offers; there's masses of it for eight people, and sliding seats for rows two and three boost versatility. No car-sized MPV can touch the Traveller for carrying capacity. Even the Compact edition can stow 2,800 litres (3,600 to the roof), whereas the Long can house 3,700 litres, or 4,900 to the roof with the seats folded.
Prices
By the time you've taken into account the various vehicle lengths, trim levels and engines, you can't afford to be too picky, because you might struggle to find the right one.
We found fewer than 100 for sale with a diesel engine, and just nine e-Travellers. Allure trim accounts for most of the Travellers available, and we found just one Business VIP for sale.
Visit to our sister site Buyacar to get a great deal on a used Peugeot Traveller, or to check prices on a specific model head over to our valuation tool.
Running costs
The e-Traveller's first service is due at 12 months or 8,000 miles, then every two years or 16,000 miles. The first two check-ups are pegged at £70 and £209, then alternate between £70 and £229 from year three.
Most Travellers with a BlueHDi engine need to be serviced every year or 12,500 miles. There are three levels of maintenance that run in sequence: Interim (£199), Main (£249) and Major (£369). The diesels have a cambelt and this needs to be replaced every 10 years or 100,000 miles, at £569 for genuine parts or £499 using approved pattern items.
All Travellers have a factory-backed two-year unlimited-mileage warranty, plus a third- year dealer warranty with a 60,000-mile limit. The e-Traveller's battery has eight years or 100,000 miles' cover.
Recalls
The Traveller has been recalled a worrying 35 times so far, including several batches of campaigns launched on the same day. No fewer than eight actions were issued on 22 February 2017 and six on 27 March 2020. The most recent campaign was launched in May 2022.
Some recalls involved very small numbers, but the biggest affected almost 23,000 vehicles. Some of the problems that had to be fixed involved faulty gearboxes, suspension retaining bolts, steering racks and seatbelts. Other glitches centred on the engine's cooling system, catalytic converters, fuel pipes and brake hoses.
Problematic seat headrests, loose wheel-retaining bolts, chafing wiring looms and overheating starter motors were other potential issues, along with faulty brake calipers, poor electrical earths and airbags going off for no apparent reason.
Driver Power owner satisfaction
The Traveller is far too rare to have appeared in any of our Driver Power new or used-car surveys; the same goes for its Vauxhall, Citroen and Toyota equivalents. But Peugeot came fourth out of 29 in our 2022 Brands poll. It's not long ago that the firm struggled, but high scores in our surveys show that in recent years Peugeot has made big strides with its reliability, powertrains, dynamics, design, running costs and quality.
Looking to sell your current car quickly and for a good price? We've partnered with Motorway to bring you the best offer from its network of UK dealers…
Source: Read Full Article