Used Mitsubishi Eclipse Cross (Mk1, 2018-2021) review
A full used buyer's guide on the Mitsubishi Eclipse Cross covering the Eclipse Cross Mk1 that went on sale in 2018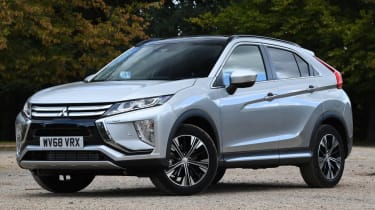 Verdict
With Mitsubishi having pulled out of the UK, you'd be right to wonder if buying one of its used cars is a good idea, because there's no dealer network as such. However, if you do buy a second-hand Mitsubishi you won't be left on your own, because Subaru importer International Motors kept on most of the franchised dealers that were in place when Mitsubishi pulled out of the UK, and they're now a network of service centres. So you won't be left in the lurch if you buy an Eclipse Cross, and we wouldn't tell you to avoid this smart-looking crossover – but we would suggest that you try out its rivals. There's a lot to like about the Mitsubishi, but there are better all-rounders out there.
Mitsubishi was actually ahead of the curve when it came to offering SUVs and go-anywhere vehicles, because as early as the seventies, it was making pick-ups and SUVs, often with four-wheel drive. But the focus back then was on utility rather than luxury, and as buyers started to adopt SUVs in big numbers, Mitsubishi was left behind.
Models such as the Shogun, Shogun Sport and Shogun Pinin were capable enough, but outdated next to rivals with a better driving experience and more cabin comfort. The Eclipse Cross was a step in the right direction, yet within a couple of years of its launch, Mitsubishi left the UK new-car market. But don't dismiss the car too quickly, because it can still make a decent used buy.
History
The Eclipse Cross went on sale in January 2018, with the first cars arriving in UK showrooms just a few weeks later. Only one engine was offered: a 161bhp turbocharged 1.5-litre petrol unit, and this was available with either a six-speed manual gearbox or an automatic continuously variable transmission. Those who opted for the former had to settle for front-wheel drive, whereas those who chose the automatic could pick between front or four-wheel-drive transmissions.
More reviews
Car group tests
Subaru XV vs Mitsubishi Eclipse Cross vs Skoda Karoq
In-depth reviews
Mitsubishi Eclipse Cross review
Long-term tests
Mitsubishi Eclipse Cross: long-term test review
Road tests
New Mitsubishi Eclipse Cross Black Connected 2019 review
Mitsubishi Eclipse Cross First Edition 2018 review
New Mitsubishi Eclipse Cross 2017 review
Three trim levels were on offer: the 2 came in manual form only, the 3 was a manual or an automatic (the latter with front or four-wheel drive), while the 4 came in manual or automatic four-wheel-drive forms. While the range kicked off with the Eclipse Cross 2 at £21,275, the most costly edition was the £27,900 Eclipse Cross 4 auto 4WD.
Which one should I buy?
We would stick with the manual gearbox, although the CVT auto isn't as unruly as some transmissions of its type, thanks to its eight fixed steps. However, if you avoid the automatic, there's no four-wheel-drive option. Buy an entry-level Eclipse Cross 2 and there's no automatic option anyway, but it does come with 16-inch alloy wheels, keyless entry, climate control, privacy glass, a six-speaker hi-fi with DAB, cruise control with speed limiter, a reversing camera plus automatic headlights and wipers.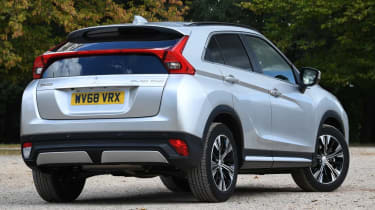 Moving up to 3 brings 18-inch wheels, front and rear parking sensors, electric folding door mirrors, a head-up display, dual-zone climate control, heated front seats, and upgraded fabric trim. The range-topping Eclipse Cross 4 also comes with a panoramic glass roof, LED headlights, around view, leather trim, blind-spot warning and a nine-speaker hi-fi.
Alternatives to the Mitsubishi Eclipse Cross
The Volkswagen Group quartet of the SEAT Ateca, Skoda Karoq, VW Tiguan and Audi Q3 offer excellent engines, great build quality and user-friendly cabins, and we like the Skoda so much that we named it our best buy in our 2022 Used Car Awards.
The Dacia Duster and MG HS came second and third respectively, due to their excellent value, while the Renault Kadjar finished in fourth, thanks to its long list of standard safety kit and big boot.
The Mazda CX-5 is a terrific all-round option with great dynamics, sharp looks and impressive quality, while the Kia Sportage and its Hyundai Tucson cousin both impress with their reliability, quality and value. Also put the Toyota RAV4 and Peugeot 3008 on your shortlist, plus the Nissan Qashqai.
What to look for
Wheels
500 Black Edition models in 2019 had 18-inch alloys, plus their grille, door-mirror covers and front skid plate finished in black.
Revisions
The range was completely revamped in summer 2019, when the line-up changed to Verve, Design SE, Dynamic, Exceed.
Ride
On poorly surfaced roads it can be pretty uncomfortable, especially on 18-inch wheels. If ride comfort is key, buy an entry-level 2, with 16-inch wheels.
Transmission
The most common gripe on forums concerns manual-gearbox cars. Stalling can be an issue, as can stiffness when selecting second gear.
Reliability
Mitsubishi typically performs well on this front, but watch out for the 62,000-mile cap on the five-year warranty.
Interior
One area where Mitsubishi generally lagged behind its key rivals was with interior design and quality. The Eclipse Cross addressed this comprehensively, though, with a much higher standard of materials and a decent (if not class-leading) infotainment system. While satellite navigation wasn't available at all, a phone smartlink came as standard across the range.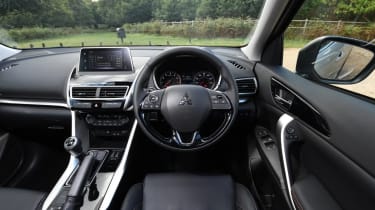 Rear-seat legroom is okay (the seat slides back and forth), but headroom is reduced by the sloping roofline. Boot capacity is merely average at 341-488 litres with the rear seats in use.
Prices
The Eclipse Cross may not have been on sale for that long as a new car, but we still found almost 250 used models on the market. Automatics account for 40 per cent of the cars for sale, while one in three Eclipse Crosses has four-wheel drive.
Visit to our sister site Buyacar to get a great deal on a used Mitsubishi Eclipse Cross, or to check prices on a specific model head over to our valuation tool.
Running costs
The Eclipse Cross needs to be serviced every 12 months or 12,500 miles, with services alternating between Main and Major. The former is priced at £229 and is in effect little more than an oil and filter change, but with a fresh pollen filter and a screenwash top-up also included. The Major service is a little more expensive, at £309, and this adds a replacement air filter plus fresh brake fluid on top of the work needed on the Main service.
The Mitsubishi's big service is the fourth one, because this includes new coolant as well as a change of gearbox oil, which is why it's priced considerably higher, at £720. However, the fifth service is also quite costly at £482, because this time a set of new filters is required, along with replacement spark plugs.
The 1.5-litre petrol engine that's fitted to every edition of the Eclipse Crosses is chain driven, so you never have to worry about replacing a cambelt.
Recalls
The Eclipse Cross has been recalled three times so far. The first two campaigns were launched in November 2018, and both affected the Outlander and the Eclipse Cross. The first one also applied to the ASX, and in all, 17,633 cars were possibly affected by faulty software that stopped the brakes from working properly in conjunction with various driver-assistance systems.
The other recall issued that month was also because of software errors, and also due to braking glitches; this time it was the auto emergency braking that was at fault.
The most recent recall was issued in November 2021 and it affected Eclipse Crosses built up to September 2019. These could suffer from the wheelarch moulding detaching as the car was being driven; the solution was to reinforce things with an extra bracket.
Driver Power owner satisfaction
There were no Mitsubishi entries in the 2022 or 2021 Driver Power new-car surveys, but in 2020 the Outlander managed a 67th place out of 75 entries. The brand didn't get into the 2017, 2018 or 2019 surveys at all, due to its relatively small sales volumes. It's the same story with the Driver Power used-car survey, but Mitsubishi did come 26th out of 29 entries in the 2022 Brands survey, having finished eighth in 2021.
Looking to sell your current car quickly and for a good price? We've partnered with Motorway to bring you the best offer from its network of UK dealers…
Source: Read Full Article