Used Land Rover Defender review
A full used buyer's guide on the Land Rover Defender covering the Defender that was on sale between 1990 and 2016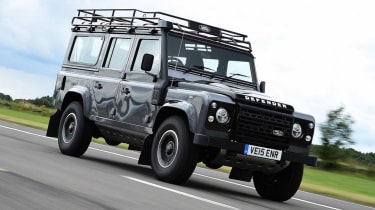 Verdict
If ever there were a model that polarises opinions, it's the Land Rover Defender. It has no shortage of fans, and in recent years these cars have become fashion statements, with a raft of companies providing engine transplants and luxurious interiors. As a result you can spend a fortune or very little on a Defender. But don't even think about buying one if you haven't at least taken an extended test drive; these cars have a lot of fans, yet they're not the easiest vehicles to live with for a multitude of reasons. If a Defender is just what you need in your life, then don't get too hung up on mileage or age – its condition is far more important. Defenders tend to be treated as workhorses or pampered and never taken off-road – there's not very often much in between.
When the Land Rover marque was launched in 1948, inspired by the US Jeep from World War II, it focused almost exclusively on off-road ability. There was no attempt to provide luxury, refinement or speed – everything was designed to ensure that it had the best possible off-road prowess.
More reviews for Defender
Car group tests
Land Rover Defender vs Jeep Wrangler: modern classic head-to-head
Toyota Land Cruiser vs Land Rover Defender
In-depth reviews
Land Rover Defender (2012-2016) review
Road tests
New Land Rover Defender 2020 review
New Land Rover Defender Works V8 2018 review
Land Rover Defender Heritage Edition review
Land Rover Defender 90 2015 review
Land Rover Defender 110 Adventure review
That's how things stayed for nearly seven decades, because while the original Land Rover received plenty of updates along the way, it remained focused on its ability to tackle the most inhospitable of terrains.
Years before the final Defender was made in January 2016, the car had become a legend with a massive following, and values have gone up since then. But is this boxy 4×4 worthy of the hype? Here we'll focus on the car that arrived in 1990, which was the first to wear the Defender name.
Models covered
Land Rover Defender (1990-2016) – 4×4 polarises opinion, but it's an off-road legend.
History
In 1983, Land Rover replaced the Series III with the 110, and then the 90 followed in 1984. These two cars were the basis for the Defender that arrived in 1990. This 'new' 4×4 had a 2,495cc 200 TDI five-cylinder diesel and standard power steering.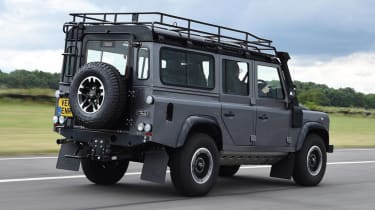 This engine was developed into the cleaner, more refined and smoother 300 TDI in 1994 (these cars also got a slicker gearbox). Then, from 1998, the TD5 powerplant was fitted. This car also got standard anti-lock brakes.
A 2.4 TDCI Ford engine was used from 2006, along with a six-speed box and revised interior, while 2012 saw a more refined 2.2 TDCI engine fitted. Three run-out models were offered in 2015: the Autobiography (80 made), Heritage (400) and Adventure (600).
Land Rover Defender reviews
Land Rover Defender in-depth review
Land Rover Defender 90 Autobiography 2.2 TDCI review
Land Rover Defender 90 Heritage Edition 2.2 TDCI review
Land Rover Defender 110 Adventure 2.2 TDCI review
Which one should I buy?
The newer the car, the more developed (and usable) it is – and generally the pricier to buy. No Defender is refined or comfortable, but later models got more efficient, muscular engines, with the four-cylinder units being far better than the five-cylinders.
On older Defenders, the key thing is to check the car is structurally sound. Later cars tend to lead easier lives, especially those bought as style statements. Short-wheelbase Defenders have a bouncy ride, while long-wheelbase cars are less uncomfortable. As well as the three and five-door versions, there were single and double-cab pick-ups, too.
Alternatives to the Land Rover Defender
There are other 4x4s available for the same money as the Defender, but few of them have the Landie's off-road ability.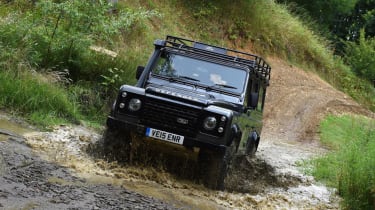 The Suzuki Jimny is even less suited to long-distance drives than the Defender, but these petrol-only three-door 4x4s are incredibly capable in the rough. The Jeep Wrangler is also very adept in tough terrain, but rather compromised on the road. Alternatively, consider a pick-up truck, such as the Nissan Navara, Mitsubishi L200 or Toyota Hilux. They're all good for towing and off-roading, plus they're surprisingly refined.
What to look for
Insurance
Defenders are among the most commonly stolen vehicles in the UK each year; get an insurance quote before buying.
Leaks
Water getting into the cabin is very common, usually from the windscreen seal, the sunroof or above the screen. Check all of these areas.
Mechanicals
Poor running is often the result of a faulty fuel-injection loom or ECU connector, a tired fuel pump or a blocked fuel filter.
Rust
Corrosion in the chassis can be very expensive to fix. The rear crossmember is usually the first component to go wrong here.
Interior
With flat, upright seats, plenty of hard plastics and little soundproofing, no Defender cabin is luxurious. Post-2006 cars are significantly more comfortable, but none has great ergonomics or much in the way of adjustment for the driving position. Equipment levels can be spartan, too; don't assume that even late models come with items such as air-con, Bluetooth or electric windows.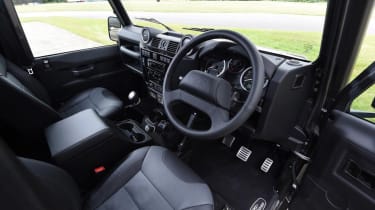 Running costs
Defenders must be serviced annually or every 12,000 miles, but more frequent checks are worthwhile if you go off-road. Alternating interim and major services are £385/£495 with dealers. Independents will charge around £200-£300 a year for routine maintenance.
The 200 TDI and 300 TDI engines need a fresh cambelt every six years or 72,000 miles; dealers charge around £600 for this, but independents ask for closer to £400. All engines from the TD5 on were chain-driven.
Recalls
Land Rover recalled the Defender 10 times from June 2000 to December 2016. The first was for TD5 flywheels cracking, while brake hoses led to recalls in April 2002 and July 2017. The service brake (Mar 2004), parking brake (Dec 2009 and April 2011), seatbelt mounting (Aug 2012), axle tube (Nov 2014), wheel hub (Feb 2015) and auto box all prompted recalls, too.
Driver Power owner satisfaction
The Defender hasn't appeared in Driver Power surveys, but an army of enthusiastic owners have left reviews on carbuyer.co.uk, awarding it on average 4.1 stars out of five, compared with our less generous verdict. Many are hardcore off-roaders, so their praise is understandable, but what they view as character, some will see as flaws. If ever there were a 'Marmite' car, the Defender is it
Source: Read Full Article