Used Ford Kuga review
A full used buyer's guide on the Ford Kuga covering the Kuga Mk2 (2012-2019)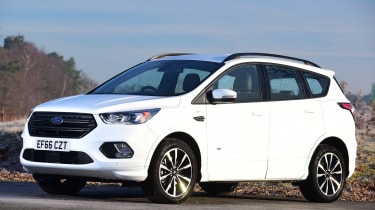 Verdict
We found more than 4,000 Kugas for sale, so you should be able to find a car to suit your exact needs – as long as you don't need more than five seats, because there's no seven-seat option. With prices ranging from £6,000 to around £35,000, there's also a Kuga for almost every budget; and while on the face of it these are cheap cars to run, our ownership surveys suggest that you might need deeper pockets than you think to live with one of these mid-sized crossovers. But with generous equipment levels and a driving experience often judged worth paying extra for, you're unlikely to feel short-changed.
Ever since Ford built its first vehicles at the start of the 20th Century, the US company has specialised in giving consumers what they want – and for decades it has sold more new cars in the UK than anyone else.
In all of that time Ford has offered great-value vehicles in numerous classes, allowing buyers to choose exactly the right model. So it was no surprise that when SUVs took off, Ford embraced the segment. The company's first two attempts were false starts, however, with the Maverick and Explorer failing to sell in big numbers. But when the Kuga reached Britain in 2008 it hit the spot, as did the Mk2, which first appeared four years later.
Models covered
Ford Kuga Mk2 (2012-2019) – Mid-sized SUV is in plentiful supply used – we tell you what to look for.
History
The Kuga Mk2 arrived in November 2012 with turbocharged 1.6-litre petrol or 2.0-litre diesel engines. The petrol motor came in 148bhp and 177bhp forms, and the diesel in 138bhp and 161bhp guises. Initially there were Zetec, Titanium and Titanium X trims, with Titanium X Sport added in August 2013; ST-Line and Vignale would arrive in August and October 2016 respectively.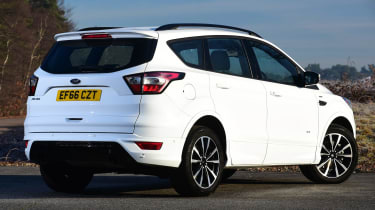 From October 2014 the 2.0 TDCi engine came in 177bhp form and the 1.6 petrol was replaced by a 1.5 EcoBoost unit. A year later Ford introduced its voice-controlled Sync 2 infotainment set-up and a raft of new driver-assistance systems. The Kuga was facelifted in April 2016 with a redesigned dashboard, improved connectivity, a refreshed nose and a 119bhp 2.0 TDCi engine option.
Ford Kuga reviews
Ford Kuga in-depth review
Ford Kuga 1.5T EcoBoost Vignale
Ford Kuga 2.0 TDCi Titanium
Ford Kuga 2.0 TDCi Titanium X
Ford Kuga 2.0 TDCi Titanium X Sport
Which one should I buy?
Ford's EcoBoost petrol engines are perky and decently frugal, while the 2.0 TDCi engine has plenty of low-down muscle with reasonable economy, so none of the engines should be avoided.
More reviews for Kuga SUV
Car group tests
Renault Koleos vs Skoda Kodiaq vs Ford Kuga
Ford Kuga vs Volkswagen Tiguan vs Mazda CX-5
Honda CR-V vs Mazda CX-5 & Ford Kuga
In-depth reviews
Road tests
Ford Kuga Titanium
New Ford Kuga 2017 review
New Ford Kuga Vignale 2016 review
Ford Kuga Titanium X Sport review
Even the basic Kuga Zetec comes with 17-inch alloys, keyless start, air-con, DAB radio, voice control, a heated windscreen, cruise control and a speed limiter, plus hill start assist. The Titanium adds an eight-inch touchscreen, part-leather trim, auto lights and wipers, dual-zone climate control, rear parking sensors and power-folding mirrors.
The Titanium X has 18-inch wheels, a panoramic roof, power tailgate, xenon lights, leather trim and an electric driver's seat. ST-Line adds a bodykit, front parking sensors and sports suspension, while the Vignale also has a rear parking camera, LED tail-lights and upgraded interior trim.
Alternatives to the Ford Kuga
If your budget is flexible, you could splash out a bit extra and buy an Audi Q3/Q5, a BMW X1/X3 or a Range Rover Evoque. All of these are more costly than the Ford though.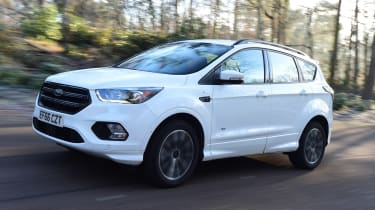 Closer in price are the Nissan Qashqai and Peugeot 3008, both of which offer roomy cabins, decent equipment and some good engines. You should also take a look at the Mazda CX-5, because it's both stylish and great to drive, comes well equipped and features a lovely interior. The Hyundai ix35/Tucson and Kia Sportage are top value and very reliable, though not as good to drive as the Kuga, while the Volkswagen Tiguan and Toyota RAV4 are also worth considering, but both are more costly than the Kuga.
What to look for
Tailgate
If you encounter a knocking noise from the rear, this is probably the striker plate for the back door, which will need greasing.
Trim
Most of the interior trim tends to wear pretty well, but not the gearlever gaiter. A new one is cheap, though, so you can always replace it.
Doors
Hearing creaking sounds from the front doors isn't an unusual occurrence; simply applying rubber seal treatment to the seals should fix things.
Gearbox
The Powershift automatic gearbox works well enough, but it does need fresh oil and filters every three years, at £200 a time.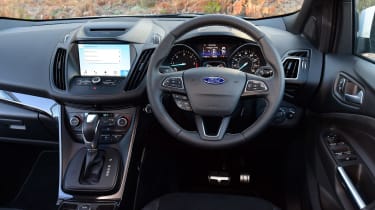 Interior
It's generally good news here, because the Kuga's cabin is spacious, well made and stocked with gadgets that usually keep working. Newer rivals feel more modern, but the Ford's dash is easy to live with and the infotainment system is easy to use. Refinement is good, although some wind noise is evident at motorway speeds. Boot space is excellent, at 463/1,653 litres with the seats up/down.
Running costs
Petrol Kugas have to be serviced every 12 months or 12,500 miles, diesels every 12 months or 10,000 miles. Ford works on a seven-service cycle, with prices generally set at £155-£240, but the sixth service is £587.
Dealers also offer a £159 service, which involves a 30-point check, fresh oil and filter, plus new pollen filter. The brake fluid should be replaced every two years (£60); all engines need their cambelt replaced every 10 years or 125k miles (£349). Coolant is also every 10 years (£69).
Recalls
The Kuga Mk2 has been recalled six times. In August 2017, trim on 29,904 cars could interfere with the seatbelt pretensioner. A month later, 1,943 Kugas had airbag issues. In January 2018, 15,228 cars were recalled for overheating, which could crack the head; two months later overheating could crack the sump; both these recalls were for 2.0 TDCi Kugas. In July 2018 and September 2019 EcoBoost Kugas had a clutch recall.
Driver Power owner satisfaction
The Kuga Mk2 notched up a 44th place in the 2019 Driver Power new car survey, as well as a 35th place in the used car poll. Its only top-20 placings in the used survey were for its brakes and infotainment system, although owners also liked its seat comfort, ride quality, performance and interior finish. They were less taken by the running costs, especially fuel consumption.
Source: Read Full Article