Used Bentley Continental GT review
A full used buyer's guide on the Bentley Continental GT covering the Continental GT Mk2 (2010-2018)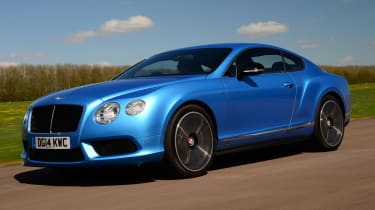 Verdict
When it was launched, the second-generation Continental GT was priced from £135,000, yet you can now secure one for less than £40,000. That might be the same money as a new mid-range BMW 3 Series, but don't go thinking you can run a Bentley for similar money, because the maintenance costs are very different. Tyres, brakes, insurance, tax and servicing add up quickly, so be realistic about whether or not you really can afford to run one of these magnificent beasts. If you can, the Bentley is fabulous to drive, but this isn't a scalpel-sharp sports car; it's a fast grand tourer that offers luxury and power in equal measure – even if those talents are ideally sampled only by two people, rather than four.
Bentley has a rich history that stretches back 101 years, but for an entire generation the brand was associated with little more than rebadged Rolls-Royces.
One exception was the Continental R in the nineties, which had no Rolls-Royce equivalent, but it wasn't until Volkswagen bought Bentley in 1998 that the marque finally made cars that were completely distinct from Rolls-Royce's line-up.
More reviews for Continental GT
Car group tests
Aston Martin DB11 AMR vs Bentley Continental GT
In-depth reviews
Bentley Continental GT review
Bentley Continental GT (2011-2017) review
Road tests
New Bentley Continental GT Convertible V8 2020 review
New Bentley Continental GT V8 2020 review
New Bentley Continental GT Convertible 2019 review
New Bentley Continental GT 2018 review
2017 Bentley Continental GT review
The first Bentley to arrive under VW's ownership was the original Continental GT of 2003, which introduced a new design language. This transformed Bentley's image and, by the time its even more talented successor arrived seven years later, the Crewe-based company was on a roll.
Models covered
Bentley Continental GT (2010-2018) – Opulent grand tourer is in a class of its own.
History
The second-generation Continental GT coupé made its debut in September 2010 with a 567bhp twin-turbo 6.0-litre W12 engine; a mechanically identical Continental GTC Convertible appeared a year later, just before a 500bhp twin-turbo 4.0-litre V8 became available alongside the W12.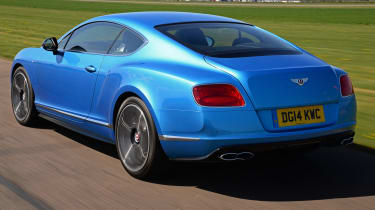 In October 2012 the 616bhp, W12-powered 205mph Continental GT Speed arrived; a GTC edition followed in spring 2013. The 521bhp Continental GT and GTC V8 S appeared in September 2013, a year before the 572bhp V8-powered Continental GT3-R; just 300 of these were made. The Speed models got a boost to 626bhp from spring 2014, when seven new packs were added to the options list. A year later a facelift brought LED headlights and 582bhp. In 2017 the 700bhp Continental GT and GTC Supersports replaced the Speed models.
Which one should I buy?
The V8 engine is significantly more frugal than the W12, while offering all of the power and refinement you're ever likely to need – but every Conti GT will cost plenty to run.
If you can, buy a V8 S. It's sharper to drive than the regular V8 car thanks to tweaked steering and suspension. The GTC fetches a significant premium over the coupé, but you'll get most of that back when you sell.
The Convertible offers fabulous refinement roof-up, and remains a superb cruiser with the top down. As standard, the Continental GT came with 20-inch alloy wheels, air suspension, bi-xenon headlights, leather, electrically adjustable heated front seats, a DAB radio, plus parking sensors front and rear.
Alternatives to the Bentley Continental GT
Just like the Bentley, the Ferrari FF and GTC4 Lusso came with eight or 12-cylinder engines, and offer four-seater usability with four-wheel-drive security, plus shooting brake practicality.
The Mercedes S-Class Coupé and Convertible are luxurious, fast, refined and high-tech, while the Aston Martin DB9, DB11 and Vanquish put more of an emphasis on performance than practicality – much like the Maserati GranTurismo and GranCabrio, which are superb (if flawed) grand tourers. The BMW M6 doesn't have the Bentley's interior class but it's fast, practical and looks smart.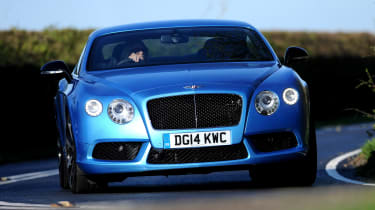 The Rolls-Royce Wraith is also luxurious, expensive and exclusive but, as with all of the these rivals, the Wraith's talents may overlap with the Conti GT's – but ultimately the Bentley is in a class of its own.
What to look for
Economy
The V8 unit had cylinder deactivation from the outset, but the W12 engine didn't get this fuel-saving tech until summer 2015.
Emissions
The W12 can run on petrol that contains anything up to 85 per cent ethanol, a biofuel that helps reduce carbon-dioxide emissions.
Spare wheel
Most Contis have a tyre-inflation kit, but a space-saver spare wheel could be fitted at extra cost, and is worth looking out for.
Gearbox
The eight-speed automatic gearbox is reliable, but the six-speed unit isn't so great. The latter is also costly to fix, so look out for the eight-speed.
Interior
As you would expect, the Conti GT's interior is sumptuous, with premium materials throughout. Everything from the stitched leather to the chunky aluminium gearlever looks and feels expensive, but early cars had a poor infotainment system;
a 2015 facelift improved this significantly. Key options worth seeking out include a heated steering wheel, adaptive cruise control, rear parking camera and TV.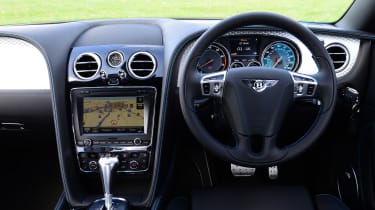 The rear seats are best suited to children, while the boot is average, with its 360 litres more befitting of a family hatchback than a grand-touring coupé or convertible.
Running costs
All Continental GTs need to be serviced every 12 months or 10,000 miles, and the costs for routine check-ups are the same for both engines.
Fixed-price maintenance pegs a minor service at £799 and a major one at £1,199. These costs cover few replacement parts, so budget around £195 every two years for brake fluid renewal, £215 every five years for fresh coolant, and £535 (£595 for W12 models) for replacing the spark plugs every three years, or 30,000 miles.
If the auxiliary belt needs renewing, this will cost £415 on a W12 engine, and £1,095 on a V8 unit. Fixed costs can be paid for by owners on a monthly basis, plus the replacement parts.
Recalls
The second-generation Continental GT has been recalled four times so far. In October 2015, 3,642 Continental GTs, GTCs and Flying Spurs were subject to an action because of the possibility of an electrical short circuit, potentially leading to a fire. In January 2019, 548 Continental GTs built throughout 2018 were recalled because the power steering could fail. Bentley then issued two recalls in July 2019, both because of electrical problems. The first recall affected 830 Continental GTs, which could suffer from failure of the hazard warning lights and demisters. The second recall of 2019, and the most recent, involved 802 Continental GTs and GTCs, which were built with wiring looms that could become trapped or snagged, leading to chafing and electrical short circuits in the system.
Driver Power owner satisfaction
Bentleys are too rare to appear in our Driver Power survey, and the company doesn't appear in our annual Brands results, either. The Continental GT has a reputation for being luxurious, reliable, but costly to run, and while you would hope that any official Bentley dealer would do an exceptional job of looking after you, there's a raft of great independent specialists that will also help trim maintenance costs.
Source: Read Full Article