Used Audi Q3 (Mk2, 2018-date) review
A full used buyer's guide on Audi Q3 covering the Q3 Mk2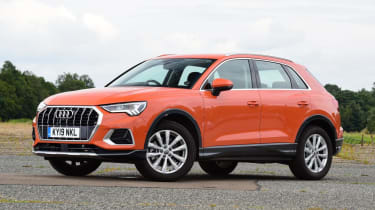 Verdict
The second-generation Q3 was a big advance on its predecessor, in terms of its exterior and interior design, as well as its usability. Naturally it's a lot safer too, and while you can pay heavily for the privilege of Q3 ownership, it's arguably a price worth paying, since the Q3 is such a good all-rounder. When we pitched the Q3 against the Volvo XC40 in petrol form it was the German that came out on top, but in a three-way diesel test that compared the Q3 against the Range Rover Evoque and Volvo XC40, the Audi was beaten by both of those alternatives; they offered better refinement along with smoother engines and transmissions. So while you'll probably love the Q3, just check before buying that it really is the best option for you.
The mid-sized SUV segment is one of the most popular, and premium brands are also massively in demand. So combine the two and you're likely to have a sure-fire winner.
That's certainly the case for Audi, which launched its first SUV (the seven-seater Q7) in 2006, with the smaller and more affordable Q5 following two years later.
Top 10 best SUVs to buy 2021
For an encore it then came up with its smallest SUV yet in 2011, the Q3. As the smallest and most affordable of Audi's SUVs, the Q3 proved to be another hit, so expectations were high when this car was replaced with an all-new model seven years later.
More reviews
Car group tests
Audi Q3 Sportback vs Lexus UX
Audi Q3 vs Range Rover Evoque vs Volvo XC40
Audi Q3 vs Volvo XC40 vs Mazda CX-5
In-depth reviews
Audi Q3 review
Audi Q3 (2011-2018) review
Road tests
New Audi Q3 Sportback 35 TDI 2019 review
New Audi Q3 Sportback 2019 review
Used car tests
Used Audi Q3 (Mk1, 2011-2018) review
Offered in petrol, diesel or plug-in hybrid forms, the second-generation Q3 also came in ultra-quick RS Q3 form to make it more appealing than ever.
History
Audi delivered the first Q3 Mk2s in November 2018. Buyers could choose between 148bhp 1.5-litre, and 187bhp or 227bhp 2.0-litre petrol engines, or there was a 148bhp 2.0 TDI diesel.
At launch there was a choice of Sport or S line trims, but by February 2019 there was also a Vorsprung option; Audi also added a 187bhp 2.0-litre diesel engine to the range.
In August 2019, orders opened in August 2019 for the Q3 Sportback, which was slightly longer, lower and narrower than the regular Q3. It was mechanically identical but less practical thanks to its sharply sloping back end.
A month later Audi unveiled the RS Q3 and RS Q3 Sportback, with a 394bhp 2.5-litre five-cylinder engine. A plug-in hybrid joined the range in December 2020, in the form of the 241bhp Q3 (and Sportback) 45 TFSI e.
Which one should I buy?
None of the engines is weak and don't be too quick to dismiss a diesel, because these still offer the best balance of performance, economy and affordable purchase prices.
Quattro models are ideal for winter driving conditions, but you pay a 5mpg (or so) penalty in fuel economy.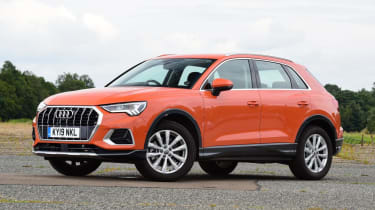 The S tronic auto is a great transmission and has no adverse effect of fuel economy. All Q3s are well equipped, with the entry-level Sport featuring 18-inch alloy wheels, LED headlights and rear lights, a powered tailgate, dual-zone climate control, plus a 10.1in touchscreen with navigation and DAB.
The S line comes with 19in wheels, Sport (stiffer) suspension, a bodykit and sport seats. The Vorsprung comes with 20in alloys, matrix LED headlights, electrically adjustable heated front seats and a panoramic glass roof.
Alternatives
Just within the Volkswagen Group there are numerous alternatives. The VW Tiguan (and seven-seat Tiguan Allspace) share the Audi's mechanicals, as do the Audi Q2 and the SEAT Ateca, along with its spin-off the Cupra Formentor. You could also look at the Skoda Karoq; it's not as plush as the Audi but it's terrific value.
If you want to stick with premium brands it'll be the BMW X1, Mercedes GLA and Volvo XC40 that'll hold the most appeal, and they're all easy to recommend because they're all high-quality products.
Another impressive contender is the Mazda CX-5, which looks smart and drives well, and it has a lovely interior. Less premium alternatives include the Ford Kuga, Nissan Qashqai, Peugeot 3008 and Renault Kadjar, which are all more affordable but which also feel a little less special.
What to look for
Emissions
If you're worried about buying a diesel because of Clean Air Zones, all of the TDI engines in the Q3 are Euro 6-compliant, which means that they shouldn't attract penalties for urban use.
Spare wheel
The Q3 wasn't supplied with a spare wheel; instead there was a tyre mobility kit. It's possible to buy a spacesaver spare wheel; when ordering make sure it's for the F3 (Mk2), not the 8U (Mk1).
Adaptive suspension
The Vorsprung comes with the biggest wheels of all, at 20 inches in diameter. But to prevent your fillings from being shaken out, adaptive damping is included for a better ride/handling balance.
Water ingress
Water in the front footwells is down to the drainage holes in the front scuttle getting blocked. Keeping them clear is key, but dealers have an extra bit of hose that can be fitted to help fix the problem.
Interior
As with most Audis, this is a real highlight, because although it's very high-tech, it's also generally a model of clarity and user-friendliness.
All Q3s have a multi-function steering wheel and the climate control has its own set of buttons and dials for easy adjustment.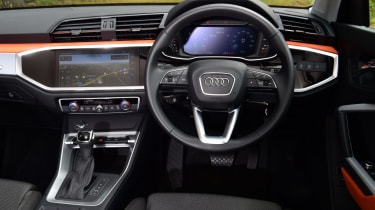 Rear seat head and leg room are ample for three adults and versatility is improved by a sliding bench seat, which allows boot space of 530-675 litres with the back rest up, or up to 1,525 litres with it folded down.
Running costs
Q3 owners can choose between fixed and variable maintenance regimes, with the latter the default setting when the car leaves the factory; it's up to the supplying dealer to change it over if the customer wants.
Stick with the variable regime and a service is required every two years or 18,600 miles, whereas the fixed option halves this to every year or 9,300 miles.
The variable option is known as an oil and inspection service and this is due every time, at £374. The fixed scheme alternates between oil and filter (at £268) and oil and inspection (at £374). Fresh brake fluid is also required every other year (at £58). All Q3 engines are fitted with a cambelt – there's no mileage interval on this, but Audi recommends replacing the belt every five years, at a cost of £595.
Recalls
The Q3 Mk2 has been recalled twice so far, the first time in October 2020. Just eight Q3s were affected by this initial campaign however, all built in July 2020. The problem centred on the front seat frames, which might not have been bolted into the car correctly on the production line. The solution wasn't just to tighten everything up however; in some cases replacement seat frames were required.
The more recent recall was issued in September 2021, and this time 11 Q3s were affected, all made between August 2020 and May 2021. This time the problem was down to a connecting rod working loose in the braking system, leading to the brakes failing to work. The solution was simply to tighten things up.
Driver Power ownership satisfaction
Having achieved a 64th place overall in our 2020 Driver Power new car survey, the Q3 Mk2 managed a much more impressive 22nd place the following year.
As such, within the premium small SUV segment it was beaten only by the Volvo XC40 which came eighth.
For Q3 owners, the highlights are the interior design and practicality, the safety features, the overall quality and the user-friendly infotainment. Disappointing refinement and acceleration get the biggest thumbs down.
Next Steps
Source: Read Full Article