Used Audi A5 (Mk2, 2016-date) review
A full used buyer's guide on the Audi A5 covering the A5 Mk2 (2016-date)

1Used Audi A5 (Mk2, 2016-date) review – currently reading
2Used Audi A5 (Mk1, 2007-2016) review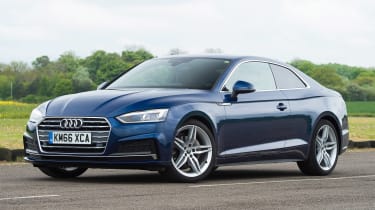 Verdict
For years Audi has been on the receiving end of criticism about its cars' dynamics, and it's no different with the A5 Mk2. These coupés and cabriolets make superb cruisers with their refinement, power and comfort, but you're unlikely to get up just to go for a blast down a B-road in one. It might lack the sparkle of a 4 Series, but the A5 is hardly a duffer in this respect. It's easy and enjoyable to drive, if not rewarding, but it is easy to live with. As with most German cars, it comes at a premium cost, but we reckon it's a price worth paying.
Back in the sixties, when Volkswagen bought Audi from Mercedes-Benz, few people could have foreseen just what a powerhouse this all-encompassing premium brand would become. The seeds were sown in the seventies, then in the eighties Audi gained momentum thanks to its reputation as an innovator, with aerodynamic luxury cars that frequently offered the security of four-wheel drive.
From being a bit-part player, Audi's presence in the UK is now decidedly heavyweight, even though the brand is still outsold by both BMW and Mercedes. But that doesn't matter to used-car buyers; what does matter is that Audi builds some of the most desirable cars on the road, including the A5 in both coupé and cabriolet forms.
More reviews
Car group tests
BMW 4 Series vs Audi A5 vs Lexus RC
Lexus RC vs Audi A5
In-depth reviews
Audi A5 Sportback review
Audi A5 Coupe review
Audi A5 Cabriolet review
Road tests
New Audi A5 40 TFSI 2020 review
Model covered
Audi A5 Mk2 (2016-date) – Top quality and high class are worth paying for.
History
The second-generation Audi A5 Coupé reached UK showrooms in September 2016. A single 2.0 TFSI petrol engine was offered in 187bhp or 248bhp forms, and the latter featured standard quattro four-wheel drive.
Diesel lovers could choose from 187bhp 2.0 TDI and 215bhp 3.0 TDI engines, the latter in quattro form only. All engines were available with a six-speed manual or seven-speed S tronic automatic gearbox, although the 349bhp 3.0 TFSI S5 came only with an eight-speed Tiptronic gearbox.
The A5 Cabriolet was launched in April 2017, with identical engine, trim and transmission combinations. The 444bhp RS 5 Coupé and Cabriolet joined the range in August 2017, with a 3.0 V6 TFSI engine. A 148bhp 1.4 TFSI engine was introduced in November 2017, then in April 2020 a revised A5 arrived. This brought design changes, mild-hybrid tech for most engines, a 342bhp 3.0 TDI engine for the S5, LED headlights and upgraded infotainment.
Which one should I buy?
After a couple of years Audi stopped offering a manual gearbox for the A5, because so few people chose it. The automatic transmission is great to use, as are all of the engines.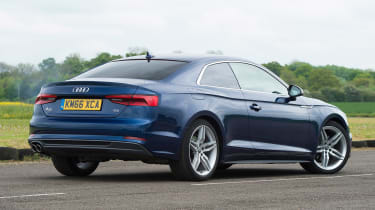 All A5s are well equipped, with even the entry-level SE model featuring 17-inch alloy wheels, xenon headlights, heated front seats, leather trim, three-zone climate control, a seven-inch touchscreen, a 10-speaker hi-fi, DAB radio, Bluetooth, cruise control, front and rear parking sensors, and auto emergency braking.
The Sport has the same equipment as the SE, but sportier design details inside and out, plus LED interior ambient lighting. The S line model has 18-inch wheels, stiffer suspension, LED headlights, and sports seats trimmed in leather and Alcantara.
Alternatives to the Audi A5
Just like the A5, the BMW 4 Series is built to an impressive standard, comes with some efficient engines and is excellent ergonomically. The BMW is more engaging to drive than the Audi and it also gives a choice of coupé or convertible bodystyles.
Mercedes offers C-Class and E-Class coupés and cabriolets, and they all provide excellent build quality, plus decent engines, refinement and reliability. Four-seat coupés have fallen out of favour in recent years, so other options are few and far between. If you want a stylish coupé, and two seats will be enough, the Porsche Cayman is dynamically superb, while the Toyota Supra and Alpine A110 are also great fun. If you need a bit more practicality, don't forget the five-door A5 Sportback, with its huge boot opening.
What to look for
Spare
The A5 doesn't come with a full-sized spare wheel, but at least Audi does supply a space-saver wheel, rather than a tyre mobility kit.
Safety
The A5 Coupé achieved a five-star Euro NCAP score, thanks to its strong structure and extensive safety kit. The Cabriolet was never tested.
Diesel
The A5 2.0 TDI was available in standard and Ultra guises. The Ultra is marginally more frugal, and has a 130mph top speed instead of 149mph.
Fuel tank
Audi offered A5 2.0 TDI buyers the option to upgrade from a 40-litre fuel tank to a 54-litre capacity, and then from a 12-litre AdBlue tank to a 24-litre one.
Common Audi A5 faults
The most common issues faced by A5 owners relate to electrical glitches; we've seen reports of infotainment systems crashing, windows opening themselves when the indicator is activated, and even the electronic parking brake not engaging.
Interior
Audi offers some of the most inviting cabins around, with plush materials, great design and a superb level of user-friendliness. The A5 also provides excellent seats and dash design that's a model of clarity.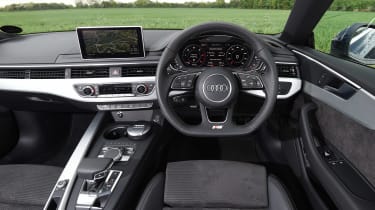 Rear-seat space is tight for adults, unless they're quite small. All A5 Coupés come with a split-folding rear seat; with them up, the Coupé can stow 465 litres in the boot, while the Cabriolet can take 380 litres.
Buyers may also want to look out for models fitted with the optional Comfort and Sound pack, which includes a 360-degree camera, hands-free tailgate, upgraded stereo and extra ambient lighting.
Prices
Running costs
Audi A5 owners can choose between fixed and flexible service regimes, with the former set at every 12 months or 9,000 miles, whichever comes first. Services alternate between minor and major; the former is simply an oil change. Opt for the flexible scheme and your Audi will need to be serviced every two years or 18,600 miles; at the same time an inspection service (oil change) is due.
An oil service is priced at £270, whereas an oil and inspection service with a fresh pollen filter costs £350. On top of this, fresh brake fluid is required every two years, at £65, and the 2.0 TDI engine has a cambelt, which should be replaced every 140,000 miles or five years, at a cost of £476, or £807 with a new water pump fitted at the same time.
Recalls
Audi has recalled the A5 Mk2 11 times so far. The first was in February 2017 due to faulty airbags and seatbelt pre-tensioners; three months later, overheating coolant pumps led to the second recall, and then another in June 2018. Overheating air-con units led to recalls in both January and February 2018, and in December 2018 Audi launched a campaign due to airbag glitches.
Fuel leaks led to the next recall, in March 2019, with the next one coming two months later because of poor-quality front suspension castings. A5s with a factory-fitted towbar were recalled in June 2019 thanks to faulty locking mechanisms; a year later, water getting into the electronics of mild-hybrid models led to the 10th recall. The most recent action was launched in October 2020, because of seat frames working loose.
Driver Power owner satisfaction
The second-generation A5 made its Driver Power debut in our 2019 new-car survey, in 50th place; it finished in 73rd place in 2020, but didn't appear in our 2021 new-car survey. In last year's poll, owners gave the A5's performance, refinement and transmissions a thumbs up, along with the design inside and out, plus the car's dynamic abilities. The worst scores were for reliability, rear-seat legroom and running costs.
Next Steps
In this review
1Used Audi A5 (Mk2, 2016-date) review – currently readingA full used buyer's guide on the Audi A5 covering the A5 Mk2 (2016-date)
2Used Audi A5 (Mk1, 2007-2016) reviewA full used buyer's guide on the A5 Coupe, covering the A5 Coupe Mk1 (2007-2016)
Source: Read Full Article