Used Alfa Romeo Giulia review
A full used buyer's guide on the Alfa Romeo Giulia covering the Giulia Mk1 (2016-date)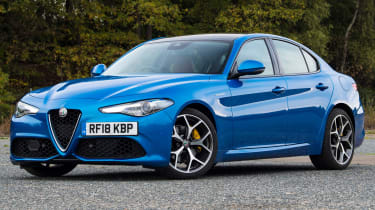 Verdict
Alfa Romeo has just announced a raft of updates for the Giulia, but from our Driver Power survey results it's clear that this was a very talented and well-liked car from the outset. There were plenty of reasons to get excited when the Giulia was launched, because Alfa hadn't cut corners when developing it; the stylish saloon packed a raft of advanced drivetrain and lightweight construction technologies. Then there's the interior and exterior design, which is much more distinctive than you'll find anywhere else in the segment. By the time you take the equipment levels, asking prices, driving experience and reliability into account, there's plenty to like about the Giulia, as long as you can live without a manual gearbox – not that there's anything to dislike about the standard auto.
Alfa Romeo has just celebrated its 110th anniversary, and since it built its first car in 1910, this Italian brand has had a roller coaster ride in terms of its sales and fortunes. For years, Alfa has seen itself as a genuine alternative to the German premium brands, but with a more sporting, soulful edge. Potential buyers haven't necessarily always seen it this way though; they often perceive Alfa Romeos as fun to drive but fragile, with poor dealer support.
More reviews for Giulia
Car group tests
Jaguar XE 300 Sport vs Alfa Romeo Giulia Veloce
Mercedes-AMG C 63 S vs Alfa Romeo Giulia Quadrifoglio
In-depth reviews
Alfa Romeo Giulia review
Alfa Romeo Giulia Quadrifoglio review
Long-term tests
Long-term test review: Alfa Romeo Giulia Veloce
Road tests
New Alfa Romeo Giulia Veloce 2020 review
New Alfa Romeo Giulia Quadrifoglio 2020 review
While the cars continue to be dynamically very capable, they're now much more dependable than they used to be, and while the dealer network can still be rather inconsistent, buying an Alfa Romeo isn't the game of Russian Roulette that it used to be.
Models covered
Alfa Romeo Giulia Mk1 (2016-date) – Alfa proved it could take on the Germans with this desirable, reliable saloon.
History
The Giulia went on sale in the UK in October 2016 with a choice of a 197bhp 2.0-litre petrol engine or a 2.2-litre JTDm-2 diesel in 148bhp and 178bhp forms. There was also a 503bhp 2.9 V6 Quadrifoglio edition.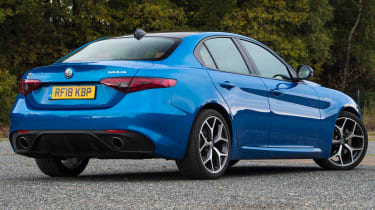 All UK cars got an eight-speed automatic transmission, but buyers in mainland Europe could choose a six-speed manual gearbox. In April 2017 the 280bhp Giulia Veloce arrived, then from August 2018 there was a higher-spec Veloce Ti with many of the Quadrifoglio's features, such as 19-inch wheels, leather/Alcantara heated sports seats and carbon interior trim.
From this point on all Giulias got an 8.8-inch display plus Apple CarPlay and Android Auto as standard, and the diesel engines now had 158bhp or 187bhp. A new infotainment system and driver assistance kit were fitted from February 2020.
Which one should I buy?
Most Giulias have a petrol engine, and the turbocharged 2.0-litre that's most common is a brilliant unit that suits the Alfa's sporty nature. The 2.9-litre V6 in the Quadrifoglio provides epic performance, and while running costs are high, they're no worse than for rivals. The diesel engine is a refined, frugal and torquey motor that complements the car very well.
The entry-level Giulia comes with 16-inch alloy wheels, a 6.5-inch display, automatic headlights and wipers, cruise control, dual-zone climate control and rear parking sensors. The Giulia Super adds part-leather trim, an 18.8-inch display and 17-inch wheels, while the Speciale gets 18-inch alloys, xenon headlights, electrically adjustable, heated front sports seats, a heated steering wheel and washer jets, along with sportier trim inside and out, including reprofiled bumpers.
Alternatives to the Alfa Romeo Giulia
Marketed as a premium saloon for enthusiast drivers, the Giulia's closest rival is the BMW 3 Series – one of the most well-rounded cars on sale with excellent build quality, a great driving experience and a wide model range. These traits are shared by the Mercedes C-Class and Audi A4; while the former is generally rear-wheel drive, the latter focuses on front-wheel drive, although four-wheel drive is available on all three.
If a great drive is a priority, the Jaguar XE should also be on your shortlist' As with the Alfa, it only comes as a saloon – as does the Lexus IS, which isn't much fun to drive, but is reliable and comes with hybrid drive.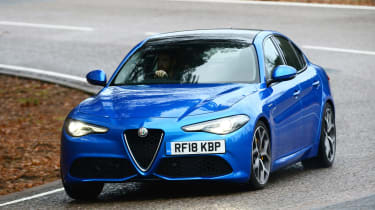 What to look for
Run-flats
The Speciale, Veloce and Quadrifoglio all came with run-flat tyres as standard, so weren't fitted with a spare wheel.
Folding seats
Whereas the Giulia and Super have fixed rear seats, the Speciale's and Veloce's fold down flat to make the boot more practical.
Warranty
Until 1 July 2018, the Giulia came with a three-year manufacturer's warranty, but after this date it was boosted to five years.
Trim levels
The trim hierarchy was revised in February 2020 – the updated selection now consists of Super, Lusso Ti, Sprint and Veloce.
Interior
The Alfa Romeo Giulia isn't an old car by any stretch of the imagination, but newer examples are noticeably more plush than earlier editions, with improved multimedia systems and cabin materials.
All Giulias have an attractive interior though, with an uncluttered dashboard and fairly high-quality switchgear – although some buttons and dials could be a bit more premium. The seats are perfectly comfortable and supportive, while there's reasonable space in the rear; it's tight for five though.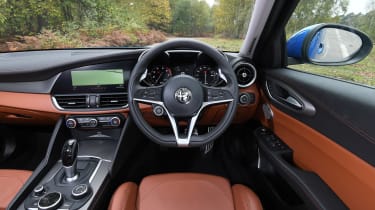 At 480 litres, the boot's capacity is par for the course in the sector – buying a model fitted with folding rear seats will help improve practicality.
Running costs
Buy a petrol-engined Giulia and you'll have to get it serviced every 9,000 miles or 12 months; the diesel stretches this to every 12,000 miles or annually. Whichever you buy, services run in a six-year cycle. For petrol cars, prices range between £191 and £531; for diesels expect £186-£611. The fifth service (due by 60,000 miles) is costly for the 2.2d because the cambelt has to be changed; the petrol engines are chain driven.
If you've got a Quadrifoglio the range is typically £350-£650, although a big service is due every four years/36,000 miles, at £1,500. This includes replacing the auxiliary drive belt and tensioner – a £400 job. From 1 July 2018 all Giulias came with a three-year maintenance package and roadside assistance for five years; the latter is subject to a 75,000-mile limit.
Recalls
Alfa Romeo has recalled the Giulia on five occasions so far, the first being in March 2018. This was because 11 cars (including some Stelvio SUVs) built in November and December 2017 had incorrect brake fluid put in when they were on the production line.
Next, some Giulias built up to June 2019 were recalled in July 2019 because of faulty cruise control software, then two months later another campaign was launched for Giulias built up to August 2019 with a faulty fuel gauge. Fuel leaks were the reason for the fourth recall, which came in December 2019. This affected 116 diesel Giulias built between December 2017 and September 2019.
The most recent recall was in January 2020 because 57 Giulias and Stelvios made between November 2018 and September 2019 had faulty seat latches.
Driver Power owner satisfaction
The Giulia notched up third place in our 2018 new-car poll of 75 cars and repeated the feat in the following year – but it didn't appear in the 2020 survey. Still, last year's poll showed that owners aren't impressed by the Giulia's thirst or practicality, but other than that it was generally top-10 scores all the way, including numerous first places, especially for many of the car's dynamic aspects.
Source: Read Full Article