The world's craziest pick-up trucks – page 6
From wacky concepts to rare collector cars and ground-shaking monster trucks – the humble pick-up has always inspired enthusiasts willing to take things to extremes…
Mercedes Benz AMG G63 6×6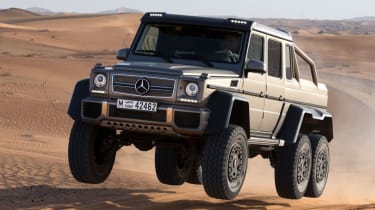 In untypically bombastic style, Mercedes-Benz describes the G63 6×6 as 'the most spectacular cross-country vehicle of all time'. There are a few other vehicles features in this article that might take issue with that claim, but you can see where the Mercedes marketing team is coming from – the G63 is genuinely a beast!
At its heart is the AMG 5.5-litre V8 biturbo engine making 536bhp, and it drives all six wheels making the vehicle all but unstoppable off-road. It's also ridiculously quick for a car weighing nearly four tons – 0-62mph arrives in under six seconds. With limited numbers available and typically opulent Mercedes fit and finish, even a £370k starting price isn't putting off buyers.
El Camino SS 1970-72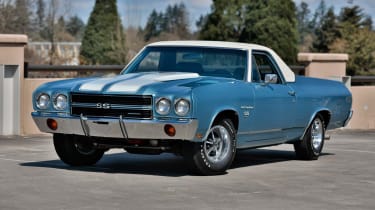 Mecum.com
Another legendary pick-up from the muscle car era, Chevrolet's El Camino was a two-door coupe style utility based on Chevy Station Wagon (estate) platforms. It was available from 1959, but collectors drool over the Chevelle-based Super Sports model, which appeared only for a few heady years in the early 1970s.
With a big block LS6 V8 pumping out 450bhp, and all the requisite period muscle car features like racing stripes, alloy wheels and bucket seats, the 1972 454 SS is the pick of the bunch. It's also a rare beast, with collectors paying top prices
Giant 1950 Dodge Power Wagon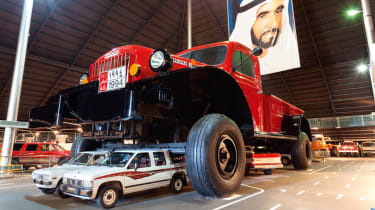 ENAM
One of the star attractions at the Emirates National Auto Museum in Abu Dhabi is this monstrously super-sized 1950s Dodge Power Wagon replica. It's not just a static exhibit either, as the vehicle commissioned by museum founder Sheikh Hamad bin Hamdan al Nahyan has an earth-mover engine and drives under its own steam. Billed as the world's largest truck, the Power Wagon has an interesting specification which includes four bedrooms, a living room and a bathroom. It's eight times bigger than a standard Power Wagon, nearly 8m wide and weighs 50 tonnes – so the 300bhp diesel engine is just for moving it around as opposed to actually driving anywhere!
Read about the world's most famous monster truck on page 7…
Source: Read Full Article