Tesla Model S Plaid confirmed for 2021 market launch
Tesla Model S Plaid is available to order now, with a maximum output of 1,100bhp and a top speed of 200mph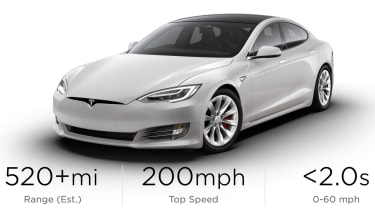 In its annual shareholder meeting, Tesla released further details on a new, flagship version of the Model S that will go head-to-head with the Porsche Taycan. It'll be called the Model S Plaid – and it's available to order now with a starting price of £130,980. First deliveries are expected by the end of 2021.
The Tesla Model S Plaid will be powered by the company's most potent three-motor electric powertrain – which delivers a claimed output of 1,100bhp, a 0–60mph time of less than two seconds and a top speed of 200mph. Tesla also says its new Plaid powertrain will give the Model S a range of "more than 520 miles."
Best electric cars to buy 2020
The Plaid also features a few cosmetic tweaks, including wider wheels and tyres, flared wheel arches, a new front splitter, a large ducktail boot spoiler and an enormous rear diffuser. There's also a range of chassis tweaks, such as larger brakes and new dampers.
Tesla recently lapped the new Model S Plaid at Laguna Seca and achieved a time of 1:30.3 – with the hope of shaving a further three seconds off that. Elon Musk's ultimate goal is to make the Model S "achieve the best track time of any production vehicle ever."
The company's new-found interest in the famed circuit is likely in reaction to the Porsche Taycan's recent record-breaking lap, where the Taycan unofficially claimed the title of the world's "fastest four-door, all-electric sports car."
Previously, Tesla issued a telemetry map, which propped up the claim that its Model S Plaid development mule had lapped the Nurburgring in around seven minutes and 20 seconds. An official lap time is yet to be released, but this preliminary time makes the Tesla more than 20 seconds faster than the Porsche Taycan.
In the same meeting, Tesla also announced its ambitions to build a $25,000 vehicle, which the company will achieve by reducing the cost of its battery packs. Over the next three years, Tesla aims to halve the cost per kWh of its cells by both switching up the raw materials used and redesigning the way its batteries are built.
Tesla will soon swap its traditional cylindrical cell design for a new shingle-lattice design – the upshot of which means that its batteries will be more efficient and, more importantly, cheaper to build. Tesla cells will also move to a new type of silicon anode, which is cheap and stores nine times more lithium than a traditional graphite anode.
The company is also expected to move all of its battery production processes in-house – such as mining, processing and assembly – eventually cutting out middle-man suppliers such as Panasonic and passing on the savings to its customers.
Check out our review of the Porsche Taycan here…
Source: Read Full Article