SSC Tuatara claims title of world's fastest production car with 331mph run
1,750bhp SSC Tuatara knocks Bugatti Chiron Super Sport 300+ off its perch with astonishing two-way top speed attack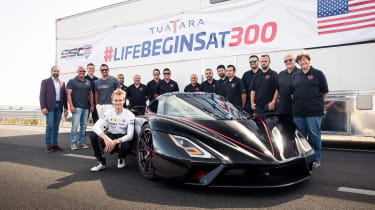 The SSC Tuatara has claimed the title of the "world's fastest production car," after posting a two-way average speed of 316.11mph on a closed strip of state highway just outside of Las Vegas, Nevada.
The attempt has pushed the Bugatti Chiron SuperSport out of contention for the "world's fastest" record on two counts, as the French hypercar only posted a one-way top speed of 304.77mph, rather than an industry standard two-way average, on a top speed run in 2019.
The Tuatara's pair of runs clocked in at 301.07mph in one direction, followed by 331.15mph in the other. In the process, SSC also clinched a series of other records, including the fastest flying mile on a public road (313.12 mph), the fastest flying kilometre on a public road (321.35 mph) and the highest speed achieved on a public road.
To make its attempt as credible as possible, SSC claims its car is a production vehicle, run on street tyres and non-race fuel.
The attempt was also carried out on a public road to ensure it was conducted under "real world driving conditions that a race track or runway might not offer." The car's speed was also tracked by 15 GPS satellites and – most importantly – the final speed was an average of two runs on the same strip of tarmac.
SSC announced the Tuatara back in 2011, before unveiling a production-ready version at the 2018 Pebble Beach Concours d'Elegance. Since its conception, it was designed with one thing in mind – to break the 300mph barrier and crown itself as king of the hypercars.
Such a feat requires an immensely powerful engine – which the Tuatara has. It's a 5.9-litre V8 with two turbochargers and a flat-plane crank, which pushes out 1,750bhp and 1,735Nm of torque.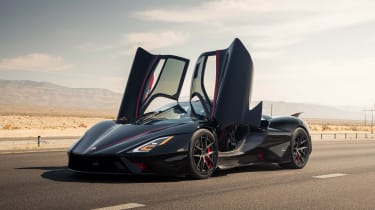 Unlike most über-powerful hypercars, such as the Bugatti Chiron or the Pininfarina Battista, the Tuatara also does without four-wheel-drive. All torque is sent to the rear wheels only via a seven-speed dual-clutch automatic.
Its body and chassis are hewn from carbon fibre and have a dry weight of 1,247kg. The hypercar also has a drag coefficient of just 0.279, which is less than both the Chiron and the Koenigsegg Agera.
SSC pulled the same trick in the early 2000s with Ultimate Aero. In 2005, Bugatti held the world's fastest production car record with the Veyron, which had a maximum speed of 253.81mph. Just two years later, the Aero was launched – and it beat the Veyron by almost 4mph, posting a two-way average speed of 257.41mph.
What do you make of SSC's record-breaking run? Let us know in the comments section below…
Source: Read Full Article