Skoda students make plans for Kamiq rally car concept
Skoda's team of 25 apprentices will soon take the Kamiq tree-dodging, turning the compact SUV into a one-off rally car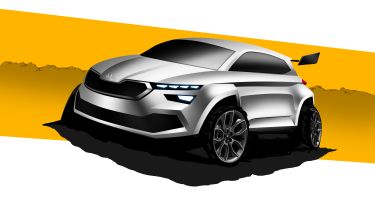 Skoda has once again set a team of apprentices to work on their very own concept car, which will be a rally-ready version of the marque's Kamiq small SUV. 
As has been the case for the previous seven Skoda Student cars, it will be designed and built solely by Skoda trainees. But this year, to complete the rallying Kamiq, Skoda's apprentices will receive a little aid from the company's motorsport division. 
New student-built Skoda Mountiaq pick-up truck revealed
This student sketch previews the concept's styling. Judging by the drawing, the Kamiq will lose its two rear doors and gain a whole host of rally car trinkets, such as a roof scoop, an enormous rear wing, flared wheelarches and an aggressive front splitter.
As the students can rely on insight from Skoda's motorsport team, we're also expecting some fairly serious mechanical upgrades. 
Four-wheel drive is a strong possibility given the rally car brief, and if more power is needed, the students could even drop the Skoda Octavia vRS's 242bhp 2.0-litre powertrain under the Kamiq's bonnet, as both cars are based on variants of the Volkswagen Group's MQB underpinnings. 
The interior will get a similarly racy overhaul. Items like a roll cage, racing seats, six-point harnesses and a rally-specific digital dash all finding their way into the cabin, with some of these components likely being pinched from Skoda Motorsport's parts bins.
The concept will be pieced together by a team of 25 apprentices at Skoda's vocational school in Mlada Boleslav in the Czech Republic. The project marks the 120th anniversary of Skoda Motorsport and pays homage to the company's success in the world of rallying.
Skoda hasn't yet set a reveal date for this year's student car. However, the brand's previous projects, such as the Funstar pick-up and the CitiJet convertible, were revealed at previous gatherings of the Worthersee tuning festival in Austria, the next iteration of which is set to go ahead in May 2022.
This new rally-spec Kamiq also follows projects such as the Slavia roadster and a particularly well-designed pick-up truck version of the Kodiaq, called the Mountiaq.
Now click here to read about Skoda's last student concept, the Slavia…
Source: Read Full Article