SEAT to launch "urban EV" by 2025
New EV aimed at bringing "electromobility to the masses" to cost between £17k-£22k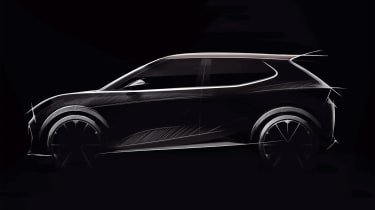 SEAT is planning to launch an all-electric "urban EV" in 2025, with a price tag between £17,000 and £22,000.
Talks on whether the new car will be branded a SEAT or a Cupra are ongoing, with company President Wayne Griffiths outlining at the brand's annual results conference  that a decision on this had not yet been made. 
Cupra Tavascan set for production in 2024
Griffiths did confirm that the new compact EV "will be the first car for an entry platform for different brands of the VW Group."
This likely refers to the MEB Entry architecture, an electric-only platform for more compact cars that will sit beneath the MEB-based Cupra Born and Tavascan models in the line-up.
Despite the admission that the new vehicle will be an EV focused on urban mobility, it may not be a conventional supermini. Griffiths highlighted that the car is a similar size to the SEAT Arona compact SUV, at around four metres long.
SEAT's teaser image revealed at the conference also shows a more SUV-like profile, with a slightly raised ride height, likely to accommodate the mounting of a battery in the car's floor, as with the larger MEB platform. 
The new urban EV will be developed as part of SEAT's plan to transform its Martorell production facility outside Barcelona, with the aim of building 500,000 electric vehicles per year.
SEAT's ambitious plans also include leading EV development for the entire VW Group, and the new urban EV will be a key part of this, because it has the potential to generate enormous sales volumes – and it needs to.
New Cupra Formentor e-Hybrid PHEV on sale in the UK now
The tricky part for automotive brands is that EVs cost a lot to develop and build, but small cars have to be sold for comparatively low prices, so it can take a long time to earn back the money spent on development.
Coupled to slower sales for SEAT, especially last year due to the Covid-19 pandemic, the company's future could ride on this new baby EV. It is not known yet when the Spanish organisation will make a decision on whether to badge its new urban electric car a SEAT or a Cupra, but given the intended entry price point of around £17,000 it'll more than likely be a SEAT, as this brand is pitched as the more affordable offering compared with its sportier, more premium off-shoot, Cupra.
SEAT has once again been put in charge of leading the development of a compact EV for the Volkswagen Group, with a VW ID.1 small EV scheduled to make its debut in 2025 also.
SEAT and Cupra President Wayne Griffiths said: "We want to manufacture electric cars in Spain starting in 2025. Our ambition is to produce more than 500,000 urban electric cars per year in Martorell also for the Volkswagen Group, but we need a clear commitment by the European Commission.
"We've drawn up the plan, we have the right partners on-board and we're generally ready to invest. This project is intended to become the driver for the transformation of the Spanish automotive industry. The support of the Spanish Government and the EU Commission for this cross-sectorial and nation-wide plan is needed for the Volkswagen Group to be able to take the final decision on its execution."
Now read all the latest news on the Cupra Formentor e-Hybrid PHEV. Let us know your thoughts in the comments below…
Source: Read Full Article