Safest cars for sale in the UK
We look at the cars Euro NCAP has named as the safest cars on sale
Introduction
Safest electric and executive car: Mercedes EQS
Safest small family car: Skoda Fabia
Safest small MPV: Toyota Yaris Cross
Safest small SUV: Nissan Qashqai
Safest large SUV: Skoda Enyaq iV
Safest large family cars 2019: Tesla Model 3 and BMW 3 Series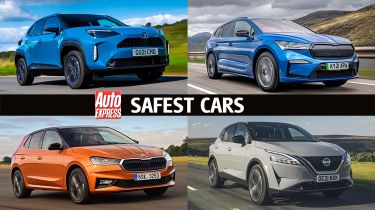 Buying a safe car is a high priority for most car buyers, especially those who need a vehicle for family use. Euro NCAP (the European New Car Assessment Program) runs a series of tests to determine the overall safety of a car, and this is translated into a star rating. Below we run down Euro NCAP's 'Class of 2021' – the cars they have ranked as the safest of the year.
Producing a safe car with a high Euro NCAP score has become harder over the years, as the Euro NCAP crash tests and technical requirements have been made tougher. But this means today's cars are far safer than those built even five years ago. To highlight this fact, Euro NCAP has revisited older models and re-evaluated them under the new stricter test conditions. As a result, some older cars that once earned four or five stars performed far worse under the latest test regime, with some cars, such as the Renault Zoe, failing to earn a star rating at all.
The best cars for comfort, technology, safety, practicality and more
Euro NCAP tests cars for structural strength with a variety of impact tests that simulate the most common kind of road traffic collisions on European roads. It gives percentage scores for the protection for four main categories – adult-occupant protection, child-occupant protection, vulnerable-road-user protection, and safety assist.
The safety assist category was added in to reflect increasing advancements in safety technology. This is another percentage score, but this time it covers a car's electronic safety systems that are designed to prevent an accident in the first place. Included under this catch-all category is safety kit such as autonomous emergency braking, electronic stability control, adaptive cruise and blind spot and lane assist systems.
To highlight how important these features are, Euro NCAP changed its scoring structure so that any car that doesn't come with these advanced safety systems would not be able to earn a five-star rating. However, as some makers include this type of kit in option packs, some cars will have more than one star rating to reflect this, which could cause confusion.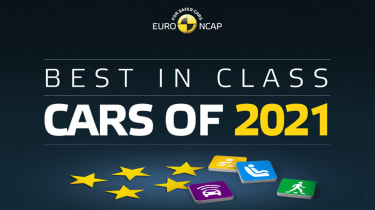 Euro NCAP
At the end of every year, Euro NCAP names its Best in Class vehicles. In 2021, there were six contended classes – Safest pure-electric car, safest small family car, safest small MPV, safest small SUV, safest large SUV, and safest executive car. These 'best in class' ratings are calculated through the weighted sum of the four areas of assessment. It is also worth noting that optional safety equipment is disregarded within these scores.
Safest cars tested by Euro NCAP in 2021
Safest electric and executive car: Mercedes EQS
Safest small car: Skoda Fabia
Safest small MPV: Toyota Yaris Cross
Safest small SUV: Nissan Qashqai
Safest large SUV: Skoda Enyaq iV
As NCAP only tests a certain number of cars per year, there are not always enough vehicles tested in a particular class to declare a winner for that category. Therefore, previous winners from categories not mentioned above are as follows, with the dates they were tested shown in brackets:
Safest large family car: Tesla Model 3 & BMW 3 Series (2019)
Euro NCAP's past safest cars
Curious about the safest cars from previous years? Here are the past overall winners of Euro NCAP's safest car award…
2020: No winner
2019: Mercedes CLA
2018: Mercedes A-Class
2017: Volvo XC60
2016: No winner
2015: Volvo XC90
2014: Mercedes C-Class
2013: Jeep Cherokee
2012: Fiat 500L
2011: Chevrolet Aveo
2010: Alfa Romeo Giulietta
Visit our class-winner pages to see previous winners in that car's class. Be aware though that Euro NCAP's car classifications have changed over the years so some cars may be in categories that don't really define them.
Regardless of class, however, all cars Euro NCAP tests in a particular year go through the same strict testing procedure. Just remember that even a five-star car tested a few years ago may not be considered quite as safe under current testing procedures.
How do the Euro NCAP Car safety tests work?
Cars are crashed into obstacles head-on, side-on and slightly offset to one side. The cars are fitted with sophisticated crash-test dummies covered in sensors, which tell researchers the forces applied to various body parts in an impact. The crash tests give a picture of the overall safety of the car, including the effectiveness of seatbelts and airbags as well as its body rigidity during a crash. Cars are evaluated for safety of adult occupants, child occupants, and younger children in properly fitted car seats.
Cars are then tested for pedestrian safety, and a dummy leg and head are fired at the front to gauge the forces involved in a pedestrian collision.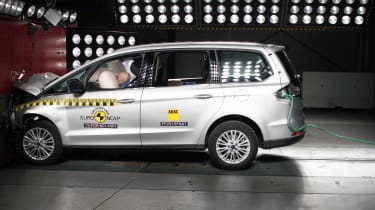 Euro NCAP
The 'safety assist' category refers to equipment such as autonomous braking and lane-keeping assist, which doesn't aid in a crash, but prevents it from happening in the first place. This category is so important now that it's impossible for a vehicle to achieve the full five-star rating if it's not equipped with some of these 'active safety' features.
The confusing part for consumers comes when trying to compare cars. Euro NCAP constantly revises its testing criteria, making it harder for cars to reach the full five-star rating. A five-star car tested in 2017 would more than likely only receive three or four stars if tested in 2022, as the tests become more stringent and challenging.
It's good news for car buyers though, because chasing a full five-star rating has kick-started manufacturers into really concentrating on safety features. A new car can't really be considered class-leading anymore without a top recommendation from Euro NCAP.
For a full list of car safety ratings, visit Euro NCAP's website here
Continue Reading
1Introduction – currently readingWe look at the cars Euro NCAP has named as the safest cars on sale
2Safest electric and executive car: Mercedes EQSThe Mercedes EQS is a double achiever – it's not only Euro NCAP's safest electric car but its the safest executive car, too.
3Safest small family car: Skoda FabiaThe latest Fabia packs cutting-edge safety tech into a reasonably-priced package
4Safest small MPV: Toyota Yaris CrossThe Yaris Cross shares many things with the Yaris hatchback, including a five-star safety rating
5Safest small SUV: Nissan QashqaiThe Qashqai's fantastic five-star safety rating makes it an attractive proposition to family buyers
6Safest large SUV: Skoda Enyaq iVSkoda's first electric car has truly set the benchmark for safety
7Safest large family cars 2019: Tesla Model 3 and BMW 3 SeriesThese two cars came in joint first when originally tested in 2019
Source: Read Full Article