Road traffic falls by up to three-quarters during lockdown
Road traffic had fallen to 73 per cent less than normal by 29 March, but is starting to increase again despite the lockdown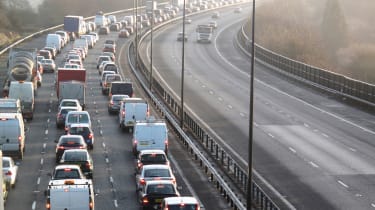 Road traffic in the UK initially fell by almost three-quarters during the coronavirus lockdown, according to new Government data, but is now on the rise again.
Since 27 February, the Cabinet Office has been releasing daily traffic figures to accompany the Government's coronavirus press conferences. At first, this data showed a dramatic fall in the number of vehicles on the road.
Spike in road accidents during 10-minute evening period
The lowest levels seen were on 29 March, when there were 73 per cent fewer motor vehicles using the roads than pre-coronavirus. However, although traffic levels fell steadily up until this point, the numbers are now going back up.
In spite of the ongoing coronavirus lockdown, road traffic levels have now started increasing again. The latest figure available is for 3 April and showed there were 63 per cent fewer vehicles on the UK's roads than pre-coronavirus.
The news follows the Government's persistent messages to the British public that they must remain in their homes at all times, unless doing one of the following things:
Shopping for essential items (e.g. food and medicine) as rarely as possible
Taking one form of exercise per day (e.g. walking, running or cycling) alone or with members of the same household
Attending medical appointments
Assisting an elderly or vulnerable person
Travelling to and from work (only if working from home is not possible)
In spite of the clear advice, there have been numerous reported cases of people breaking lockdown rules, leading to suggestions that the Government could tighten the law even further.
Although there has undoubtedly been a significant drop in the number of people driving their cars, as shown by the figures, the increase in road traffic since 29 March could be indicative of a few drivers starting to disobey the rules by taking unnecessary journeys.
Do you think tougher lockdown measures should be imposed? Let us know the comments below…
Source: Read Full Article