Polestar's electric supercar: Could the Synergy concept become reality?
Polestar has a supercar in its sights but we may have some time to wait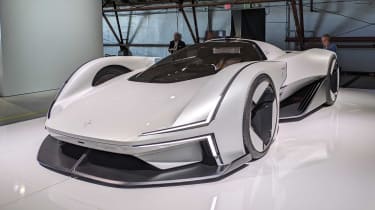 When Polestar unveiled its Synergy concept at the 2023 Munich Motor Show, tongues were immediately set wagging on the subject of the striking supercar making it to production. Now Polestar design boss, Maximilian Missoni, has echoed the desires of car fans around the world, expressing his belief that a Polestar performance flagship could make sense for the manufacturer.
When asked whether the Polestar brand could support a low volume supercar with design links to the Synergy concept, Missoni replied: "I can see the brand having the pull to do that, yes."
"At the moment it's all hands on deck to deliver what we have to deliver, but I wouldn't say it couldn't be done."
It's worth remembering that the Synergy concept was amalgamated from three designs submitted for a competition run by Hot Wheels, and the outlandish styling reflects the toy car company's aesthetic. There would be question marks over ownership of the design were anything similar ever to reach production, but real world packaging constraints were accounted for in the design, with room being allowed for electric motors and a battery pack of realistic size within the 1,040mm high and 4,560mm long body.  
Polestar would not use the advanced bonded aluminium platform developed for the Polestar 5 and 6 in any venture into the supercar segment, but would more likely pursue a bespoke monocoque chassis for the car.
Now read our ride review of the upcoming Polestar 4…
Source: Read Full Article