Our cars: the best long-term reviews 2021
The Auto Express team has lived with a huge variety of cars, and these are their favourite memories
Our cars: the best long-term reviews 2021
Our cars: the best long-term reviews 2021 – page 2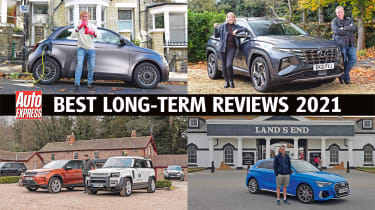 We test hundreds of cars at Auto Express HQ – with everything from superminis to supercars arriving to be put through their paces. However, a few of them stay a little longer, giving us the perfect chance to see how they perform over six months or more.
Despite struggling to put many miles on our long-termers in 2020 for obvious reasons, restrictions eased off earlier this year and we were finally able to get out on the road. Some cars performed flawlessly, while others had a few gremlins, but which ones really impressed us? Read on below for our round-up of the best long termers of 2021.
Best long-term cars 2021
Ford Puma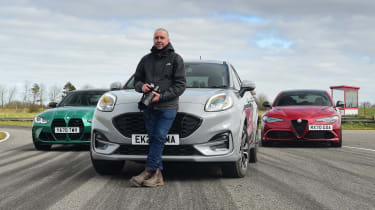 Pete Gibson, senior photographer
Mileage: 29,983
MPG: 44.3
It was perhaps the most unlikely shot of the year, but when senior photographer Pete Gibson headed down to Llandow circuit in the Vale of Glamorgan, he couldn't resist lining up his grey Ford Puma beside a green BMW M3 and a red Alfa Giulia Quadrifoglio. The Puma might give away three cylinders and 350bhp to each of the super-saloons, but Pete reckons that on the right road, the Puma can still elicit the same kind of grins from its driver.
Pete's journey from Essex to south Wales was made all the more memorable because it was one of the first road tests he was able to shoot after this year's lockdown restrictions were lifted, and he maintains there wasn't a car he'd rather have done it with.
It wasn't the only time Pete took his Puma to a track, though. He also joined Thruxton's circuit instructors, who use Ford's brilliant small SUV to teach those attending its driving experience centre the circuit's challenging lines. As unlikely as it sounds, the instructors think their Puma STs fit the bill perfectly, and while Pete's car was a rather more workaday 1.0-litre ST-Line, he found it to be the ideal all-purpose partner. In fact, during its time with Pete, it clocked up close to 30,000 miles, taking him around the country, and the Gibson family on various trips.
Ford Puma long-term test review
Audi S3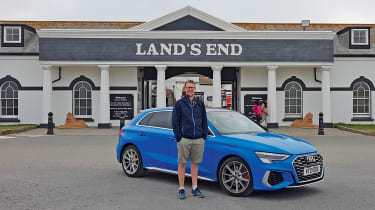 Sean Carson, associate editor
After a long time cooped up, Sean and his other half, Sophie, took their Audi S3 to Cornwall on holiday and both decided the S3 is a strong all-rounder. Despite its size, the boot took all of their luggage, with only a small overspill onto the rear seats – including Sean's golf clubs.
For a 306bhp all-wheel-drive hot hatch to average 33.0mpg was impressive, while Sophie found it fun on the tighter lanes – and secure in bad weather. Even on the smaller 18-inch wheels, the ride could have been better, but on the motorway it was fairly comfortable and refined.
After a week with the S3 taking everything in its stride, Sean thinks we're at a high watermark for hot hatchbacks as we approach the beginning of the electric era; even a relatively conventional 2.0-litre turbo model like this will seem characterful when everything is an EV.
It's neat, precise and unflustered – not characteristics you might call fun – but on their holiday the pair found these traits perfect for a daily driver with a good dose of performance. Exactly the brief for the S3.
Audi S3 long-term test review
Ford Ranger Wildtrak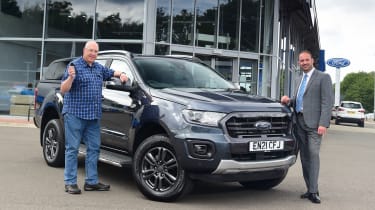 Kim Adams, products editor
Over the past few years, products editor Kim Adams has been a regular at track days around the country, so his need to tow his race cars has meant he's become the home for pick-ups on the Auto Express fleet. And while he's tried models from several other brands, the Ranger has been a notable omission – not least because it has been our pick-up of the year for some time.
That was put right back in August when Kim collected EN21CFJ from the FordStore in Harlow, Essex. He has only had it a few months, but it has already covered more than 4,000 miles, many of them with a trailer and track car behind.
And the big Ford has yet to disappoint. It's taken all that's been thrown at it, but a six-day track and sightseeing break in North Wales showed the Ranger at its best. Not only did it swallow luggage, tools, tyres and spares without a problem, it also made it easy to forget there was a trailer behind. Even after a five-hour drive, Kim and his wife were still fresh enough to take a stroll around Conwy Castle.
Ford Ranger Wildtrak long-term test review
Citroen C5 Aircross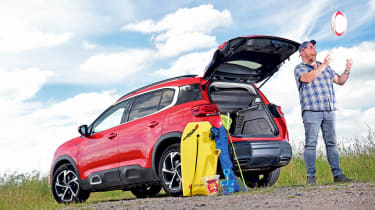 Stuart Milne, executive editor
Receiving a car and not knowing if you'll be able to use it is a bizarre concept, but when executive editor Stuart Milne took delivery of his Citroen, the UK was in its third lockdown. Fortunately, once restrictions eased, Stuart was able to take a family holiday in Devon.
The freedom it allowed was breathtaking, and on the journey, the C5 Aircross was, too. The big SUV took all the Milne family's luggage, and the softly sprung Citroen made effortless work of the UK's motorway network. Even when Stuart arrived on the north Devon coast, the funky Volcano Red C5 Aircross felt immediately at home among the ubiquitous surfboard-bearing VW Transporters.
Visibility when driving down the tight lanes through chocolate box villages was great, and Stuart's kids could take in the scenery, too. The C5 Aircross was about as big as you'd want on these roads, helping Stuart and his family to have a holiday that was both comfortable and relaxing. After a tumultuous year, it was an experience that none of them will forget in a hurry.
Citroen C5 Aircross long-term test review
Fiat 500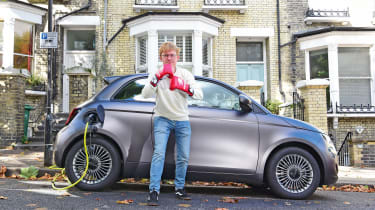 James Brodie, news and reviews editor
Mileage: 794
Efficiency: 4.5mi/kWh
After the car made quite an impression during a number of drives and group tests, the arrival of the new all-electric Fiat 500 onto the Auto Express fleet in September was hotly anticipated.
It seemed our man wasn't the only fan of the new 500, either. It's already becoming quite a common sight in some of the trendier enclaves of our capital, where ours is proving its worth as a fantastic electric city car with some real premium appeal. It's hardly surprising; it looks great, is perfectly practical for round-town use and has an aura that's at odds with its relatively low price.
However, as fun as it is to slink around the city in the new 500, the Fiat doesn't change the game completely. An official range of 199 miles from its 42kWh battery is usable for most commuting, but it means the 500 is in the awkward position of being a car you can just about do longer journeys in – but not without resorting to keeping a well trained eye on the battery level or taking in additional charging stops purely for peace of mind.
Fiat 500 long-term test review
Dacia Sandero Stepway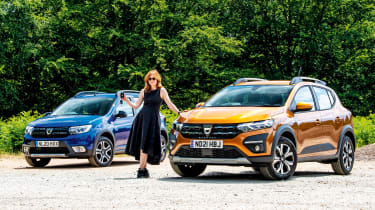 Dawn Grant, picture editor
Having heard the good things the rest of the team were saying about the new Dacia Sandero Stepway, Dawn was thrilled to receive the keys for a six-month loan. But to see just how far Dacia has come, she spent a few days in the old car to compare them side-by-side.
The new car has more of an SUV look. It's slightly larger, with new LED headlights, more aggressive styling and larger wheelarches. And in Desert Orange, it looks the part, too. Gone are the cheap-looking Stepway stickers, replaced by smart metallic nameplates. It's better than ever inside, too, where the brand has improved the user-friendliness with features like the removable phone cradle attached to the 8.0-inch screen with its own USB point behind.
Dawn reckoned owners trading up from the old model will be pleasantly surprised; it's still not the fastest car around, but the driving experience is definitely more sophisticated and Dawn particularly appreciated the lighter steering compared with the older model.
Dacia Sandero Stepway long-term test review
Hyundai Tucson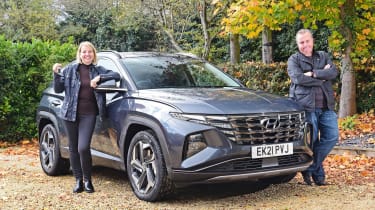 Steve Fowler, editor-in-chief
Something strange happened when a Hyundai Tucson turned up on editor-in-chief Steve Fowler's driveway. Normally, his family aren't that bothered when a new car arrives, but the Tucson has won favour with Steve's wife Victoria – so much so that he handed the keys and his keyboard over to her for the final report on the car.
We're big fans of the Tucson here – it's a multiple Auto Express award-winner, while our sister title Carbuyer named it 2022 Car of the Year. And it seems pretty fair to say that it's Victoria's car of the year, too.
She loves the looks (especially the fancy parametric lights) and the fact that it's easy to drive, comfortable, and doesn't need filling up that often – 46.5mpg is pretty good, for the record – and that it's loaded with useful kit, especially Apple CarPlay and heated seats and steering wheel. She's so taken with the car that she's recommended Tucsons to several friends, who have either already bought one or are in the process of doing so.
The Fowlers' highlight of the year was their summer holiday, which took the whole family from the west to east coast in the space of a couple of weeks. It's even won favour with Sky the Goldendoodle – the boot is plenty big enough for her, and easy to jump into. It's no wonder Steve's under pressure to put a Tucson permanently on his driveway.
Hyundai Tucson long-term test review
Continue Reading
1Our cars: the best long-term reviews 2021 – currently readingThe Auto Express team has lived with a huge variety of cars, and these are their favourite memories
2Our cars: the best long-term reviews 2021 – page 2The Auto Express team has lived with a huge variety of cars, and these are their favourite memories
Source: Read Full Article