Osprey launches accessible public electric car charger
New Osprey electric car chargers feature counterweighted cables and screens that are easier to read from various angles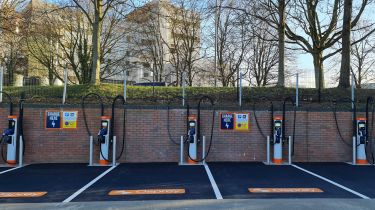 Electric car charging firm Osprey has launched a new type of public charger that is more accessible for disabled drivers.
Each charger has 1.2 metres of space around it, making it easier for drivers in wheelchairs to get close. The cables, which have traditionally been quite heavy, feature counterweights to make them less cumbersome. The screens, meanwhile, are easier to read from various angles and in different light conditions.
New electric car charger answers call for accessibility
The chargers, which meet the draft PAS accessibility standards set out by the BSI, are intended for safe locations with CCTV in place. Plans for the rollout are yet to be announced, but units have already been installed at a site in Banbury.
The news follows a lengthy campaign by Auto Express for EV charging to be made more accessible for disabled drivers, many of whom have struggled to use public chargepoints where accessibility has been an afterthought.
Ian Johnston, CEO of Osprey, said: "Osprey's mission is to provide safe, reliable and accessible EV charging for all. That means well lit sites, chargers that you can rely on and the ability for wheelchairs and anyone with reduced mobility to have the space and access to charge, pay and enjoy our facilities.
"Obviously, this is being built into all our new sites in development and we're working with landlords and Motability to achieve this. But we're also going back to existing sites, upgrading hardware and increasing space and access wherever possible."
Click here for more information on the UK's electric car charging network…
Source: Read Full Article