Nissan Qashqai and Ford Puma battle for new car sales supremacy in September
The new UK car registration figures are out. The overall market shows good growth including for BEV sales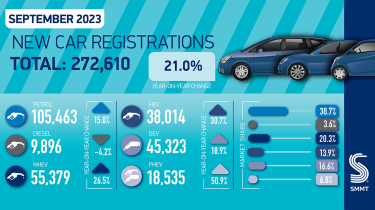 September 2023 was another impressive month of new car sales growth for the UK, with new registrations jumping by 20 per cent compared with last year according to figures from the Society of Motor Manufacturers and Traders (SMMT). Spurred on by the '73' plate change, 272,610 new cars were registered representing the 14th consecutive month of growth, with Nissan and Ford topping the model charts with their Qashqai and Puma models only a few hundred registrations apart. 
This momentum has been driven by impressive fleet sales, which rose 40.8 per cent compared to last year, continuing the sector's strong performance so far in 2023. Private sales still showed growth at 5.8 per cent, despite challenges such as the cost of living crisis and continued economic instability.
New EV sales to private buyers fall 14 per cent
Sales trends in regards to engine types have continued their current course, with petrol-powered models (including mild-hybrid) still representing over 55 per cent of combined sales. Diesel car sales are still contracting at just 6.9 per cent of the market (again, including mild-hybrid) but the recent downward trajectory is now flattening out. 
Battery electric vehicle (BEV) sales on the whole continue to show impressive progress, with an 18.9 per cent rise, counting towards 41 months of continued sales growth, but this has been largely driven by fleet sales which accounted for a 50.6 per cent increase. Private sales, by contrast, were down by 14.3 per cent. Plug-in (PHEV) and full hybrid (HEV) sales also showed impressive growth at 50.9 per cent and 30.7 per cent respectively, spurred on by a continued increase of new models on the market. 
As for individual model types, the crossover is still king in the UK. Nissan's Qashqai and the Ford Puma were closely matched at the top of the sales charts with 8,565 and 8,087 registrations respectively, followed by the Kia Sportage, Ford Kuga and MG ZS. Despite the continued contraction of the supermini class, Vauxhall's Corsa placed in seventh with the VW Polo close behind. Overall, the Ford Puma is still the highest selling model in the UK in 2023 to date, with the Qashqai and Corsa in second and third. 
Looking to sell your current car quickly and for a good price? We've partnered with Motorway to bring you the best offer from its network of UK dealers…
Source: Read Full Article