Next-generation 2021 Hyundai Tucson teased ahead of launch
Official images of the new Hyundai Tucson ahead of the SUV's scheduled debut on 15 September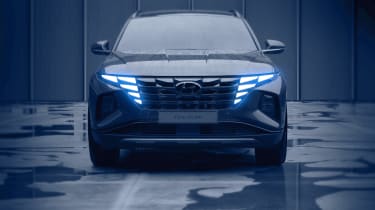 This is our first official look at the next-generation Hyundai Tucson. The firm's revamped mid-size SUV will make its debut on 15 September, sporting a major cosmetic redesign, an updated interior and a revised powertrain range, with PHEV technology expected to appear for the first time.
When it arrives, the fourth-generation Hyundai Tucson will face stiff competition in an ever- expanding marketplace of C-segment SUVs. Current contenders include the Mazda CX-5, Toyota RAV4 and the recently updated SEAT Ateca – while a new version of the class- founding Nissan Qashqai is in the works, too.
Best SUVs to buy 2020
As this is an all-new version of the Tucson, Hyundai's cosmetic revisions are extensive. The car in these shadowy teaser images features a completely redesigned front end, which draws inspiration from the hydrogen-electric Hyundai NEXO. Tweaks include a new front bumper, a fresh egg-crate grille, new LED headlights, new wings and a reworked bonnet.
Hyundai's designers have been equally busy at the SUV's rear, fitting a fresh tailgate, slightly tweaked doors and an all-new lighting setup, with a full-width LED light bar. The outgoing Tucson's sloping roofline and chrome roof rails will be transferred onto the new model, while fresh alloy wheel designs will feature across the range.
These sketches also provide our first tentative look at the Tucson's new interior. The cabin is dominated by a large "floating" infotainment system which falls into a broad centre console. Like the recently facelifted Santa Fe, there'll also be a digital instrument cluster in front of the driver – and Hyundai promises the car's cabin will feel light and airy.
New 2021 Hyundai Tucson: platform and powertrains
The next-generation Tucson should be based on a modified version of the current car's platform, which means the SUV's existing range of regular combustion engines and MHEV powertrains will also be transferred onto the all-new model, albeit with a range of performance and efficiency tweaks.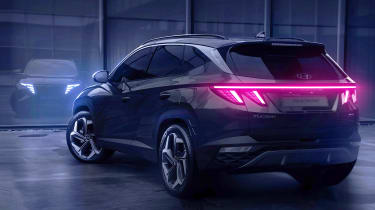 We're expecting plug-in hybrid technology will make an appearance on the facelifted Tucson, too. The current model is available with Hyundai's 1.6-litre four-cylinder GDi petrol unit, which shares the same engine block and mounting points as the 1.6-litre four-cylinder PHEV unit found in the current IONIQ.
As such, the new Tucson PHEV will likely use a re-tuned version of the IONIQ's 139bhp powertrain, which will be accompanied by the same 44.5kW electric motor and 8.9kWh lithium-ion battery pack. Like the IONIQ, the system will send drive to the front wheels via a six-speed dual-clutch transmission.
Check out the latest on Hyundai's facelifted Kona here…
Source: Read Full Article