New Volkswagen ID.4 prototype 2020 review
We drive the new Volkswagen ID.4 prototype to get a taste for VW's all-electric SUV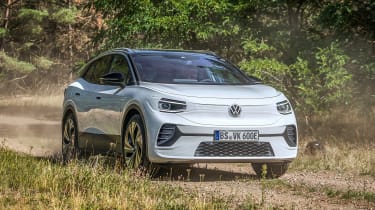 Verdict
The ID.3 marks the beginning of VW's new electric chapter, but the ID.4 is arguably more important, given its global relevance in the fast-growing electric SUV segment. On the whole it's a promising package, given the sheer number of variants planned, but we'll be truly impressed when we see the price tumble towards the low £30,000 mark.
If the Volkswagen ID.3 is an electric alternative to the Golf, then the ID.4 can be thought of as an electric Tiguan. All will be officially revealed on 24 September, but we've already joined VW's engineering team to sample an early prototype.
We're driving a high-spec First Edition Max model, complete with a 77kWh battery and an electric motor rated at 201bhp driving the rear wheels. For a model like this buyers can expect to pay around €59,000 (£52,700). Remove the First Edition branding and all associated goodies, and that figure should come down to a more digestible €49,000 (£43,400) for a version with this battery and power output.
Best electric cars to buy 2020
Eventually, the ID.4's starting price will drop to around €37,000 (£33,000) for the entry-level car, which has a 52kWh battery and less power. Four-wheel drive and more power is also on the cards for 2021, though. If the Skoda Enyaq is anything to go by, we can expect an ID.4 with 261bhp and a range of 285 miles, as well as a hot 'GTX' model with 302bhp.
In our 201bhp prototype, VW claims a range of 323 miles on a charge. Buyers can specify 125kW rapid charging capability, and with the right charge point, you'll be able to reclaim 199 miles of range in half an hour. 50kW charging comes as standard and will take twice as long, while a 7kW home charger will give a full charge in 11 hours.
Sitting alongside us in our very lightly disguised ID.4 prototype is Dimitri Asmus, the engineer responsible for signing off the final production version of this new electric SUV. His last project before this was the Mk7 Golf R – something we immediately pay attention to, given that he describes the way the ID.4 drives as "quite sporty". It can tackle as much light off-roading as you'd expect from an SUV of this size: dirt tracks, sandy surfaces and stony slopes, that sort of thing. However, it's when we try the new electric VW on the test track that we find its biggest strength: that it's great to drive.
With 310Nm of torque sent to the rear wheels, the front axle gets on exclusively with the job of steering, completely detached from the risk of torque steer. There's a bit of body lean, as to be expected with an SUV. However, the ID.4 feels precise, and it's much lighter and nimbler than its official kerbweight suggests – 2.2-tonnes thanks to the battery and motor, but all mounted low in the car's floor for a low centre of gravity. It moves off at a decent pace, too, with 0-62mph taking 8.5 seconds.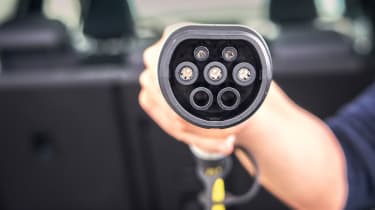 We're told that VW brand boss Ralf Brandstaetter has responded to early criticism of the ID.3 hatchback's interior plastics with the ID.4. That's because while the ID.3 can get away with a few hard edges in Europe, the ID.4 SUV is going to be the first global ID model, with launches planned in China and the US.
As a result, the ID.4's design is heavily inspired by the ID.3's, but the plastics are softer and of higher quality. The augmented reality head-up display makes its debut here too, and it's impressive. The infotainment (an optional 12-inch system in our prototype) remains a mixed bag to operate, though.