New Volkswagen Golf GTI Clubsport 2021 review
Does more power and a finer chassis mean the latest Volkswagen Golf GTI Clubsport is the hot hatch to have?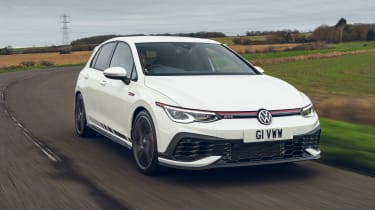 4.5 out of 5
Verdict
The Golf GTI Clubsport doesn't look cheap, but it delivers precisely the sort of fun worthy of the badge. The extra power and mid-range punch, and subtle but significant chassis mods, make it as enjoyable to drive along an empty B-road as any good hot hatch should be. The Clubsport might not quite be our favourite hot hatch – the restriction to a dual-clutch auto gearbox sees to that – but it is, in our view, now the best Golf GTI.
It may not be our current favourite hot hatchback, but the VW Golf GTI remains a defining vehicle for mainstream performance. But the Mk8 GTI now arguably has a harder edge than ever – to the point where you wonder where the supposedly more extreme front-wheel-drive hot Golf, the GTI Clubsport, fits in. Now it's our time to find out, with our first chance to try the Mk8 GTI Clubsport, and on UK roads to boot.
The latest GTI is also more powerful in standard form than ever, but even so, the Clubsport manages to trump it. The 2.0-litre four-cylinder turbo engine has been tweaked to produce 296bhp, a gain of 54bhp over the regular GTI. Torque rises too, to 400Nm, and perhaps significantly, there's no manual option – only a seven-speed dual-clutch automatic (albeit with a lower final drive). This combo can take the Clubsport from 0-62mph in 5.6 seconds, three quarters of a second faster than the regular GTI. The top speed remains an irrelevant 155mph.
Best hot hatchbacks 2021

The Clubsport is a car that's meant to go beyond mere performance figures, though – one that is designed to offer engagement that neither the regular GTI or even the R can match. In this case, that means several notable chassis revisions; the car sits 10mm lower all round, it gets new springs and dampers at the rear, there's more front camber, the brakes are beefed up, with 357mm discs, and the electronically controlled limited-slip differential has been retuned.

It's also worth noting at this point that our test car came fitted with optional adaptive dampers (DCC in VW parlance, a £785 extra) and 19-inch alloy wheels instead of the standard 18-inch items.

The visual cues are typically subtle; this may be a more focused version of the GTI but it remains a Golf, so don't expect carbon-fibre panels and plastic windows. You get a different, more aggressive front bumper, a roof-mounted rear spoiler and some sill extensions, but that's about your lot. There's not even a Clubsport badge to be seen, even if there are some decals to differentiate it.

For all of this, VW is asking £37,215 – a punchy figure which takes this car north of the Honda Civic Type R, and further clear of the Honda's more subtle Sport Line variant, which might be considered more of a Golf rival. Our test car's add-ons took its price to more than £42,000, which looks a lot – until you recognise that cars like this are meant to slot into the space beneath 'mega-hatches' like Merc's £50k A45 AMG. That's progress for you.

The good news, though, is that the Clubsport delivers on its promise – to the point, in fact, where it does more than justify its niche existence; if anything, it does a better job of being a GTI than, well, the GTI.

For starters, you definitely feel the extra punch in the powertrain. It's the spread of torque that makes the biggest difference, we'd argue. The GTI's 370Nm runs between 1,600rpm and 4,300rpm; in the Clubsport the full 400Nm kicks in at 2,000rpm – a little higher, we acknowledge – but then runs all the way to 5,200rpm.

You can feel this, because like its classic predecessors, this is a car that wills you to rev it harder – to push way beyond the point where, in auto mode, the gearbox would long since have shifted up. Doing this allows you to enjoy that mid-range shove for longer, and to savour a fruitier (enhanced) exhaust note.

It's better suited, perhaps, to faster, flowing roads than the really twisty stuff; giving in to your hooligan tendencies in tighter corners will start to expose the limits of the front-drive system and the diff. But once things open up and you can stretch the motor in second, third and fourth gears, it is, at times, quite brilliant. In a way that the conventional GTI never quite comes close to being.

The chassis plays its part here. It's unquestionably firm but the whole thing just feels more alive, more agile, keener to respond to your inputs – never to the point of being twitchy or nervous (this is a Golf, after all), but certainly to the extent where you can enjoy it. The steering isn't as gloriously direct as the Type R's but in long, fast corners and during rapid changes of direction, this Golf feels closer to that benchmark's abilities than we'd have expected. The same can be said for the brakes, which have more feel and a little more consistency to them than the regular GTI's.

Renault Megane R.S. vs Honda Civic Type R vs Hyundai i30 N

For pure fun, then, this is arguably the car the Golf GTI should be – albeit with the caveat that you'd have to put up with a slightly more hardcore creation in day-to-day use. Purists, though, will point to the manual gearboxes in the Civic and the Ford Focus ST as a key element of driver involvement, and we'd accept their argument – while also pointing out that if we're comparing GTIs, the Golf's manual shift is not exactly a match for the class best anyway.

Inside, meanwhile, it's basically a regular Mk8 Golf – which is to say that it has practical accommodation for four adults, a sensible boot shape and size, a slightly less premium feel in some areas than it used to have, and an often-maddening mix of screen and touch-sensitive slider controls for key vehicle functions. If ever you want proof of why interface can matter as much as hardware, it's right here.

The price could be more of an issue than the in-car tech for some, but as one final sweetener, it's already easy to find the Clubsport being offered by reputable brokers with as much as a £6,000 discount. This should help to narrow the difference in monthly PCP fees between it and the regular GTI. And for us, even a modest monthly premium would be a price worth paying.

| | |
| --- | --- |
| Model:  | Volkswagen Golf GTI Clubsport  |
| Price: | £37,215 |
| Engine: | 2.0-litre 4cyl turbo petrol |
| Power: | 296bhp/400Nm |
| Transmission: | Seven-speed dual-clutch auto, front-wheel drive |
| 0-60mph: | 5.6 seconds |
| Top speed:  | 155mph |
| Economy: | 38.3mpg |
| CO2 emissions:  | 167g/km |
| On sale | Now |

Source: Read Full Article