New Vauxhall Corsa-e ride review
The all-electric Vauxhall Corsa-e boasts up to 134bhp and a 209-mile range, but rivals offer better value for money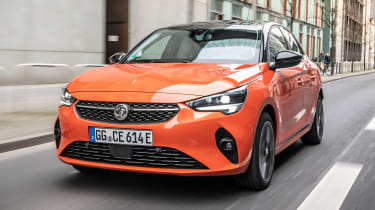 3.0 out of 5
Price£29,910 to £33,405
Verdict
With a wait for the Volkswagen ID.3 to reach UK dealerships, the arrival of the Vauxhall Corsa-e could tempt some British buyers wanting to go electric simply by being a familiar face. They'll have to be very committed customers though. In a market still finding its feet, the Corsa doesn't offer the best value for money. We'll find out more when we drive it here in the UK.
Look back to April 1983, and the introduction of the Vauxhall Nova in the UK marked a significant turning point for cheap small cars. The Nova, subsequently known as the Corsa with the introduction of the Mk2 in 1993, quickly established itself as a favourite with British buyers, and it remains a mainstay in the top-10 new-car sales charts in the UK to this day.
But 2020 marks a significant moment in Corsa history. This is the Corsa-e, and as the name suggests, it's an all-electric version of the Brit brand's best-seller, arriving on sale only a few months behind the launch of the sixth-generation Corsa.
Best electric cars to buy 2020

The reason why this car exists is very simple – new ownership. Midway through the development of the Corsa, Vauxhall's parent company Opel was bought by Peugeot-Citroen (PSA). And one of PSA's first acts with its new acquisition was
to halt development of the GM-platformed sixth-generation Corsa, and switch it over to its newly developed chassis for smaller cars, called CMP.

This platform is used by the likes of the Peugeot 208 and 2008, and the DS 3 Crossback, and it means that electric versions of the Corsa-e run down the same production line as petrol and diesel cars.

More reviews for e hatchback

Car group tests

Vauxhall Corsa vs Renault Clio vs Volkswagen Polo
Vauxhall Corsa vs Peugeot 208 vs Audi A1

In-depth reviews

Vauxhall Corsa review
Vauxhall Corsa (2014–2019) review

Road tests

New Vauxhall Corsa 2019 review
New Vauxhall Corsa 1.2 Elite Nav 2019 review
New Vauxhall Corsa prototype review

The first electric Corsa is also the most expensive version of the car ever. Starting at £27,665 after the Government Grant (and £30,310 for the Elite Nav model driven here), it represents a sea-change in how the buying public will perceive this car. The once-humble Corsa is now more technologically advanced than ever, but those interested will have to pay a Volkswagen ID.3-rivalling price.

From the outside, it looks like any other Corsa, with only one or two very minor design changes. But under the skin things are radically different. The front and rear seats now sit above 18 cell modules, which combine to create a 50kWh battery pack. A 134bhp electric motor powers the front wheels, delivering a hot supermini-rivalling 260Nm of torque. Of more importance to EV buyers is the Corsa-e's maximum range, which is quoted at 209 miles. But if our time with the platform-sharing Peugeot e-208 is anything to go by, expect to lose up to a quarter of that in the real world.

And, because the Corsa-e shares so much with the e-208, it'll come as no surprise to learn that the Vauxhall drives very similarly to the Peugeot. The centre of gravity is six centimetres lower than in any combustion-powered Corsa, but the battery pack weighs 345kg, bringing weight up to 1,455kg – a substantial gain over the 1,138kg petrol car.

To deal with the extra weight, the stiffness of the chassis has been increased by 30 per cent, with modified front suspension included in the revisions to the car's underpinnings. It means that while ride quality could be more resolved, the Corsa-e steers very precisely, and it's quite engaging in a series of corners.

Push the throttle pedal all the way, and the 260Nm torque figure comes into its own, enabling the Corsa-e to silently sprint from 0-62mph in just 8.1 seconds and on to a top speed of 93mph. However, to unlock all 134bhp, you need to toggle Sport mode on the Corsa's drive selector. The car defaults to Normal from start-up, offering 108bhp as standard. For most Corsa-e buyers, keeping the car in Eco mode makes the most sense. This restricts power to 81bhp, but enables maximum range, while delivering just enough power to keep pace on any road, including on motorways if needs be.

However, the Corsa-e is most at home in the city. The level of brake regeneration, as in other PSA electric cars, can be altered on the fly by moving the gear selector from D to B positions. In the latter you can drive around town on one pedal most of the time.

As for charging, the Corsa-e is capable of being plugged in at 100kW. Find a charger that supports this voltage, and you can top the car up in just 30 minutes. As standard, Vauxhall will include a 7.4kW Mode 3 cable for use at public charging stations, while a 3.4kW Mode 2 cable compatible with domestic three-pin sockets is an option, so anyone relying on an overnight top-up from a normal household plug can only use the standard cable at around 2.3kW. However, all customers putting their money down before 2 April will be offered a 7.4kW home wallbox for free, while all Corsa-e buyers get a six-month subscription to the Polar Plus charging network thrown in.

Sit inside the Corsa-e, and it's nearly identical to the petrol and diesel variants. A 10-inch colour touchscreen sits centrally on Elite Nav cars, but while it's slick enough in operation, it's not in presentation. Apple CarPlay and Android Auto connectivity are standard, but the quality of the interior is hard to swallow for the cash.

The regular Corsa's cabin isn't the most impressive, and when you add the premium for including the electric drivetrain, suddenly the Corsa-e seems like a lot of money for a pretty regular-feeling supermini. You'll easily pay more than £300 a month over a 48-month term, and while it's marginally cheaper on PCP finance than the e-208, the Peugeot feels plusher for only a few pounds more.

The Corsa-e isn't helped by the boot, which falls from 309 litres to 267 litres, owing to the packaging requirements of the battery. But at least the driver-assistance features are bang up to date, with traffic- sign recognition, blind-spot alert, lane assist, automatic emergency braking, a rear camera and automatic park assist all included.

| | |
| --- | --- |
| Model: | Vauxhall Corsa-e Elite Nav |
| Price: | £30,310 |
| Engine: | 50kWh battery, single electric motor |
| Power/torque: | 134bhp/260Nm |
| Transmission: | Single-speed auto, front-wheel drive  |
| 0-62mph: | 8.1 seconds |
| Top speed: | 93mph |
| Range/CO2: | 209 miles/0g/km |
| On sale | Now |

Source: Read Full Article