New Toyota GR Yaris 2020 review
The new Toyota GR Yaris has arrived with 257bhp, but what's it like on the road?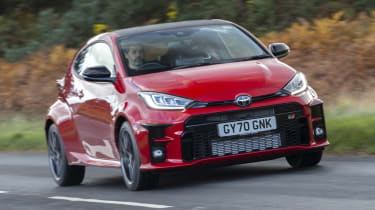 4.5 out of 5
Verdict
Look beyond the price because the Toyota GR Yaris is no ordinary Yaris. Instead it's a car that will be written about and cherished by enthusiasts for many years to come. And in the here and now we can't get enough of it, even if the ride is a touch firm for some UK roads. It's one of the most exciting cars you can drive this side of £35,000, and as fast as a supercar on the right road.
'A World Rally Car for the road' – that's how Toyota itself describes the astonishing new four-wheel-drive, 143mph, 257bhp GR Yaris, in which the GR stands for Gazoo Racing: Toyota's works motorsport department.
Originally conceived to form the basis of Toyota's 2021 World Rally Championship campaign, 25,000 road versions have been made for homologation purposes. Since conception the rallying rules have changed though – cash saving measures as a result of the Covid-19 situation mean that the WRC version of the new GR Yaris won't race in 2021, with Toyota opting to run its 2020 car in next year's competition before all-new rules in 2022.
Best hot hatchbacks 2020

The road car project was spared the axe though. It costs from £29,995, rising to £33,495 with the Circuit Pack fitted as tested here. This brings an even more focused pair of Torsen locking differentials for extra giggles (read adjustability) to its on-limit handling plus red brake callipers and slightly firmer suspension.

More reviews for Yaris

Car group tests

Honda Jazz vs Toyota Yaris
Toyota Yaris GR Sport vs Ford Fiesta ST-Line
Toyota Yaris GRMN vs Peugeot 208 GTi

In-depth reviews

Toyota Yaris review
Toyota Yaris review

Road tests

New Toyota Yaris 2020 review
New Toyota Yaris GR Sport 2019 review

Used car tests

Either way, the GR Yaris is the first bespoke four-wheel-drive road car that isn't an SUV from Toyota in over two decades, the last being the Celica GT4, which was also a road-going WRC special. So it very much represents the latest in a long line of Toyota's history in producing wild but rather wonderful road-legal versions of its front-line motorsport cars.

We'll get around 750 GRs in the UK this year – 600 of which have been sold – with a further 1,000 coming in 2021. The headline figures are as surprising as they are intoxicating. The tiny GR weighs slightly more than you might expect at 1280kg (although that's still 100kg lighter than a Honda Civic Type R). But the 1.6-litre, three-cylinder turbocharged engine develops 257bhp and an energetic 360Nm between 3,000-4,600rpm, giving a claimed 0-62mph time of just 5.5sec and a top speed electronically limited to 143mph.

It rides on beautiful looking forged 18-inch BBS alloy wheels that wear Michelin Pilot 4S tyres. The regular model has cast alloy wheels that are still 18-inches but wearing less aggressive Dunlop Sport Maxx rubber.

Its brakes are lifted straight from the new Supra and are huge relative to the GR's diminutive dimensions. Its four wheel-drive system can vary the torque split between front and rear axle electronically on the move between 60/40 in Normal mode to 30/70 in Sport mode, or 50/50 in Track mode, making it either neutral or partial to a touch of oversteer if you fancy.

You won't ever confuse a GR Yaris with any other member of the line-up visually. In the flesh it looks like a proper, bona fide rally stage renegade, with wings and skirts and spoilers that would look ridiculous on a normal Yaris were the overall design not so cohesive and so committed to the cause. If the idea of a proper, modern day rally homologation special excites you then it's simply superb in the flesh, and it doesn't exactly disappoint when you climb inside and nestle down into its bucket seat, either.

In front of you sits a brace of clear, functional instruments such as a rev counter that red lines at 7,000rpm and a speedometer that goes to 180mph – In a Yaris! The bucket seat clamps you firmly in position behind a thick-ish sports steering wheel, and the pedals are lightweight in design and positioned perfectly down the footwell for heel and toe gear changes.

Not that you need to blip the engine on downshifts. If you press the small button down in the centre console marked IMT, which stands for Intelligent Manual Transmission, the system will do it for you once engaged and will also encourage you to rev the three-cylinder engine right out to its red line before upshifting.

Just beside the IMT button is a much bigger rotational dial that switches the differentials between Normal, Sport and Track modes. The colours within the instrument display also change as you scroll through the modes (red for Track, black for Normal, green for Sport) although to be honest this seems a bit overly dramatic given that the only dynamic difference between the modes is how the differentials behave. The steering, suspension, exhaust, throttle map – literally everything except the torque distribution between and across the front and rear axles – remains the same in all three modes.

Then again, why the need to alter anything when it works so well in the first place? Truthfully, the GR's ride is always firm and could perhaps do with a slightly softer setting to cope with the mostly poorly surfaced UK B-roads. But then the body control you end up with, and the purity in response not just from the steering but also the brakes, is astonishing.

The feeling from the front end, the tyres front and rear and the chassis in general is well worth the compromise in ride comfort – because on the move, on a decent road, the GR Yaris is a proper little weapon of a driver's car; one that could embarrass many so-called supercars across country, especially if the roads in question are wet and twisty.

And it's not just the traction and agility of the chassis, or the instant response from the brilliant steering that sets the GR apart as something special. The basic straight-line performance is pretty damn impressive, too, although it never feels like a car that's had an unnaturally powerful engine shoehorned into. Instead the GR feels very immediate and very quick between 4,500-7,000rpm, yes, but not in a way that the rest of the package can't cope with. It feels entirely cohesive in its dynamics and not at all unhinged, despite being able to cover ground with eye-watering speed and agility.

It also doesn't feel or look or even sound like a thinly disguised competition car inside, despite Toyota's claims that it's a World Rally Car for the road. The cabin is well equipped and high in quality, featuring a premium JBL sound system, air con, sat nav, blind spot monitor and even ambient lighting if the £2,000 Convenience Pack is specified. From inside you could easily mistake the GR for a regular Yaris with chunky sports seats and some funky dials.

The spoilers and those wheels and the lowered ride height will already have given the game away though. But the best discovery is that if anything, it drives even better than it looks. So while £30,000 plus might sound like an awful lot of money for a Yaris, the GR is no ordinary supermini. Even at this kind of money it is an awful lot of car, and then some.

| | |
| --- | --- |
| Model: | Toyota GR Yaris Circuit Pack |
| Price: | £33,495 |
| Engine: | 1.6-litre 3cyl turbo petrol |
| Transmission: | Six-speed manual, four wheel-drive |
| Power/torque: | 257bhp/360Nm |
| 0-62mph: | 5.5 seconds |
| Top speed: | 143mph |
| Economy/CO2: | 34.3mpg/186g/km |
| On sale: | Now |

Source: Read Full Article