New Toyota C-HR GR Sport badge trademarked
Toyota has filed a new trademark name for the C-HR crossover, which hints at a new sports-inspired styling pack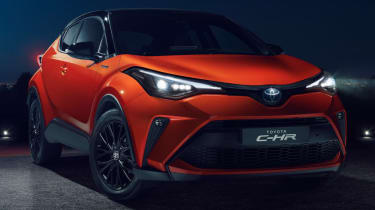 Toyota has registered a trademark for the "C-HR GR Sport" nameplate, suggesting the firm's compact crossover will soon receive a sports-inspired trim-level. The styling package will act as the flagship model for the standard-issue C-HR range, offering competition for the Nissan Juke Tekna+ and Volkswagen T-Roc R-Line.
Like Toyota's existing Yaris GR Sport and Corolla GR Sport models, the C-HR GR Sport will use the same mechanicals as the standard C-HR crossover, but it'll feature a sporty exterior styling package inspired by the upcoming performance-focused 250bhp C-HR GR.
Hot new Toyota GR C-HR set for 2023 launch
We expect that the jazzed-up GR Sport will launch later this year. The model should be fairly easy for Toyota to create, as it requires only minimal changes to the crossover's body and interior. It should also prove to be as profitable as the firm's existing GR Sport models – both of which have enjoyed sales success in the UK.
Revisions over the standard-issue C-HR should include wider front and rear bumpers, deeper side skirts, larger alloy wheels, privacy glass and a pair of LED headlamps. Like the Corolla GR Sport, buyers should also get a pair of sports seats and a reupholstered interior.
As the C-HR GR Sport is a purely cosmetic trim package, it'll be offered with the crossover's standard range of engines. Buyers will be offered a choice of two four-cylinder hybrid powertrains – either a 120bhp 1.8-litre or a 181bhp 2.0-litre unit.
Do you think the Toyota C-HR GR Sport will be a success? Let us know in the comments section below…
Source: Read Full Article