New Smart #1 ride review
We get an early taste of the new all-electric Smart #1 from the passenger seat ahead of it going on sale at the end of this year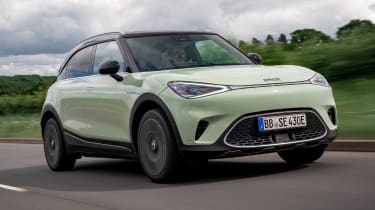 The new Smart #1 SUV is the firm's largest-ever model, and potentially its most important to date. The brand is famed for producing tiny city cars that can sit side by side in a parallel parking space, but at 4.27 metres long, the #1 won't be pulling the same trick.
The #1's Geely-derived SEA platform is compatible with a city car sized vehicle, and we'll see a successor to the iconic ForTwo later down the line. But in the meantime, the #1 is the car tasked with rebooting the brand, and we've been for a ride in a prototype.
Best electric SUVs to buy now
The #1 has a similar footprint to the MINI Countryman. It's a bigger car than pictures might suggest, the benefits of which are apparent when you climb aboard. Despite a tall, Mercedes-like centre console that cocoons the front occupants, the cabin is spacious and accommodating, with plenty of rear legroom and a 411-litre boot.The brand claims that there's as much room as in a Mercedes E-Class in here, and while we can't verify that without putting the two cars side by side, one thing is clear: the Smart is a very spacious car for its size.
Some of the trim materials are still being finalised, but perceived quality is high. The leather-trimmed facia is nicely padded and the swooping dashboard looks thoroughly modern, although the 12.8-inch infotainment display doesn't gel with the rest of the design. The system is inoperable in this prototype, and we are told that the touchscreen-based climate controls will be a permanent fixture at the bottom of the display, which is a plus. A 9.2-inch screen sits behind the steering wheel to display key driving information.
More reviews
Car group tests
Abarth Punto vs Corsa SRi
Alpina XD3 Biturbo vs Porsche Macan S Diesel
BMW M2 CS vs Porsche 718 Cayman GTS vs Alpine A110 S
Audi TTS vs Alpine A110 vs Porsche 718 Cayman
Ariel Nomad
Aston Martin DB11 AMR vs Bentley Continental GT
Audi Q5 vs Volvo XC60 vs Hyundai Santa Fe: 2021 group test review
Aston Martin DBX vs Bentley Bentayga
Mercedes C 220 d Estate vs BMW 330e Touring vs Hyundai Ioniq 5: 2022 group test review
Caterham 170R vs Mazda MX-5: 2022 group test review
In-depth reviews
Abarth 124 Spider review
Abarth Punto (2008-2015)
Alfa Romeo Stelvio review
Alfa Romeo Giulia review
Alfa Romeo 4C (2014-2019) review
Alpina XD3 Biturbo
Long-term tests
Citroen Ami: long-term test review
Cupra Formentor V1: long-term test review
Cupra Leon TSI 300: long-term test review
DS 7 Crossback E-Tense: long term test review
Fiat 500: long-term test review
Ford Puma ST-Line: long-term test review
Honda e: long-term test review
Polestar 2 Long Range Dual Motor: long-term test review
Renault Clio Iconic: long-term test review
SEAT Leon e-Hybrid: long-term test review
Road tests
New AC Cobra 378 Superblower 2021 review
New AC Cobra 378 review
New Alfa Romeo Tonale 2022 review
New Alfa Romeo Giulia Estrema 2022 review
New Alfa Romeo Giulia GTAm 2021 review
New Alpine A110 S 2022 review
New Alpine A110 Legende GT 2021 review
New Aston Martin V12 Vantage 2022 review
New Aston Martin Vantage F1 Edition 2021 review
New Aston Martin Vantage Roadster 2020 review
Used car tests
Used Alfa Romeo 4C (Mk1, 2014-2019) review
Used Alfa Romeo Giulia (Mk1, 2016-date) review
Used Bentley Continental GT (Mk2, 2010-2018) review
Used Bentley Bentayga review
Used BMW 1 Series (Mk3, 2019-date) review
Used DS 5 review
Ferrari 348: Buying guide and review (1989-1994)
Ferrari F40: Buying guide and review (1987-1992)
Ferrari Mondial: Buying guide and review (1980-1993)
Used Fiat 500 review
As the first model to ride on the new SEA platform, the #1 sets the trajectory of future electric Smarts and will be initially available with a rear-mounted 268bhp electric motor, powered by a 66kWh battery. The setup provides 273 miles of range, and the car's 400V architecture enables 150kW rapid charging, with a 10-80 per cent charge taking around half an hour.
The road was wet during our passenger ride and our pre-production test car had a windscreen seal issue, so we'll reserve judgement on overall refinement until we get behind the wheel of the #1 in production form. Even so, the car does feel solid and relatively well isolated at town speeds, with smooth, silent running typical of an EV.
One or two foibles emerge when picking up speed. The car's suspension calibration has yet to be signed off, but as it stands, the #1 struggles to contain all of its 1,820kg mass over undulating roads. A quick sequence of bumps can send the car jockeying around as the dampers struggle to contain vertical movement, and we're hoping that the final production car is more settled. Sharper imperfections are absorbed fairly well, though, and the #1 rounds off the worst jolts.
With 342Nm of torque on tap, the electric motor is able to mask the car's bulk and the acceleration is punchy, if not quite hair raising. There's ample performance for real-world driving, but as with other EVs, power begins to tail off when battery charge has depleted – below 30 per cent, in this case – and the top speed is limited to 112mph. The driver can choose between Eco, Comfort and Sport driving modes which alter the throttle response, steering and regenerative braking, although these parameters can be adjusted independently. Full one pedal driving is possible, too.
With the battery pack contained within the floor, the #1 doesn't fall onto its springs like you might expect through quick corners. You can feel the car's weight fidgeting across its axles over mid corner bumps, but it feels mostly secure and stable from the passenger seat. According to Smart's engineers, the #1's chassis is surprisingly adjustable with the ESP system slackened off, which bodes well for the rumoured dual-motor Brabus version.
With its quirky looks, decent performance and roomy, space-age interior, the #1 has clear potential. It enters into a lucrative and deeply competitive sector, though, and from this early encounter, the #1's hefty kerb weight could put a ceiling on its dynamic performance. Fewer kilos would also extend the car's range, so it's a shame the #1 isn't a shade lighter given its new bespoke EV platform.
| | |
| --- | --- |
| Model: | Smart #1 prototype |
| Price: | TBC |
| Battery/motor: | 66kWh/ x1 e-motor |
| Charging: s | 150kW DC/10-80pc 30min |
| Power/torque: | 268bhp/343Nm |
| Transmission: | Single speed automatic, rear-wheel drive |
| 0-62mph: | TBC |
| Top speed: | 112mph |
| Range: | 273 miles |
| On sale: | December 2022 |
Source: Read Full Article