New Skoda Octavia vRS iV 2020 review
Can a plug-in hybrid powertrain deliver enthusiast thrills in the hot Skoda Octavia vRS iV estate?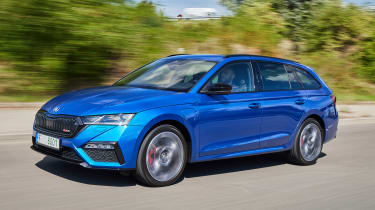 3.5 out of 5
Verdict
Much like the rest of the latest Octavia range, the vRS iV is an appealing ownership prospect. But approach it from both a practical and a performance angle, and it demands a few too many compromises. Company car buyers will undoubtedly be drawn to the hybrid's low running costs, but there's a cheaper PHEV and enthusiasts will be better served by the conventional non-hybrid vRS.
This is the new Skoda Octavia vRS iV Estate. While those first three letters are familiar to fans of the hot wagon, the second pair won't be. The iV relates to the Czech brand's electrified models, because this time around the vRS is available with emissions-busting plug-in hybrid tech.
It's the more potent of two PHEV systems available in this latest Octavia, and in both cases, the hardware is identical to the new Golf PHEV models. For the hot vRS option, the system matches the Golf GTE's: that means there's a four-cylinder 1.4-litre turbocharged petrol with 148bhp under the bonnet, plus a 13kWh lithium-ion battery under the floor feeding a 114bhp electric motor. The systems muster up their peaks at different points, so the vRS iV has a maximum system power of 242bhp.
Best plug-in hybrids 2020

But even before you get behind the wheel, it's hard to ignore the car's lofty ride height. The hybrid system's battery means the vRS iV rides at the same level as regular Octavias, lending this sporty model a slightly awkward stance. It's at odds with the subtly menacing vRS styling package.

More reviews for Octavia vRS Estate

Car group tests

Skoda Octavia Estate vs Toyota Corolla Touring Sports
Kia Ceed SW vs Renault Megane Sport Tourer vs Skoda Octavia Estate
Hyundai i30 Fastback N vs Skoda Octavia vRS Challenge

In-depth reviews

Skoda Octavia review
Skoda Octavia (2013- 2020) review

Road tests

New Skoda Octavia 2020 review
New Skoda Octavia vRS 2020 ride review
New Skoda Octavia Estate 2020 review

The compromises go beyond the superficial, too. That battery also robs boot space, so the iV loses out to the tune of 150 litres (now 490 litres) compared with the conventional Estates. Plus the battery itself weighs in the region of 250kg, so the vRS tips the scales at a rather hefty 1,707kg.

Turn on the ignition and, as in most other PHEVs, the vRS iV's engine remains silent. Electric mode is the default, and the battery allows for a zero-emission range of up to 37 miles and a top speed of 75mph.

Through a menu on the bright, sharp touchscreen infotainment system, it's possible to pre-select a battery mode – using the engine to maintain a state of charge that can be used later, for example when entering a low-emission zone.

But keeping a performance car in full-EV mode takes a type of restraint which doesn't seem quite right. Flex your right foot further and the petrol unit chirps into life. The transition is smooth and seamless, helped by the dual-clutch gearbox. If there is a criticism, it's that it can feel slightly hesitant when moving away from a standstill.

Ask for everything the powertrain has got, and the traction control light flickers as the front wheels struggle to deploy all 400Nm. The upshot of that grunt is that it tugs the steering wheel under hard acceleration, so a bit of a fight is needed from the driver to keep it pointing in a straight line.

Despite this, and the synthesiser that pipes a fake engine note into the cabin, the feeling of acceleration is less impressive than in the old vRS; it too had 242bhp, but around 300kg less to haul around. The new car cracks 0-62mph in 7.3 seconds – okay, but a way off the latest hot hatches.

There is one advantage to that extra mass, though: the weight distribution moves further to the rear. So push hard in the vRS iV, and front and rear tyres give up progressively at roughly the same time. But that extra heft makes it feel a little sluggish, and the limits of grip are reached sooner. It's a little frustrating for an enthusiast.

The vRS iV fights back with its running costs, though. While fuel consumption figures vary wildly based on how often the car is recharged, CO2 emissions of just 34g/km mean that the Octavia will be an exceptionally tempting company car.

A plug-in hybrid vRS might not appeal to everyone, but there is still an alternative. The new vRS also comes with a 2.0-litre turbocharged petrol unit making the same 242bhp, but in a lighter (and lower) chassis.

| | |
| --- | --- |
| Model: | Skoda Octavia vRS iV Estate |
| Price: | £40,000 (est) |
| Engine: | 2.0-litre 4cyl petrol turbo plus electric motor |
| Power/torque: | 242bhp/400Nm |
| Transmission: | Six-speed automatic, front-wheel drive |
| 0-62mph: | 7.3 seconds |
| Top speed: | 140mph |
| Economy/CO2: | 188.3mpg/ 34g/km |
| On sale: | Autumn 2020 |

Source: Read Full Article