New Renault Clio Hybrid 2020 review
Renault launches an eco rival to take on Honda and Toyota's electrified superminis, but can the Clio Hybrid deliver?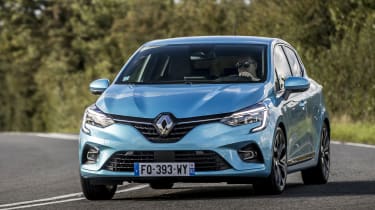 4.5 out of 5
Verdict
The Renault Clio E-Tech Hybrid manages to deliver fuel consumption figures to take on the Toyota Yaris and Honda Jazz, but in a package that's arguably more appealing. The Hybrid remains as pleasant to drive and as lovely to spend time in as any other Clio, but does so while achieving a realistic economy of 60mpg-plus in many situations. It's not the pick of the Clio range when it comes to fun, but it's a very strong addition to an already class-leading line-up.
Renault stole a march on its rivals when it came to selling pure-electric vehicles – no manufacturer has sold more EVs in Europe over the past 10 years. It's not just the fully electric car market that's expanding, though, but the electrified segment in general. So now Renault has decided to wade in with a range of hybrid and plug-in hybrid models to ease buyers towards the shift to full battery power.
This, then, is the Renault Clio E-Tech Hybrid, a car which takes on the latest Honda Jazz Hybrid and Toyota Yaris with claimed fuel economy of 64.2mpg and a sub-100g/km CO2 rating.
More reviews for Clio Hatchback
Car group tests
Peugeot 208 vs Renault Clio
Vauxhall Corsa vs Renault Clio vs Volkswagen Polo
Renault Clio vs Ford Fiesta vs SEAT Ibiza
Renault Clio 1.5 dCi – most economical cars

In-depth reviews

Renault Clio review
Renault Clio (2012-2019) review

Road tests

New Renault Clio 2019 review

Used car tests

Renault's first stab at a hybrid system offers a similar end result to the Yaris: short bursts of electric running, most effective for urban driving. But the execution is a little more complex, something that almost always happens as soon as a car company mentions a phrase such as 'inspired by Formula One', or similar.

What is a hybrid car? Mild hybrids, full hybrids and plug-in hybrids explained

In this case, it's the gearbox that can thank motorsport's finest. The 'multi-mode' transmission has no clutches and drives the petrol engine with four gears and the main electric motor (more about that shortly) with another two. Together, it means that there are 15 different gear combinations in which the system can operate – enabling, Renault says, the car to choose the most efficient possible ratio for any situation.

The second electric motor is much smaller, and like those in a mild hybrid it acts as a starter/generator and recovers energy though brake regeneration, which helps to charge a 1.2kWh battery.

Confused? Well, at least the petrol engine is fairly simple: a conventional, petrol-powered 1.6-litre four-cylinder unit.

Complex or not, what really matters is that the Clio Hybrid is a car that can drive on battery power alone at up to 40mph (but can perform engine-off coasting at higher speeds) and, according to Renault, will be able to cover around 80 per cent of urban journeys in electric mode.

It's a system that, with a few subtle differences, we'll see elsewhere in the Renault range, too. With a larger battery, it's the same petrol engine/electric motor combo used in Renault's plug-in hybrid models, the Captur and the Mégane Sports Tourer. The difference there is that the plug-ins get 20bhp more than the Clio's 138bhp, courtesy of the higher voltage rating of a larger battery pack.

In the Clio, it's low-speed driving where this hybrid system is at its best. It starts in fully electric mode, only asking for help from the combustion engine if it registers above a certain torque demand from your right foot, or if the battery is depleted. With enough charge, one prod of the 'EV' piano key switch on the dash will prevent the petrol unit from kicking in – enough for a couple of miles' worth of gentle driving. But when the engine does engage – or turns off again – it's almost completely seamless. Were it not for a small 'EV' logo flicking up in the centre of the dashboard, you'd hardly know which part of the hybrid system is putting in the work.

Best hybrid cars to buy 2020

There are times, however, where all of those gears seem to trip over themselves. Ask for hard acceleration – the type you need when performing an overtake – and you can sense a lot of panicked discussion behind the scenes before any sort of forward motion begins. It's no more laggy than some conventional automatic gearboxes, but in comparison with the instant kick most electrified vehicles can deliver, it's a bit frustrating.

The fuel savings go some way to making up for this, mind. Renault's official economy claims seem completely achievable in the real world; on a 50-mile test route, the majority of which was on A-roads, we managed 61.4mpg. And that was with the battery showing at roughly 30 per cent when we set off. Around town, where hybrids like this are at their best, it should be even better. So it's in the region of the Japanese competition.

And all this comes without any appreciable difference to the way the Clio drives. The steering is still sharp and precise, and it's among the better cars to drive in the class. If we're being picky, the Ford Fiesta offers greater composure and body control, and on the largest wheels the Clio's ride can tend to fidget a little; models on the 16-inch wheels are more forgiving.

There's not much to set the Hybrid apart from the rest of the range when it comes to practicality or design, either. The outside gets some subtle E-Tech badging, and inside there's a little blue trim around the gear shifter and on the air vent strips. It also means that the cabin remains among the best finished in the supermini class. It's generally spacious, too, but the hybrid system does impact the car's practicality, with the E-Tech's boot capacity of 301 litres down on the 391 litres in regular models.

And it's not even particularly pricey. Like for like, the Hybrid is about £700 more expensive than the thirstier – albeit slightly quicker – 130 TCe petrol automatic. Better still, you don't need to fork out for the top-spec model, because Renault offers the Hybrid powertrain in every trim level. That means the base Play model starts from £19,595 (LED headlights, cruise control and lane-keeping assist are all standard), and climbs to £22,095 for the RS Line.

The S-Edition driven here costs £21,595, and is generously equipped with front and rear parking sensors, a 9.3-inch infotainment screen with a reversing camera, and a seven-inch digital driver's display as standard. Overall, it's quite a compelling package.

| | |
| --- | --- |
| Model: | Renault Clio E-Tech Hybrid |
| Price: | £21,595 |
| Engine: | 1.6-litre 4cyl petrol |
| Power/torque: | 138bhp/144Nm (+250Nm electric motor) |
| Transmission: | Six-speed auto, front-wheel drive |
| 0-62mph: | 9.9 seconds |
| Top speed: | 112mph |
| Economy/CO2: | 64.2mpg /99g/km |
| On sale: | Now |

Source: Read Full Article