New Renault 5 prototype review
We get an early taste of the new Renault 5 ahead of its official arrival in 2024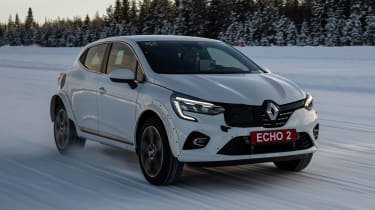 Verdict
It's still very early days for the Renault 5 EV, and this prototype is understandably a little rough around the edges. Braking and steering are a real highlight however, and point towards an engaging, entertaining package. With a focus on fun and agility, the Renault 5 hopes to appeal to all types of drivers, and from early impressions it feels rather promising. 
First conceptualised in 2021, the hype around the Renault 5 EV has soared. The concept is a modern nod to the original, with an electric heart in place of a tiny internal combustion engine. The production car will be with us in 2024, but we've been for an icy spin in an early Clio-bodied prototype to see what the future will feel like. 
It's based on Renault's new CMF-B EV platform, which was designed specifically for small EVs (it'll also underpin the upcoming Renault 4 SUV), and with cost in mind, as it's 30 per cent cheaper to produce than the outgoing Zoe. What that means for final pricing, however, remains to be seen. The Zoe, a car that's been updated numerous times in its more than decade-long lifespan, will be replaced by the 5. Development from now on will focus on the CMF-B EV platform and the models that it'll underpin. 
Best electric cars to buy 2023
Renault's also remaining tight lipped on battery size, range, and efficiency as homologation is a while away and to set early expectations for customers and competitors alike would be unwise. That said, two battery sizes (and therefore ranges) are likely. Reports have suggested up to 250 miles might be possible, while the motor is likely to offer 134bhp.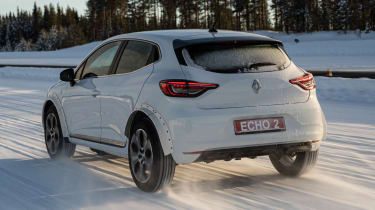 Despite the prototype's Clio body, there are some key differences that hint at its electric heart and new character: the charging port on its nose, rear wheels sitting further forward in the arches thanks to the platform's shorter wheelbase, and bolt on wheel arches to accommodate a wider track. You can also see the platform peaking out under the door line. CMF-B EV is, according to Renault, stronger than what's come before, and within it sits four battery packs stuffed to the gills with cells. 
In fact, the wide track highlights the Renault 5's key characteristic: it's designed to be fun. Where its predecessor, the Zoe, is a relaxed, comfy city car, this is much, much sharper. Its steering is direct, reacting quickly to direction changes, firing the car from point to point with vigour. Its multi-link rear suspension ensures the rear of the car stays stable, with an aim to keep low and medium-speed driving agile and exciting, and giving a stable high-speed ride too. 
During high-speed lane changes it felt smooth and responded well to fast steering inputs. Its suspension kept the car level, while the rear was neatly kept in check. Going into a slalom at around 40mph the momentum of constant direction changes unsettled the car, but its various electronic safety systems stopped it from getting too far out of line, even though it let the car move around a little. 
Driving through a series of short, tightening curves highlighted that even at this stage the Renault 5 is entertaining to drive, but will give drivers confidence should they find themselves going a little quicker than they're comfortable with. Renault's engineers have made a commitment to ensuring drivers of all abilities will be happy behind the wheel; Alpine may be the group's sporty brand, but this doesn't mean a Renault can't raise a smile.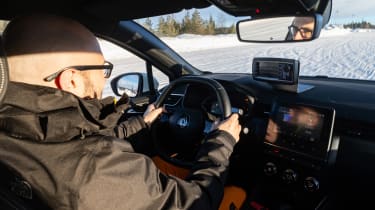 At this early stage of development the Renault 5's traction control is still being tuned and as a result struggled with the slippery surface on our test run. At full throttle the wheels spun, found grip, and spun again before settling down and pulling the car forward. You can feel there's plenty of torque on offer, but how much, and how effectively it'll be put down remains to be seen. 
What was especially impressive was its braking system. Developed with Continental, the brake-by-wire set-up is, according to Renault, an improvement on what's come before. Pedal feel, despite not being connected to the brakes themselves, is strong, and gives firm feedback. From around 54mph at full pressure on a half-snow/half-ice surface, not only did it slow briskly, but did so with a minimum of fuss. Small steering inputs were needed to keep it stopping straight and true, but its rear largely stayed unmoved. Notably, it stops in less distance than a Renault Zoe from the same speed. 
Despite only some brief time with what'll become Renault's EV staple, and one in conditions that the UK will rarely, if ever, see, the Renault 5 showed great promise. Its current state of tune is being refined day by day, but the combination of a short wheelbase, low centre of gravity, stellar brakes, and wide track widths show the potential for a fantastic city car. Not only that, but one that honours its much loved 20th century ancestor. It's debut in 2024 can't come soon enough.
Source: Read Full Article