New Porsche 911 Turbo S gets Lightweight and Sports packages
GT3 like modifications and lightweight touches become options on flagship version of new 911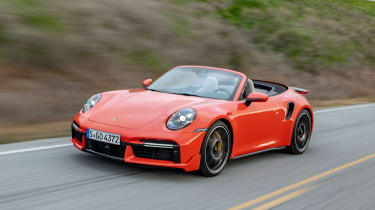 Porsche has revealed two new optional packages for the all-new 911 Turbo S, which introduce GT3-like tweaks to the flagship sportscar. 
Available on Coupe versions of the newcomer, the Lightweight package introduces a range of weight saving measures that trim the 911 Turbo S' curb weight by 30kg, and includes some chassis revisions too. 
• Porsche 911 Turbo S revealed with 641bhp
Lighter, reduced noise insulation around the car's bodywork contributes to the weight reduction, while the most obvious tell-tale sign is the removal of the rear seats. Up front, the front two seats are swapped for full bucket seats. Buyers who opt for the pack receive Porsche Active Suspension Management (PASM) sports suspension, 10mm lower than the standard 911 Turbo's, while the optional sports exhaust system is also equipped, with tailpipes finished in black. 
A Sport package is also introduced alongside, and builds on the pre-existing Sport Design package. It includes exclusive tail lights with a unique design, and plenty of new gloss black details and finishes on many exterior body parts. The standard Turbo S wheels are finished in dark grey, 20-inches at the front axle, with 21-inch wheels at the rear. Coupe versions of the 911 Turbo S Sport package are fitted with a carbon fibre roof, too. 
For now, Porsche can only say that the packages will be available optionally at a later date, and no prices have been issued. However, expect them to join the new 911 Turbo S options list towards the end of 2020.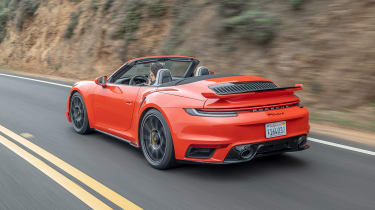 Dr Frank-Steffen Walliser, the director of 718 and 911 product lines Walliser said that his team has worked hard to make the new Turbo S more appealing as a driver's car. Previous editions of the model have been considered ultra-fast cruisers, leaving purists to opt for the GTS or GT3 versions instead. "We received the same feedback," Walliser confirmed. "That's why we offer now sports suspension – to try to give better driving feedback. We have a sports exhaust for first time too, to make the Turbo more of a driving machine."
"And we will add another option later this year that also underlines our attempt to make this car lighter, to also emphasise the very sporty side of the car," he added. "It will be a lightweight sports package; we'll pack together lightweight options but also work on the sound insulation of the car, reducing weight a little bit.
"It'll only be small bits and pieces but as you know, that can change the character of the car." Walliser confirmed that the removal of the 911's rear seats could be one option under consideration for package – and that the configuration could also be fitted to the Carrera, creating a 992-edition 911 Carrera T.
Walliser confirmed that a new edition of the 911 GT3 is in the pipeline, but said that it will use a further development of the 991 edition's race-bred engine, instead of a version of the 4.0-litre flat-six motor fitted to the Cayman GT4. "I should not talk about the GT3, but it won't use that engine [the Cayman's]," he said. "We stick with the race engine for that car. It's expensive, but cool. We learn race by race and we carry development steps over to that engine."
Which Porsche 911 would you choose? Let us know in the comments below…
Source: Read Full Article