New Morgan Plus Four revealed with 225bhp BMW power
Morgan has revealed the latest iteration of its popular Plus Four, featuring a BMW-sourced 255bhp turbocharged four-pot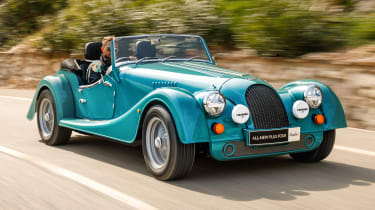 Morgan has launched the latest Plus Four, and the British company claims it's the "most revolutionary advancement in the model's history," with 97 per cent of the car's components being new. It's on sale now, with prices starting from £62,995.
The car's nameplate has been tweaked slightly, from a numerated Plus 4 to the written Plus Four. But it looks familiar, retaining the iconic, narrow-bodied styling that has featured on the model for the past seven decades.
Best track day cars 2020
However, under the skin there's an all-new bonded aluminium platform, which the Plus Four shares with the more powerful Morgan Plus Six. The new underpinnings support  double-wishbone suspension, redesigned suspension uprights, updated brakes and a couple of modern-day convenience features, such as ABS and power steering. With the new components, the car's dry weight creeps up to just over a tonne, at 1,009kg.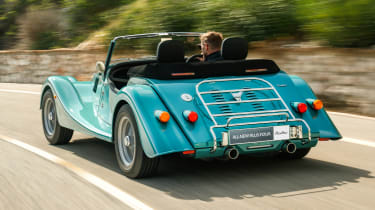 Morgan has ditched Ford's aging, naturally aspirated Duratec engine for a BMW-sourced, turbocharged 2.0-litre four-cylinder petrol unit. It develops 255bhp and 400Nm of torque, enabling a 0–62mph sprint of 4.8 seconds and a top speed of 149mph – which means the new Plus Four packs almost as much performance as the Plus Six, which is itself due to be replaced. 
Morgan also says the new BMW powertrain is up 30 per cent less polluting than the outgoing Ford unit, with WLTP emissions figures being as low as 159g/km of CO2. It's also more efficient, with claimed fuel economy of 40mpg.
Buyers can choose either a six-speed manual gearbox or an eight-speed automatic. The engine fitted to the manual variant suffers a 50Nm torque deficit, to protect the gearbox. Morgan estimates 0-62mph in 5.2 seconds for the manual, although power and top speed remain identical to the automatic version.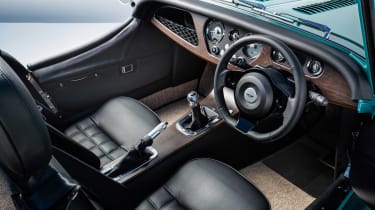 Morgan has also upgraded the Plus Four's standard specification, adding automatic LED headlamps, 15-inch alloy wheels, remote central locking, lumbar adjustment, a black mohair convertible roof, sun visors and door check straps.
The company says it will also offer buyers a host of customisation options, including metallic paint, a set of new 15-inch wire wheels, puddle lighting, luggage rack and a discreet stereo system hidden behind the cabin trim. As with the outgoing car, a rear-mounted spare wheel is also available optionally.
What do you make of the new Morgan Plus Four? Let us know in the comments section below… 
Source: Read Full Article